Since the summer of 2009, I only missed one Summer Fancy Food Show and that was due to excessive work schedule in the West Coast. Last week, I returned to the Big Apple to experience quirky new products with unique flavors, ingredients, names and colors. I probably missed a lot; it is not easy to locate the most interesting products among 180,000 shown in just three days (according to the Specialty Food Association site stats).
My list was based on the product's originality and uniqueness. Find it below in alphabetical order: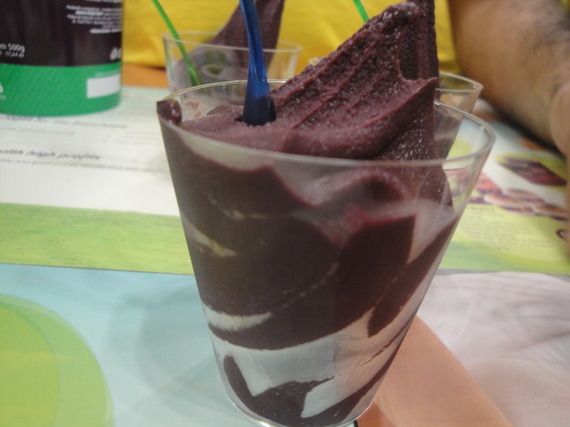 Açai Sorbet
It was indeed found at the Brazilian Pavilion. The sorbet/soft ice cream that comes out from a machine is made with açai powder and has all the benefits found in açai -- a healthy fruit with plenty of antioxidants. It is refreshing and not sugary at all, ideal for a hot summer day. The nice deep purple color is a plus!
Banana Popcorn
The Bodacious Banana Popcorn from Sexy Pop is a reality. Forget the mainstream cheddar flavored or salted caramel popcorn. The banana popcorn is light, not buttery and has a strong, as expected banana flavor. It is also said to be rich in potassium, antioxidants, and real bananas making it good for your skin and anti-aging. The Banana Popcorn is available in a bright green bag that surely makes you look sexy.
Jalapeno Chips
The brand's site does not mention them yet. But I was lucky enough to taste them as a product to soon appear in the market. Available in the original flavor, with white cheddar cheese and with salted chocolate as well, this super spicy snack is crunchy and quirky and I will bet my money that it will definitely get some fans.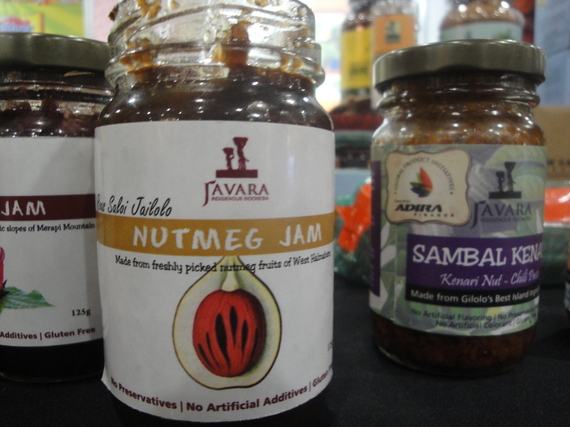 Nutmeg Jam
All the way from the Spice Islands of Indonesia, the Nutmeg Jam is made with organically grown nutmeg. The jam has an elegant flavor, is unique in taste and if you like nutmeg, you will be addicted. Good to spread on toast, top on yogurt or ice cream and also for fillings of pastries, cookies and cakes. The product is made with the care of the women food artisan group of Gamtala Village, developed by the community-based product initiative by Kampung Kearifan Indonesia. Delicious and for a good cause.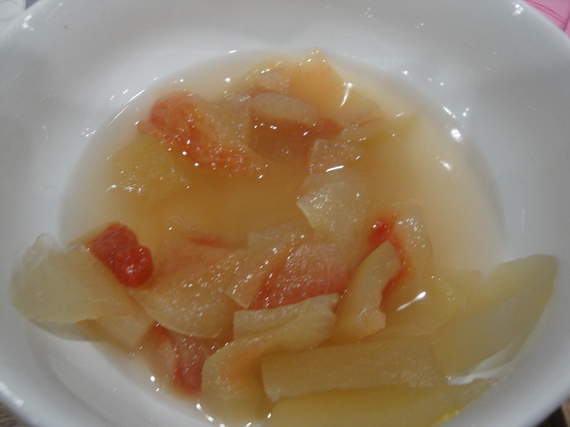 Spiced Watermelon Pickles
I have tried several pickles from okra to cucumber to tomato and peppers. But the watermelon was the discovery of the day. Juicy, tasty and watermelon-y, those pickles are perfect for salads, sandwiches and even ice cream. But I will eat them just out of the jar plain and neat with no strings or other flavors attached.
Sriracha Sea Salt
Sriracha has been the product of the year -- found in dips, popcorn, chips, in hummus and mayo -- is now available with sea salt. The Lab of Spice showcased the first Sriracha salt during the summer Fancy Food Show made with chilies, ground Sriracha powder and infused with sea salt. In a pink-ish color, it is salty and spicy. For moderate use....
A few more to mention that can be added to the list are the Pistachio Macaroon Coconut Butter from Nikki's Coconut Butter; the Tumeric Fruit Jewels from Maui Epicure and the Coffee Flavored Yogurt from Fage. Congrats to all! Let's meet up again in January for the Winter Fancy Food Show in San Francisco.