World Oceans Day celebrates the incredible bounty of our irreplaceable oceans and raises awareness around issues facing the Earth's largest resource. Oceans are responsible for many essentials we take for granted -- from oxygen and food to livelihoods and recreation, not to mention limitless inspiration for billions of people.
In the Atlantic Ocean, off the South Florida coast near Miami, Biscayne National Park stands as the country's largest marine national park and is home to a portion of the third-largest coral reef in the world. Since before I started working at the National Parks Conservation Association (NPCA) more than a decade ago, NPCA has worked to ensure that future plans to manage Biscayne protect the park's threatened coral reefs and depleted fisheries.
After 15 years of hard work and planning, we are thrilled to celebrate a major victory at Biscayne National Park. The National Park Service recently announced plans to create a no-fishing marine reserve that will protect about a third of the park's reefs, which are in desperate need of recovery and stronger protections.
Biscayne National Park has been stressed for decades, with the park's coral reefs visibly impacted by years of overfishing, water pollution and derelict fishing gear, warming seas, and little to no restrictions. The reefs here were once vibrant, filled with bright, healthy corals, abundant reef fish, and lissome sharks. Now, marine life on the reefs is sparse, sprinkled with tiny fish where large black grouper once roamed. For every 20 fish caught in Biscayne in the 1960s, one fish is caught today, demonstrating the astonishing decline in resources over just a few decades.
The National Park Service is taking action to address these dire conditions, demonstrating remarkable leadership through the creation of a marine reserve zone. This zone would limit fishing, anchoring, and the extraction of resources within a small area of the park, allowing its most fragile coral reefs to recover and enhance the visitor experience in the marine reserve area. For years, NPCA has supported and advocated for the creation of a marine reserve.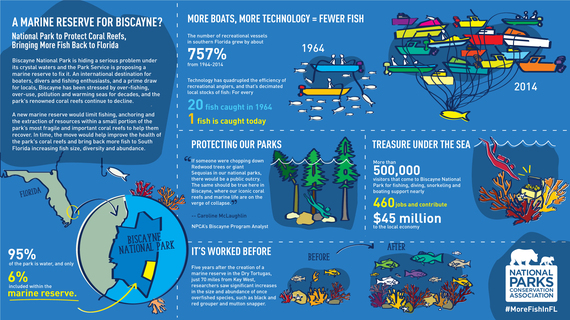 Although small in size, a marine reserve will have a big impact in bringing back #MoreFishInFL, increasing fish size, diversity, and abundance, and will improve the overall visitor experience for boating, fishing, snorkeling and diving at Biscayne. Marine reserves can also create better fishing opportunities when increased numbers of fish "spill over" into areas outside reserve boundaries.
Marine reserves worldwide help protect our oceans. Just 70 miles from Key West, a marine reserve at Dry Tortugas National Park has resulted in significant increases in the size and abundance of once-overfished fish species in just a few short years.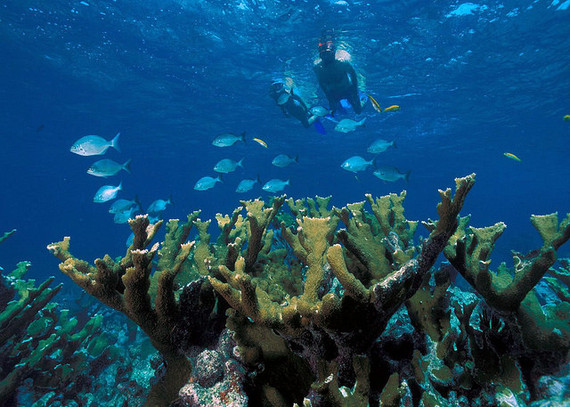 Snorkelers swim above Elkhorn Reef in Biscayne National Park. (Photo credit: National Park Service)
Often when people think about America's national parks, places like Yellowstone, the Grand Canyon, and other large land-based parks come to mind. I've been exploring these iconic parks for decades and have only recently discovered the unparalleled underwater world of our national parks.
Last year, I snorkeled through the turquoise-blue waters of Virgin Islands National Park and Coral Reef National Monument and was astonished by the unbelievable biodiversity thriving just below the water's surface. Our underwater national parks provide a treasure trove of brightly colored creatures and diverse habitats of incredible ecological value; however, it can be more difficult to see the destruction that is taking place underwater than on land.
If visitors traveled to the Grand Canyon and found its walls covered in graffiti, or to Yosemite and found the giant sequoias chopped down, there would be public outcry and actions taken. Our national parks are held to the highest standards, protecting some of America's most treasured places, invaluable resources and amazing, wild, open spaces. The same standards must apply to our marine national parks and all the underwater resources that they help protect.
As we celebrate World Oceans Day, let's take a moment to celebrate this exciting opportunity for reef protection here in the United States. We hope that future visitors to Biscayne National Park can discover an underwater world teeming with vibrant fish and healthy coral, thanks to the decision by the Obama administration and the National Park Service to protect these resources before it is too late.