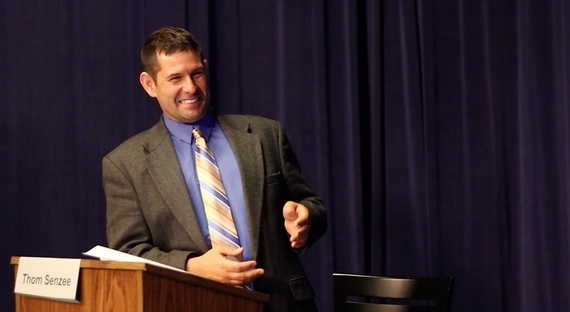 Ironically, the thinking behind the subtitle of the upcoming LGBTs In The News panel, which is "There's More to our Story than Discrimination and Marriage," could go far toward helping to end the former and making the latter available to same-sex couples in all 50 states.
Here's why:
As Harvey Milk, the first openly gay man elected to public office in America, frequently noted, gay people won't be truly free until everyone knows someone who is gay. In actuality, most people in Milk's time (and across time) probably knew someone who was gay; they just didn't know they knew someone who was gay.
That doesn't mean we should ever stop fighting head-on for our right to be ourselves and to attain genuine equality. Milk's point was that Americans would only afford equal rights to their fellow Americans who just happened to be lesbian, gay, bisexual or transgender when they came to think of them simply as folks who just happened to be LGB or T.
Just how does that way of thinking evolve? It happens when Jim the Texas truck driver can relate to Jill the bartender because Jill's wife Rosa is battling cancer and can't get her insurance company to pay for a promising treatment it considers experimental -- because that's what happened to his family.
Likewise, relatability to LGBT people grows when a war veteran in an Ohio job-training program meets to a fellow vet in the same program who fought in the same war he did because she, like him, is having trouble readjusting to life stateside. Oh yeah, and his newfound comrade-in-arms just happens to be a lesbian.
In other words, LGBT Americans gain acceptance as people realize that "LGBT" does not automatically equate to white, affluent gay men enjoying fabulous vacations, expensive vodka and stylish clothing -- not that there's anything wrong with those things. Furthermore, you certainly don't have to be gay to love fabulous travel, spirits and fashion.
Relatability and the common human bond among straights, LGBTs and everyone else will be discussed in depth, before an audience of media professionals and others at the LGBTs In The News panel in Los Angeles Nov. 14 among confirmed panelists, Paul Colichman, CEO of Here Media; Alexis Arquette, actor-transgender-rights activist; Jason Stuart, actor-comedian, co-founder of the Screen Actors Guild-AFTRA's LGBT Actors Committee; Will Walters, civil rights activist, founder of the Know Rights -or- No Rights campaign; and Karen Ocamb, award-winning journalist and news editor at Frontiers Media.
The Los Angeles installment of LGBTs In The News, presented by the Los Angeles Press Club and sponsored by SAG-AFTRA, FreeWillUSA, Frontiers Media and The Rage Monthly, seeks to open up the media conversation about lesbian, gay, bi and transgender families and individuals by encouraging mainstream journalists to dig a little deeper into stories about LGBTs and to consciously seek LGBT relevance in stories that are not necessarily about LGBT people.
Although no one is asking reporters and editors to institute an "affirmative action" plan of inclusion for LGBT people in their reportage, it is fair to ask them to respect and note the fact that a source or subject of a story is LGBT if that is the case, when doing so makes sense and is reasonably unlikely to hurt anyone.
For example, at the next installment of the LGBTs In The News panel series, we will challenge journalists to resist glossing over or outright editing away the fact that in, say a person-on-the-street story about, say, summer travel that a motorist and her wife or girlfriend are fueling up for a three-day weekend trip.
In that case, if the reporter would automatically assume and affirm a heterosexual couple in such a story by asking a man at a gas pump if he and his wife (sitting in the car) we're gassing up for a road trip, said reporter should similarly ask the two female motorists. That may seem crazy at first; but is it?
Let's say it's Memorial Day Weekend. In the case of the opposite-sex couple, there would have been cues that led the reporter to frame the interview in the light of a married couple headed out of town: kids in the back, packed bags on the luggage rack, filling up early Saturday morning near a freeway onramp.
The interview might go something like this:
REPORTER: Jamie Sanchez with Channel 1 News. You guys headed out of town for Memorial Day?
SUBJECT (at a fuel pump): We sure are! Headed to Vegas; gonna take the kids to Circus Circus.
REPORTER: That your wife and kids in the car? Can we ask them what they're looking forward to doing in Las Vegas?
All things being equal, what difference would if make if the interviewee at the pump were a man or a woman and the person sitting in the passenger seat were also a woman?
Yet, we should not confuse relevancy cues (i.e., kids in the back, luggage rack full) with stereotyping (i.e., they "look like lesbians"). The rule of thumb for this kind of a story is simple:
If there is something, all things considered, that would cause a reporter to include mention of an aspect of sources or subjects that identify them as heterosexual, why not do likewise if they are LGBT?
We'll explore that question and many more hot-button topics that could hardly be more newsworthy today, during the Los Angeles engagement of the LGBTs In The News panel series. The event is Thurs., Nov. 14 at 6:30 p.m. at the Steve Allen Theater in Hollywood. Visit LAPressClub.org for more information.