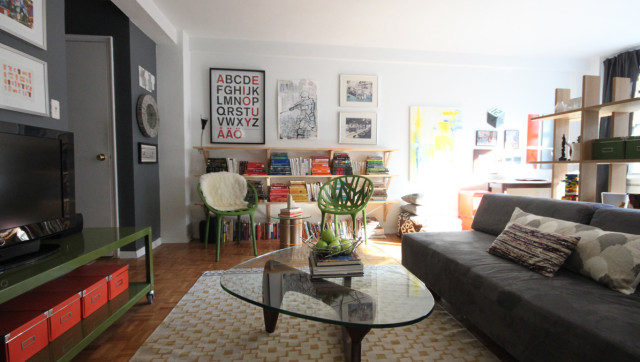 Who knew stressful situation could turn into a peaceful sanctuary? Recently a friend and industry colleague, Josh Michelman, approached me, stressed and in a design emergency. Due to an unfortunate urban incident, he had lost all of his furniture. Compounding the situation, he was beginning a semester of graduate school and a new full-time job. To say the least Josh was a busy man and had no time to deal with his interior design dilemma. Leaving town for a week of work training, he handed me a credit card, gave me a small budget and said, "I trust you. I'd like a place to sleep and sit when I get back." Although Josh trusted me, he didn't leave without a wish list and demands. He needed a space that he could relax, sleep, study and entertain. More challenging, I had to incorporate his random collection of art, photography and travel souvenirs.

So the project began. First off was laying out the space. Please note that this studio is under 400 square feet -- therefore, every inch and item makes the biggest difference. The layout had to be thoughtful, functional and have some charm. Upon entering, the spaces line up from public to private; living room and library followed by a study and sleeping area.

One of the biggest challenges for designing a studio, and all small open spaces, is breaking down the area into its different spaces of function without physically dividing it. To accomplish this I used a variety of design details, furniture and accessories. The most obvious dividing element used was an open wood bookshelf from Ikea. This would divide the living room and sleeping areas but also double as a showcase for Josh's photo albums, plants and souvenir collection. Other significant design details that break down the space are art and photography clusters, a painted accent wall and an area rug. Nothing anchors and defines the boundaries of a space like an area rug. The living room lies on top of a bold yet neutral dhurrie area rug. The painted accent wall, book shelf and art clusters also helps anchor and define where the living space begins and ends. Art clusters are also used to define the study space.

A DIY spirit was applied when our budget ran low and we still needed a headboard and had a huge blank wall in the kitchen. Our love for street art and art in general lead us to create 2D artist tape illustrations to make up a faux head board and kitchen mural. These murals really added to and tied into Josh's large and eclectic art collections.

At the end of our project Josh's trusting "carte blanche" attitude and approach with me had paid off. We had created a space that fulfilled all his needs with a lot of design personality.
PHOTO GALLERY
Bachelor Studio