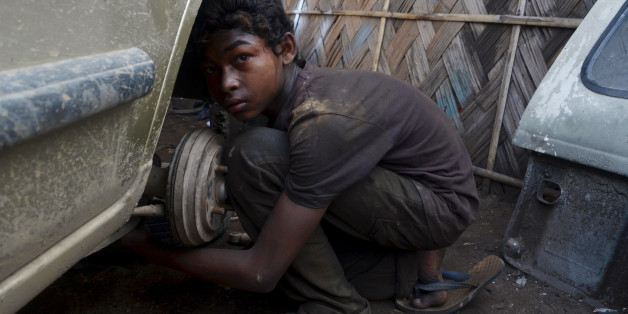 Today, World Day Against Child Labor (June 12) is an opportunity to raise a collective voice and reinforce the worldwide movement against all forms of child labor. And indeed it will take the world to combat this menace -- millions of children across the world are spending their precious childhood as paid or unpaid laborers.
India, unfortunately, remains at the spotlight with the highest number of child laborers in the world -- an estimated 12.6 million children between the ages of 5 and 14 are engaged as laborers. The vast majority of them (close to 67 percent) are engaged in agricultural activities. There are laws in place, such as the Child Labor (Prohibition and Regulation) Act (CLPRA) of 1986. However, these laws have glaring gaps. CLPRA does not protect children between the ages of 15 to 18 years old and prohibits employment of child labor in hazardous occupations but allows for child labor in non-hazardous occupations like agriculture and domestic work.
In 2010 India enacted the Right to Education Act, providing for free and compulsory education for all children, by law. It is time therefore to amend the child labor law and work with communities to ensure that all children are in school and not at work.
Massive campaigning efforts across the nation for the past several years to stop all forms of child labor have reaped positive results. An amendment in the CLPRA was proposed in 2013 to ban all forms of child labor up to 18 years; the decision is pending in the Parliament and we are hopeful it will soon see the light of day.
However, even with strong laws and regulations in place, the deep-rooted problem of child labor cannot be eliminated unless we address the socio, cultural and economic factors at the same time. There is a wrongful social and cultural acceptance of child labor in our country which we must address immediately.
At Save the Children, we work on tackling the issue of child labor in a holistic way and much of our efforts are directed toward changing attitudes at the community level through programs that educate parents, children, farmers, healthcare workers and local leaders about child rights and the benefits of education. We then create an infrastructure that ensures sustainability long after we leave the region. Alongside this we look at issues involving education for children and livelihood for parents, to cut the child labor problem from its roots.
In our efforts to eliminate child labor, especially in the cotton growing areas of the country, IKEA Foundation has played a critical role by supporting our programs since 2009 in the highest cotton producing states like Gujarat and Maharashtra. We moved more than 150,000 children out of child labor and into classrooms across 1,800 villages.
Building on that success, the partnership is expanding this year to three new states -- Rajasthan, Punjab and Haryana. The program launches today, World Day Against Child Labor. Our goal is to protect 790,000 children living in cotton communities in these states. Replicating the learning from our previous phase, we will work closely with panchayat (village) leaders, farmers, teachers, families and Indian state officials, to provide children with access to quality education, improve teacher training and develop local child protection committees and school management committees.
Punjab and Haryana have the lowest child sex ratio in the country. In fact, per a 2011 census, Punjab reports 834 girls per 1,000 boys and Haryana reports 846 girls per 1000 boys. This initiative will aim to tackle the deep-rooted issue of gender-based discrimination to help protect girls from these circumstances by establishing community groups that will champion girls' rights, generate awareness on the issue and ensure girls receive an education. Save the Children is now partnering with two more NGOs, namely Pratham and Breakthrough, to tackle the issue in the new phase of the project covering the states of Punjab and Haryana.
The migration of child workers is another major issue in the state of Rajasthan, with children leaving their homes to work in nearby cotton regions. Based on a successful model pioneered in Phase One, an inter-state migration network will be set up to identify migrant child workers and help them move back to their families, homes and communities.
Child labor is a complex issue and there is no single quick-fix solution. With new programs in place that target poverty, unemployment and gender discrimination, we aim to achieve immediate and lasting change in the lives of the most marginalized children to provide them with the right to education, protection and development across India. We are optimistic that the second phase will be even more fruitful than the first one!