As we continue our work to accelerate this economic recovery and restore broad-based prosperity, one of our most critical tasks is to empower American workers with the skills they need to succeed in 21st-century jobs.
To that end, the Obama administration announced last week its continued unprecedented investment in community colleges -- specifically their capacity to provide, in partnership with employers, the training that adult learners need to climb ladders of opportunity and secure a foothold in the middle class.
We distributed $474.5 million in grants under our Trade Adjustment Assistance Community College and Career Training program, known as TAACCCT. It includes a total of 57 awards that will support projects in at least 183 schools representing every state plus the District of Columbia and Puerto Rico. This comes on top of $1 billion in TAACCCT grants we made over the last two years.
I made the announcement last Wednesday at Front Range Community College outside of Denver, the leader of a Colorado consortium receiving an award of nearly $25 million to develop a pipeline of highly qualified workers in advanced manufacturing. As I toured the campus, I saw students of all ages from diverse backgrounds, many of them single mothers, working in classrooms on car brakes and air-conditioning systems, obtaining the certifications that will lead to good jobs. The new TAACCCT dollars will enhance the college's ability to provide this kind of practical, hands-on learning.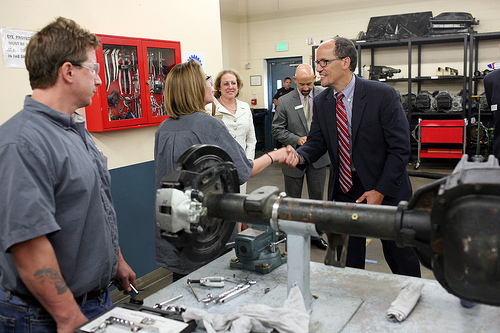 Secretary Perez, Colorado Lt. Governor Joseph Garcia and Dr. Nancy McCallin, president of the Colorado Community College System, talk with students in FRCC's automotive lab.
TAACCCT is a win-win. It builds human capital, giving our people marketable skills that lead to good jobs. And it strengthens the overall economy, providing businesses the talented workers they need to compete, prosper and grow. This is a perfect example of workforce investment done the right way -- varied stakeholders coming together around pragmatic strategies designed to serve the mutual interests of all parties.
TAACCCT may have a long name and something of a clumsy acronym, but make no mistake about it: these grants change lives. They give people access to state-of-the-art programs and curriculums that catapult them into middle-class jobs. I've seen it. I've met the people who are using these programs as a springboard to a better life.
This is about people. People like Sheri Dron, whom I met at Front Range Community College on Wednesday. She spoke about how she wasn't sure she could keep her house after her husband, whom she had known since she was 10 years old, died suddenly last year. But she enrolled in the school's Precision Machining Program, got a scholarship and already has a paid internship.
Thanks to the people and programs at Front Range, Sheri says, she has hope for the future again. She hopes to one day start a business that she and her late husband, who was a machinist, had dreamed about.
That's what this program is all about -- creating opportunity and helping people to reach their highest and best dreams.