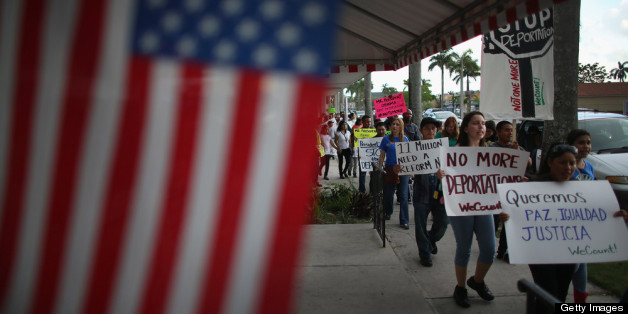 The City of Boston was founded on the dreams, traditions and entrepreneurial spirit of immigrants. Today, immigrants help Boston to thrive and to grow. But the system is broken. And it doesn't work for Boston.
Next week, I'll sit down for lunch with the 35 high school valedictorians from Boston's public high schools. Of our city's 35 brightest students, 19 of them came to us from other countries. At the same lunch in a previous year, I learned that six of our valedictorians were undocumented. These students excelled in our school system and were prepared for college, but are prevented from achieving their full potential because of their status. As we deny qualified young people access to higher education, we deprive our city and our country of much-needed talent.
Here in Boston, nearly 9,000 immigrant-owned businesses contribute $3.7 billion in annual sales and employ more than 18,000 people. They spend more than $4 billion annually and generate $1.3 billion in state and federal taxes, directly and indirectly supporting close to 26,000 jobs in the local economy. The vitality, customs, and languages of our immigrants may be individually experienced, but their positive contributions are cumulatively felt.
At our city's top universities, we train the brightest minds only to lose them to countries that have immigration systems which allow them to be globally competitive. The demand for temporary, high-skilled (H-1B) visas is severely unmet in this country, cheating Americans out of jobs. Every foreign advanced-degree graduate from a U.S. university who stays and works in STEM-related fields creates nearly three jobs for Americans. Our broken immigration system is driving those jobs to Canada, Australia, Chile and Singapore.
As a lifelong resident of Boston, and in my 20th year as Mayor, I can tell you that I see the power of a strong immigrant population firsthand. Since 1990, our immigrant population has grown dramatically and now accounts for more than 27 percent of our city's population. This change to our demographics has made us stronger than ever and bolstered our economy against the recession. As major cities across the country struggled, Boston was fast to rebound.
Today I join the March for Innovation (#iMarch) to support comprehensive immigration reform. I hope you'll come along. At the heart of Boston's thriving economy are the talents, perspectives, and entrepreneurial spirit of our city's immigrants. Our current system is unacceptable and so is inaction. We need an updated system that will keep hardworking families together and help us attract and retain the most talented graduates from our universities and abroad.
We are a nation of immigrants, and today we have the opportunity to move our country forward together.
This post is part of a series produced by The Huffington Post and The Partnership for a New American Economy, in conjunction with the March for Innovation, a virtual march taking place May 22-23 across a number of social-media platforms designed to call attention to the immigration-reform bill now before Congress. One of those platforms will be HuffPost Live. For more information on the march, click here.