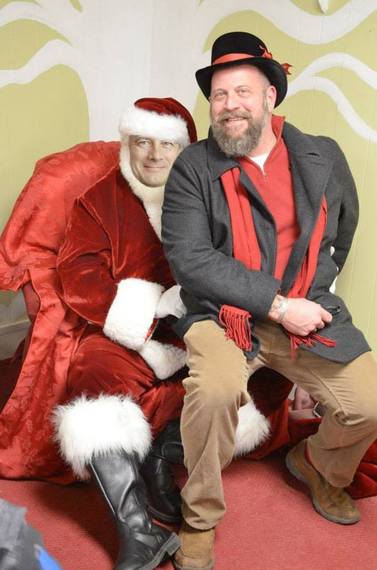 Dear Chief Justice and Justices,
This time of year is the time of lists and letters. Children all over the world put pen to paper and write the Big Guy with their dreams and wishes for Christmas morning. I am writing to you instead of Santa as I am hoping for a Christmas/holiday miracle this year. 2008 was a big year for our family, as my husband and I were legally married in California by the Reverend (and fabulous international DJ) Jeb Edwards. We knew that our marriage in California wouldn't be legal here in Michigan, but we felt very strongly about showing our three year old adopted daughter the importance of commitment so we did it anyways. Both of our parents recently celebrated their 50th anniversaries, so our families know and value the importance of love and commitment, gay or straight.
The next year, 2009, our son came to live with us from the Michigan foster care system. Our son's parents didn't take care of him, so the state stepped in and placed him in foster care to stop the abuse and neglect. However, because of the state's laws, only my husband has legal custody of him, not me. We were able to jointly adopt our daughter back in 2006, but the judicial views on this practice changed, and to this date, I am not a legal guardian to my son of almost six years. This needs to change.
On January 9th, 2015, you'll consider the case of April DeBoer and Jayne Rowse. Their case is similar to our situation, they're nurses and we're teachers and we both share children that aren't legally ours in this state. The balance and safety of our collective families is in your hands. Every kid deserves a family, every kid deserves parents that can take care of them and protect them should anything happen. Currently, our families do not have that protection.
Our wish this season is that you'll rule in our favor and reinstate marriage equality in Michigan and perhaps in all of the United States (hey, it's Christmas, we can dream big right?) We don't need silly ties, gift cards, or fruitcake, what we need is the ability to be a parent to our children no matter what happens. And, on a personal note, I'd love to finally be legally married to my partner of 19 years. We've outlasted many of our heterosexual friends' marriages without the legal protection the state offers.
The schmaltzy songs of the season speak about love, family, and warm memories of holidays past. We'd love to remember this holiday season as the year we were finally a family under Michigan law. Governor Snyder and Attorney General Schuette gave the LGBT families in Michigan big lumps of coal when they ruled against us and nullified the marriages of many last month; they are definitely on the naughty list in our book. It's time to change this law and allow us to be the families we were meant to be: secure, safe, and full of love and joy.
It's not too much to ask in our opinion.
Happy Holidays from Tom, Tod, Anna, and Eli McMillen-Oakley!