Today the UN General Assembly will hold its "Durban III" conference in midtown Manhattan. The event commemorates the 10th anniversary of the first Durban conference and declaration, which the UN bills as the "international community's blueprint" for fighting racism, xenophobia, and related intolerance.
Key speakers at the first two Durban conferences, held in 2001 and 2009, included autocratic leaders Fidel Castro and Mahmoud Ahmadinejad, who used the platform not to address abuses in Cuba or Iran but instead to attack Israel and deny that the Holocaust ever happened.
The Durban brand has grown a special reputation for distorting criticism of Israel, turning it into ugly anti-Semitism. The terrible irony of the conferences is that the organizers -- largely repressive, one-party regimes -- effectively use them as spectacles to distract the world from their own crimes by focusing attention exclusively on imperfect but open and democratic governments.
Reviewing the official program for Durban III, it is clear that we will see more of the same from this year's speakers, who will certainly discuss human rights abuses in Israel and the United States, but sidestep nearly everything else.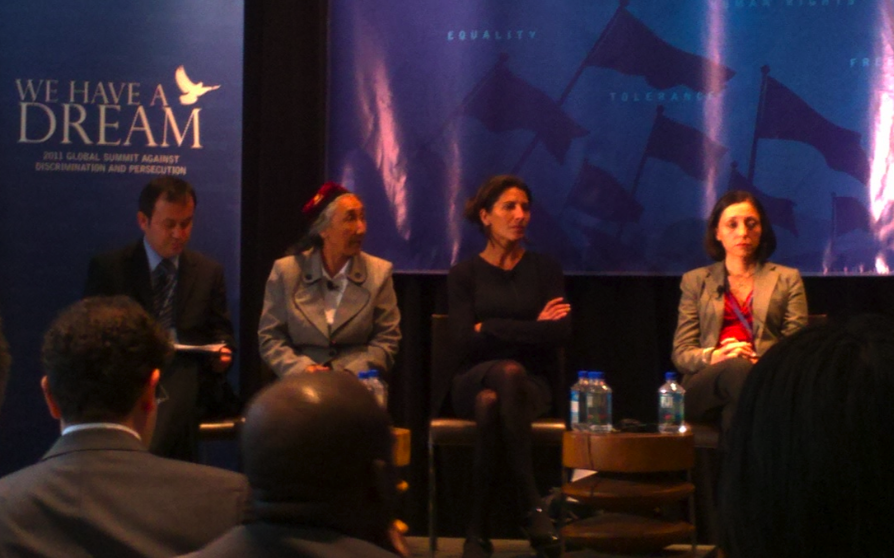 Iranian activist Marina Nemat and Uyghur leader Rebiya Kadeer speak at the NGO counter-event to Durban III: We Have a Dream
It's likely that Sudanese delegates won't permit any mention of their racist genocide and deadly religious intolerance. Pakistani and Afghani representatives won't discuss their legal discrimination against women. Saudi diplomats will ensure that their fundamentally racist system of domestic slavery is not brought up. Dominican delegates will head off any discussion of Haitian slaves in their country's sugar cane fields. And Chinese representatives will be quick to hush any mention of their ongoing cultural genocide against Tibetans and Uighurs.
Moreover, it's a good bet that the world's "blueprint against racism" conference will be rigged to programmatically ignore Indonesia's repression of West Papuans, Iran's efforts to erase the Baha'i, Turkey's war on the Kurds, Burma's attempts to extinguish the Karen people, and the discriminatory plight of millions more.
The Kafkaesque disaster of Durban is such that this year, many of the world's democracies are boycotting the event, including Australia, Austria, Bulgaria, Canada, Czech Republic, France, Germany, Italy, Israel, Netherlands, Poland, United Kingdom, and United States.
South Africa itself has disowned the branding of the event, after its ambassador insisted that participants stop calling the 2009 Geneva meeting Durban II because it was maligning his country.
Much can be learned about Durban III's agenda by looking at its interaction with civil society, where NGOs are selectively admitted and banned. At past Durban conferences, NGOs representing Tibetan and Dalit rights groups were not allowed to attend. This year, the event organizers have, for the first time ever, barred UN Watch, an ECOSOC-accredited Geneva-based NGO watchdog. Meanwhile, they chose to admit North South 21, a Gaddafi-created Libyan government organ that continues to burnish his image abroad by managing such initiatives as the "Moammar Gaddafi Human Rights Prize."
Besides North South 21, many other NGOs participating are also in reality GoNGOs: government NGOs created and financed to provide the appearance of a vibrant civil society in places like China or Gaddafi's Libya. Both governments have groups attending Durban III to help whitewash their human rights abuses.
By making Durban III the focal point of their diplomatic year, the UN is helping its most repressive member states cover up and divert attention from their abusive records. As we have seen time and time again, the potential utility of the UN on important issues like racism and intolerance is tragically undermined by its tendency to cater to despots.
This is why the Human Rights Foundation is helping to convene the We Have a Dream Global Summit. A non-governmental initiative taking a thoughtful look at discrimination and persecution, it takes place today in New York. Many summit speakers are survivors of the oppressive regimes gathering at Durban III, joining up to speak truth to power.
Presentations will hit on abuses and injustice ignored at Durban III: political prisoners in Iran, proposed legislation to murder gays and lesbians in Uganda, North Korean concentration camps, Cuban totalitarianism, Syrian war crimes, and Zimbabwe's abject repression. Speakers will remind us that discrimination continues to be a critically important issue to tackle, especially in countries like theirs.
Indeed, the saddest part about Durban III is that the serious subject of racism is being dishonestly used by oppressive UN member states to distract the world from their own abuses.
Thor Halvorssen is founder and CEO of the Oslo Freedom Forum. He is president of the New York-based Human Rights Foundation, which is partnering with a network of global NGOs to oppose Durban III with a parallel conference held on the same day: the We Have a Dream Summit.