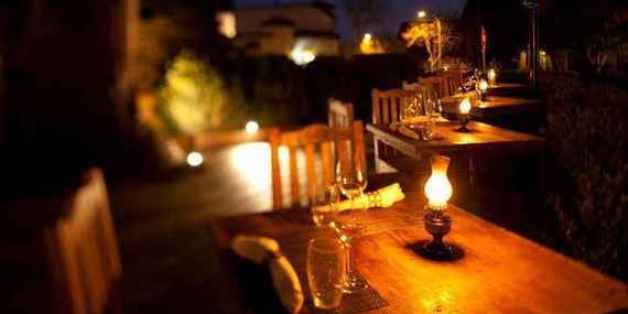 By: Kristin Hunt
We've all outstayed our welcomes at bars and restaurants from time to time, but some places have pesky customers who have been there for ages. Literally. At these 13 creepy joints, the spirits extend well beyond a nice whiskey list. They include murdered cowboys, slain prostitutes, victims of serial killers, and even the dude who shot Alexander Hamilton. Here are rap sheets for some of America's greatest places to drink with the dead.
More: The World's 10 Weirdest Restaurants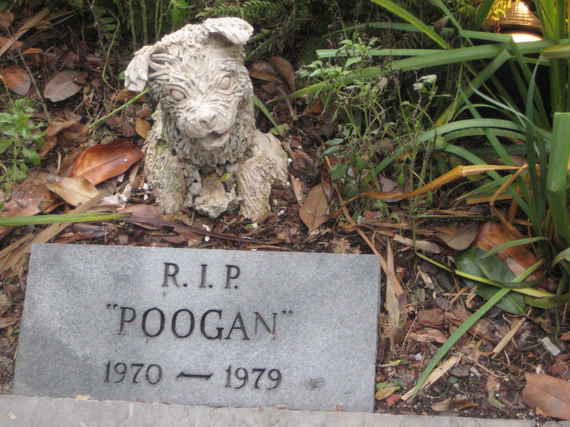 Credit: Flickr/Scott from TX
Charleston, SC
Although it would be adorable, Poogan's Porch isn't actually haunted by a canine poltergeist. The restaurant's namesake went to the light long ago, but the same cannot be said for Zoe St. Amand, a spinster schoolteacher who died in the building in the 1950s. Zoe is apparently a fan of rotating place settings around the tables and forging food orders, as well as hurling bar stools at the staff and busting open doors when she's pissed off. If only Poogan were there to calm her down.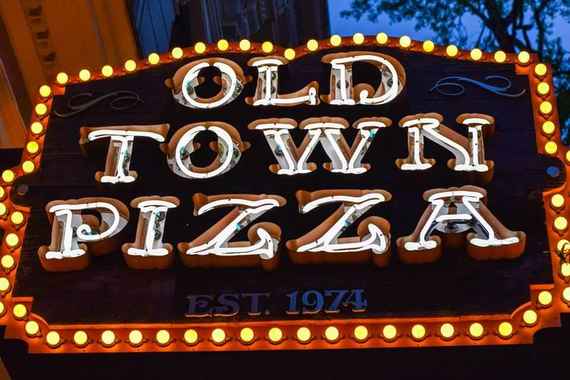 Credit: Old Town Pizza
Portland, OR
Owner Adam Milne is ostensibly the man in charge of this pizza joint, but it's Nina who really runs the show. The ghost has been hanging around the place for a century, and it is not for sentimental reasons. Nina was a sex slave who entertained clients at the Merchant Hotel, where Old Town Pizza now stands atop the city's infamous Shanghai Tunnels. Missionaries came to town and promised to rescue her if she gave up the pimps, which she readily did. Only those guys weren't too pleased about it, and decided to throw her down the elevator shaft as punishment. She supposedly scratched her name into a brick on that elevator shaft, which is now part of a booth, and today frequently appears to watch the patrons eat. If you smell any faint perfume or spot a ghostly chick in a black dress, you've just met Nina.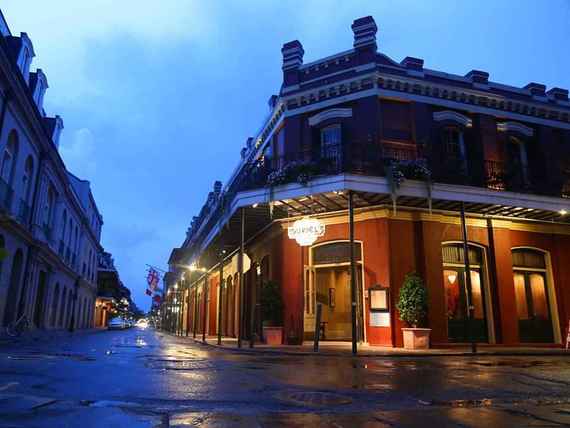 Credit: Muriel's Jackson Square
New Orleans, LA
In a city like NOLA, haunted buildings are a dime-a-dozen. And while Muriel's doesn't boast the most horrific backstory, it's seen some dark deeds. In the late 1700s, Pierre Antoine Lepardi Jourdan bought the burned-out mansion and restored it to its old charms. Then, in a classic future-ghost move, he bet the entire house in a poker game, which he lost. Because he couldn't bear to leave the place, he killed himself on the second floor, right around where the Seance Lounges stand today. Jourdan spends most of his time there -- he pops up as a shimmery light rather than a complete ghostly form, but he still knocks on the brick wall with the gusto of a full-fledged apparition. And he's got company. Paranormal investigators picked up the voice of a woman in the Seance Lounges, and there's definitely another poltergeist in the Courtyard Bar who's big on smashing glasses. Once they all complete their nightly shenanigans, they presumably enjoy a nice dinner at Jourdan's reserved table, which the staff sets with bread and wine each night.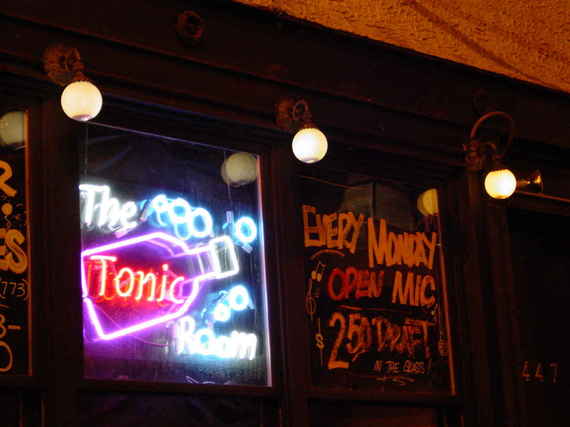 Credit: Flickr/Brandie Heinel
Chicago, IL
Plenty of patrons could tell you about the weird mists that show up in selfies they snapped, or the ghostly gangster they swear they saw at the bar, but nothing will scare you more than the Tonic Room's actual history. Members of the Irish North Side Gang frequented the bar in the 1920s before clearing out to make way for the American chapter of Golden Dawn. For those unaware, Golden Dawn is not a forgotten easy-listening jam: it's a secret society that's big on ancient Egyptian symbols and also human sacrifice. In fact, a girl who went with her father to one of these Golden Dawn meetings in the '30s swears she witnessed a ritual killing in the Tonic Room basement. After the murder cult left, a dude named Frederic De'Arechaga turned the space into an occult store in the '60s. He claimed to be a male witch, because of course he did.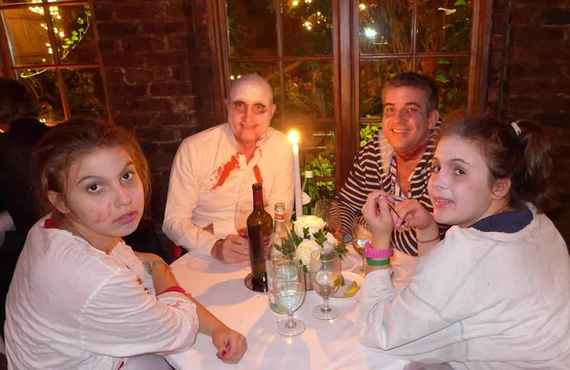 Credit: One if by Land, Two if by Sea
New York, NY
Many places brag about having ghostly hookers or conmen, but only this NYC spot boasts the spirit of noted Alexander Hamilton-murderer Aaron Burr. The restaurant actually used to be his carriage house back in the day, and everyone thinks he's stuck around with his daughter, Theodosia, to haunt the living. They routinely knock things over, creep down the stairs, and generally pester the patrons -- though they may have additional partners in crime. A parapsychologist who's visited the place claims there are really 20 ghosts there, all from different time periods, including a Ziegfeld Follies girl who might just high-kick you in the back.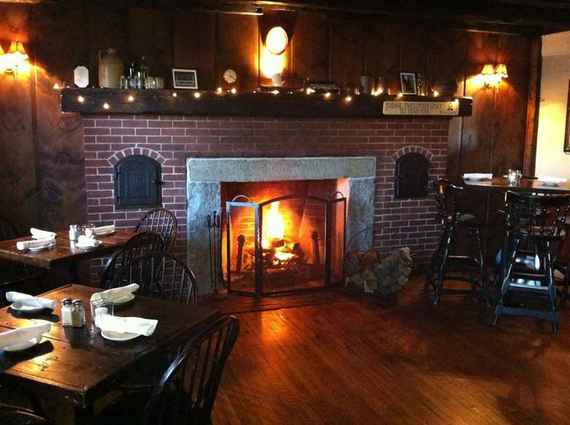 Credit: Stone's Public House
Ashland, MA
Stone's Public House takes its name from original owner John Stone, who was a very bad man according to one paranormal expert. After speaking with the six to seven spirits who allegedly live at the bar, ghost whisperer Ralph Bibbo claimed they told him Stone killed a boarder who won big in a card game in 1845. He then forced the few witnesses to help him bury the guy in the basement, and made them all promise to take the secret to their graves. But they must have felt guilty, because they never went to their graves. Instead, they float around the bar, making occasional ruckuses and silently judging your drink order.
Want to get spooked while eating and drinking? Head to Thrillist.com for 7 more of the creepiest haunted bars and restaurants in the country!
More from Thrillist:
How To Get Into The 14 Best Speakeasies In America
The 18 Worst Halloween Candies Known To Man
Follow Thrillist on Twitter: www.twitter.com/Thrillist