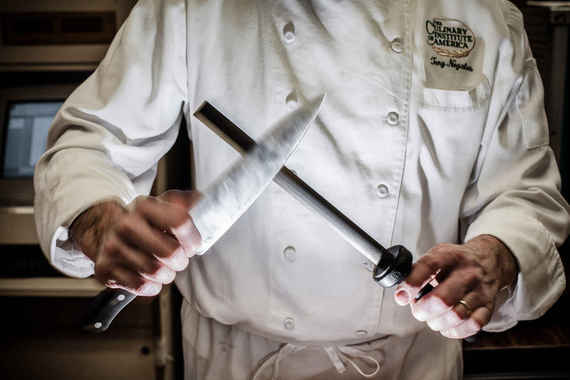 CREDIT: All Photos by Phil Mansfield
Without basic cooking skills, even the simplest dishes can blow up in your face, and then your face won't look very good because it'll be covered in chicken marsala and failure. So to help improve your cooking skills to non-destructive levels, we asked a group of instructors from The Culinary Institute of America, as well as some highly regarded pros and star chefs from the Austin FOOD & WINE Festival, to share some stupidly simple tips. Read on to learn the importance of salt, acid, and cleaning up after your damn self.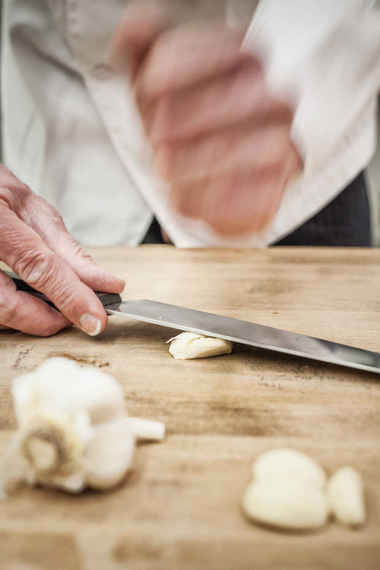 SMASH YOUR GARLIC
"To make peeling garlic cloves easier, cut off the tips from both ends and lay the side of the chef's knife on the garlic clove. Press down lightly on the knife to crack the garlic clove. The papery skin will come loose." -- Chef Joseph Klug, assistant professor of culinary arts
GET SOME KNIFE SKILLS
"Basic execution of knife skills is important. Not just for looks, but uniformly-cut items cook evenly. We have a saying at the CIA, 'If it looks the same, it cooks the same.'" -- Chef Bryan Tobias, lecturing instructor of culinary arts
More: Filet mignon sucks: Famous chefs reveal the most over/underrated meats
DON'T ADD ALL THE INGREDIENTS AT ONCE
"Layer the flavors. Try not to add all of the ingredients at once. It does make a difference. Most raw foods have a significant amount of water apart from the flavor components. By treating each component separately, we are better able to manipulate the individual characteristic of the ingredients. For instance, in making a simple potato leek soup, we could add all of the ingredients together and cook. Or we could add the leeks, and then sweat them, which brings out the natural flavors and sugars of the leek. After we have done that, we add the potatoes, stock, etc. This simple technique may require a little more time, and many people overlook it in an effort to shorten cooking times." -- Chef Tony Nogales, assistant professor of culinary arts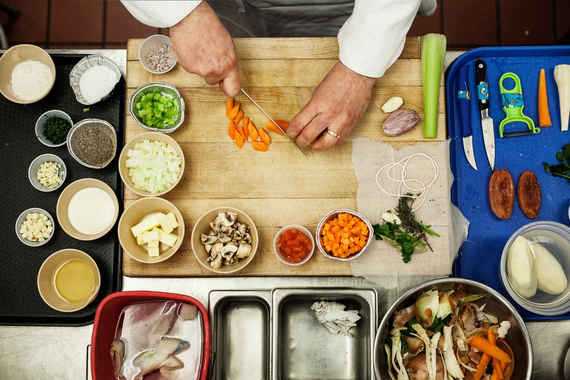 HAVE EVERYTHING READY
"Prepare a 'game plan' with a priority of tasks, recipes, preparation steps, tools, and ingredients. Together this is known as 'mise en place' (pronounced 'meez in plahss'). It means having everything ready before you start cooking, including having ingredients measured out. If properly 'mised', you shouldn't have to step away from the stove except to wash hands and take pots to the sink. At the CIA, it's one of the first things freshmen learn." -- Chef Bryan Tobias, lecturing instructor of culinary arts
LEARN YOUR FAMILY'S CUISINE
"Learn to cook the cuisine that you grew up with or from your culture -- this way there is a connection with a family member who can hopefully advise you." -- James Corwell, former CIA instructor
SALT AND ACID ARE YOUR FRIENDS
"Learn to balance flavors with proper use of salt and acid (lemon juice, lime juice, balsamic, rice vinegar). Seasoning should never taste 'salty'. Salt is used to activate your taste buds and allow you to taste unmuted flavors (think of a raw sliced tomato without, and then with just the smallest pinch of salt; acid is used to brighten). The simple, yet correct use of the two will elevate any home dish to that of restaurant quality." -- Phillip Lee, Scratch|Bar (LA)
Check out more tips about knife upkeep, how to use "the three elements", and a simple way to make cooking chicken a whole lot easier, on Thrillist.com!
More from Thrillist:
7 Things You're Doing Wrong in Your Home Bar
How to Pronounce the 16 Most Confusing Food Words
Follow Thrillist on Twitter: www.twitter.com/Thrillist