We all dream of jet-setting off to Europe for an unforgettable getaway. A very, very expensive getaway. But that doesn't mean you can't get the full European experience right here in the ol' US of A. These cities are like little satellite versions of popular Euro destinations, where you can get your fill of polka without ever being too far away from a cheeseburger, and without spending all your hard-earned euros on a transatlantic flight.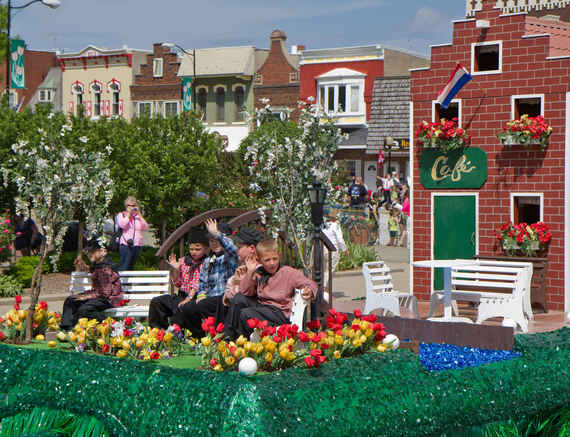 Credit: Flickr/LindaDee2006
Pella, IA
Go there instead of: The Netherlands
We didn't think there was anything in Iowa, but apparently it's where Europe's hiding, right in the town of Pella. Dutch-style architecture lines the streets and the Vermeer Mill (a windmill), located by Central Park, is the largest structure of its style in the United States. Spend a night in the Royal Amsterdam Hotel, preferably in May during their famous Tulip Time festival. During this event, the streets are flooded with traditional Dutch attire, dancing, food, parades, and, of course, plenty of tulips. Don't leave the city without a stop at Vander Ploeg for a creme horn or some Dutch apple bread.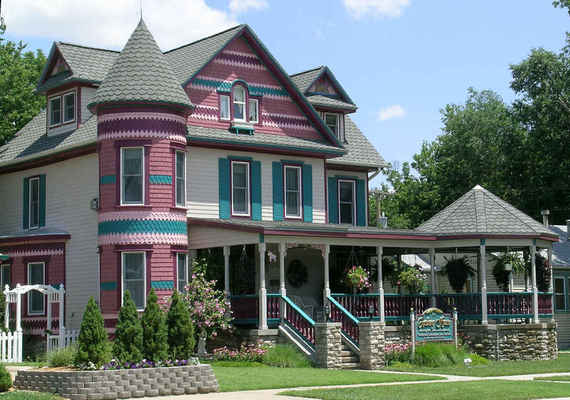 Credit: Flickr/frank thompson photos
Lindsborg, KS
Go there instead of: Sweden
You're not in Kansas anymore. No, once you enter Lindsborg you've arrived in Little Sweden, a kitschy town eager to say "Vᅢᄂlkommen!" (Also, you're actually still in Kansas, dumbass.) Check out the Swedish Pavilion, a part of the 1904 World's Fair, and be sure to look for the wild dala horses roaming around Main St. If you can, go in the fall for the the biennial Svensk Hyllningsfest -- don't worry, proper pronunciation not required -- which is a Swedish celebration filled with food, costumes, music, and dancing, but zero IKEA furniture.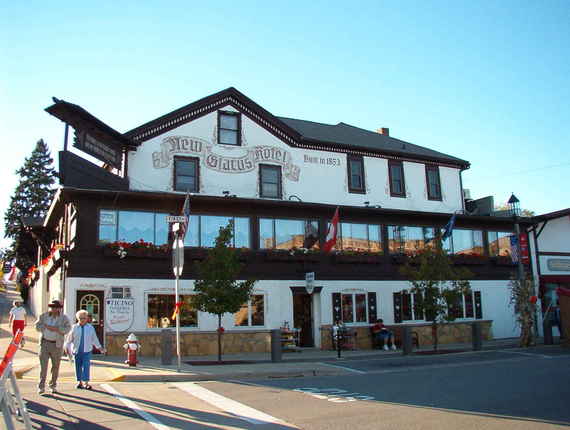 Credit: Flickr/clare_and_ben
New Glarus, WI
Go there instead of: Switzerland
If you find yourself hankering for a good yodeling sesh, as we often do, head to the land of the Cheeseheads. New Glarus' alpine-style architecture and endless stream of cultural events like the Heidi Folk Fest make your visit feel like a European retreat. Grab a table at Glarner Stube for dinner after taking a tour of the incredible New Glarus Brewery. Then, stroll along main street with an almond horn from New Glarus Bakery and you may just catch the Yodel Club crooning on the lawn of the Swiss Church. Also, there's a ton of cheese here. Because you're still in Wisconsin.

Credit: Flickr/Walter
Tarpon Springs, FL
Go there instead of: Greece
Get a taste of the Eastern Mediterranean in the last place you would think to find it... Florida. The Gulf Coast town of Tarpon Springs became populated by Greek immigrants at the turn of the 20th century, and today maintains the highest percentage of Greek-Americans in the country, with respect to the good folks at Delta Chi. Cruise down Dodecanese Avenue to the Sponge Docks, where Greek divers scour for some of the finest sponges in the world. Hit Mykonos or Rusty Bellies for Greek eats along the way, but save room for chocolate-covered baklava from Hellas Bakery.
PHOTO GALLERY
Under-The-Radar Vacation Destinations