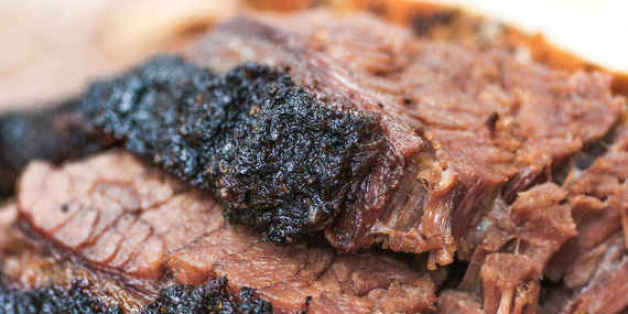 BBQ's recent surge in popularity has helped break down geographical barriers, so that you can now enjoy an expertly smoked slice of moist Texas brisket without having to chase it with a side of 100-degree heat. Here are five BBQ joints from across the country whose wares are heavily influenced by the salt and pepper simplicity of the Central part of the Lone Star State's love of beef. And while not everything about these places is Texan, you won't want to mess with their brisket.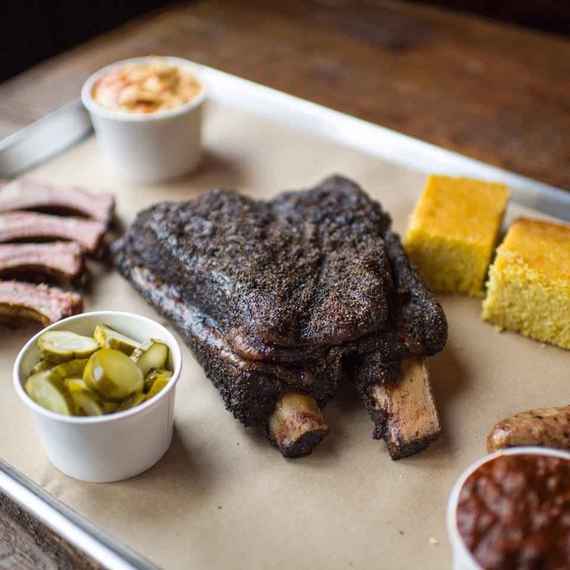 Credit: Hometown BBQ
HOMETOWN BBQ
Brooklyn, NY
Established: 2013
Pitmaster: Billy Durney
First memory of TX BBQ: "I was smoking meat for awhile, then on a trip for my previous career I went to Louie Mueller Barbecue in Taylor, TX. I stepped one foot inside, and I knew my whole life had been changed."
Why Central TX-style: "It's just the work ethic. I always took pride in a strong work ethic. We don't take shortcuts and people out in Texas don't take shortcuts. It's also the simplicity of using salt & pepper and making a really great oak fire. The simplicity, but the amount of difficulty and long hours that it takes. That's also what I feel the New York experience is about."
Favorite TX BBQ joints: "Louie Mueller Barbecue. It's easily the Hall of Fame of BBQ. It's what a BBQ place should be like."
How many briskets: 140 per week, plus over 200 of their signature beef ribs.
The rub: Salt and pepper
The wood: Oak
The smokers: Four 11ft reverse flow smokers that keep the fire a healthy distance from the meat.
How they honor the Lone Star State: With an interior that looks like an old Texas honky tonk without being gimmicky. And a soon-to-be framed American flag that used to hang outside Louie Mueller in Taylor. And by serving Shiner beer.
More: Behind the scenes at the Memphis BBQ World Championship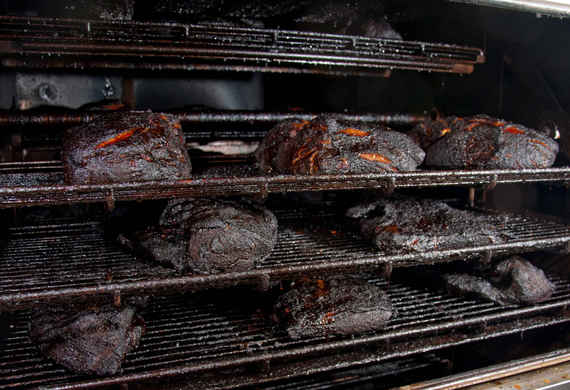 Credit: Smoque
SMOQUE
Chicago, IL
Established: 2006
Owner: Barry Sorkin
First memory of TX BBQ: "I had a friend who went to UT, and he was in town in Chicago. It was maybe 15 or 20 years ago. We went to a BBQ place in Chi, not a very good one. And he sat down and asked where was the brisket. To me, that was Jewish food. That dried tasteless stuff that my Mom used to make? Why would that be here? So he talked me into going down to Texas, and my first stop was Louie Mueller. That's the enduring image of the quintessential BBQ place."
Why Central TX-style: "We never really set out to be a TX BBQ, it just so happened that it's my favorite style. We also do KC-style baked beans, Memphis ribs, and Carolina pulled pork, but the TX-style brisket and sausage are our best sellers."
Favorite TX BBQ joints: Louie Mueller, Smitty's, Black's, Cooper's in Llano. Then in the new generation, Aaron Franklin.
How many briskets: On a busy Saturday, 90-100.
The rub: Mainly salt, sugar, pepper, paprika. Plus garlic salt, onion powder, dried ginger, and a lot more. "Louie Mueller might be the best brisket on the planet, but I didn't want to copy it."
The wood: Oak and apple
The smoker: Southern Pride, wood-burning with gas assist
How they honor the Lone Star State: Flying in sausages from Rudy Mikeska's Bar-B-Q in Taylor, TX.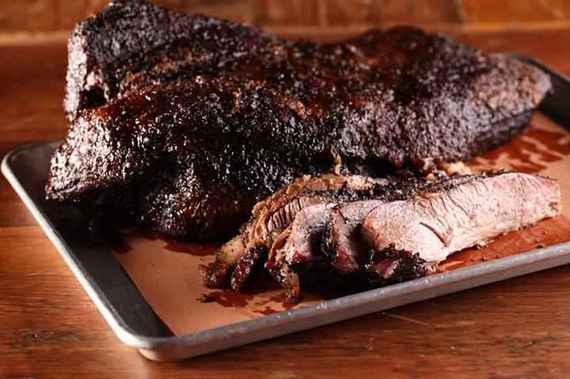 Credit: Hill Country Barbecue Market
HILL COUNTRY BARBECUE
Brooklyn, NY; New York, NY; Washington DC
Established: 2007, 2011, 2014
Founder: Marc Glosserman
First memory of TX BBQ: "BBQ has been part of my life predating any type of memory. My father grew up in Lockhart, and so, when I was really just a baby visiting my grandparents, Kreuz Market -- and TX BBQ in general -- was pretty much an obligatory stop on the way. I can't recall any family event in Lockhart that didn't have BBQ from Kreuz or Black's."
Why Central TX-style: "That was what I grew up with. On the East Coast BBQ is a term that was synonymous with grilling. Brisket and spare ribs and salt and pepper rubs, that didn't exist in my upbringing other than in TX. I wanted to bring it to New York, because there wasn't really anywhere to get it."
Favorite TX BBQ joint: "My absolutely sentimental favorite spot and inspiration for Hill Country is Kreuz Market. My father is very close friends with Rick Schmidt, the second generation that owned Kreuz. They were classmates at Lockhart [High School] and grew up together. I've known the family, grew up with them, they've known me since I was a kid. I used to go there when it was in the Smitty's location."
How many briskets: 40-50 per weekday, 60 on the weekends
The rub: Kosher salt, coarse black pepper, cayenne
The wood: Post oak imported from Texas
The smoker: Indirect heat Old Hickory
How they honor the Lone Star State: Regular live music, brown butcher paper as plates, and sausage flown in from Kreuz Market.
We've still got two more picks of the finest BBQ joints outside of Texas -- and you can see 'em both on Thrillist.com!
More from Thrillist:
The single best item at every US fast-food chain
6 things you should absolutely not eat while hungover
Follow Thrillist on Twitter: www.twitter.com/Thrillist