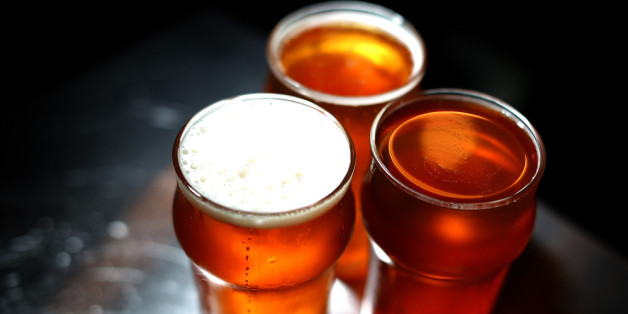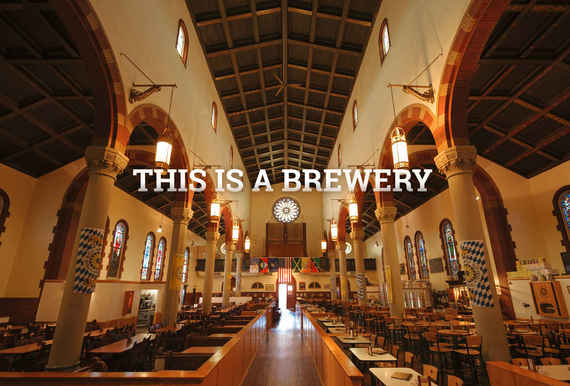 Credit: Church Brew
While it seems like every cool historic building these days gets repurposed into a loft you can't afford, a slew of brewers have actually beaten the developers to the punch, turning some pretty awesome old digs into even cooler places to drink beer.
From strip clubs and churches, to bus terminals and banks, here are 16 breweries built in some unexpected spots.
More: America's Best Craft Breweries: The State-By-State Breakdown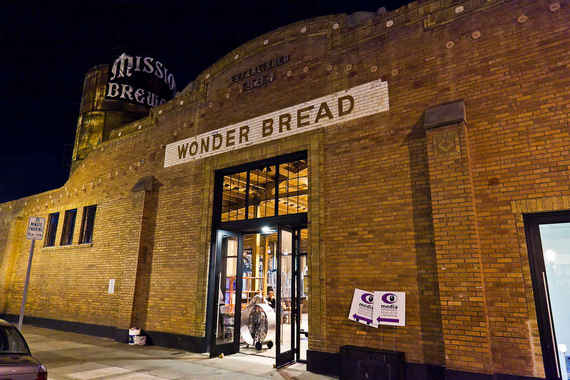 Credit: Flickr/Kevin Baird
San Diego, CA
Was/is: The Wonder Bread bakery
Quite possibly the best thing since sliced bread, this brewery's housed in a historic former Wonder Bread factory from 1894. With a 10,000-barrel-a-year capacity, Mission Brewery kicks out around 10 brews (plus a couple of rotating seasonals) and offers samples from a tasting room that overlooks the brewing facility.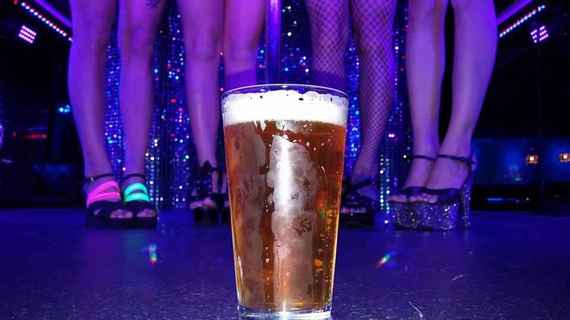 Credit: Facebook user Pinups and Pints
Dayton, OH
Was/is: A strip club
Aiming to combine two of men's favorite pursuits -- ogling exotic dancers while drinking exotic beer -- Pinups and Pints may well be the country's first microbrew nudie club. You'll find a 15-gallon brewing system conveniently located behind the stripper pole on the stage. "Now coming to the main stage: Alexis, where she'll not only dance but pour herself a pint of our signature Pinup Pale Ale."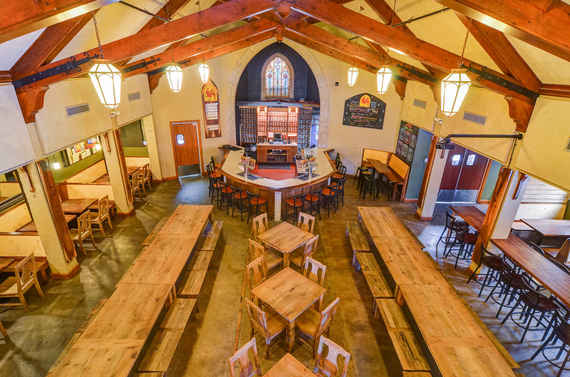 Credit: Brewery Vivant
Grand Rapids, MI
Was/is: A funeral home and an auto shop
Run by one of the founders of New Holland Brewing, the beer at this former funeral parlor is, of course, to die for. BV has two parts: the restaurant/bar is housed inside an old, 1900s-era funeral chapel, while the adjacent brewery is located in the former garage/livery.
After a $3 million renovation, the place is like a veritable beer basilica/cathedral with stained glass windows, vaulted ceilings, and 15 French/Belgian-inspired brews on tap. Step inside, and you'll think you're in heaven.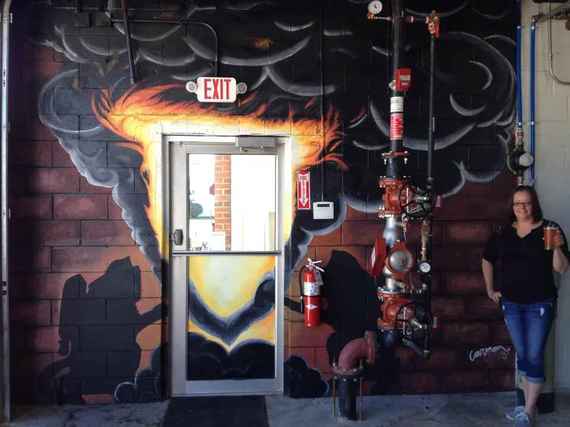 Williamsburg, OH
Was/is: A firehouse
Ironically (or not?), this new brewery built in a 1955 firehouse was opened by an actual former fireman. So unsurprisingly, the three-bay-doored taproom's decked out with -- in addition to dartboards and TVs -- original firefighter memorabilia like extinguishers, suits, and such. Unlike most breweries, though, there's no partition between the taproom and brewery itself, boasting instead a high-tech sprinkler system that allows them to sidestep that law.
For now, they're brewing five beers with names like Code 3 and Hoser Gose, and visitors can get growlers to go.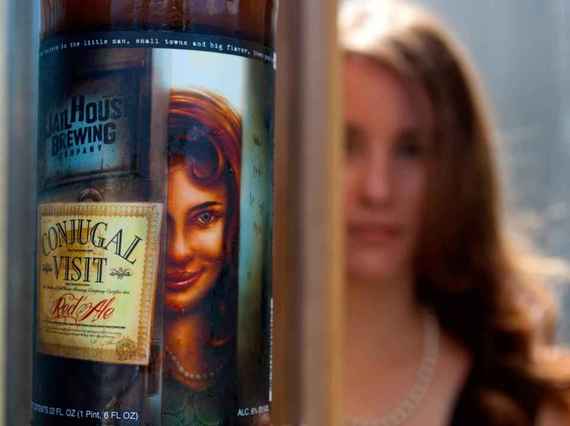 Credit: Facebook user Jailhouse Brewing
Hampton, GA
Was/is: A jail
A modern take on the drunk tank, this two-story brick jail was built in the 1920s and has probably seen its share of beer-fueled visitors over the years. Interestingly, it's also done time as a fire station, courthouse, mason lodge, and a sandwich shop. Today, JHBC offers tours of the building and brews beers with clever names like the Conjugal Visit Imperial Red Ale, Slammer Wheat, and Mugshot IPA.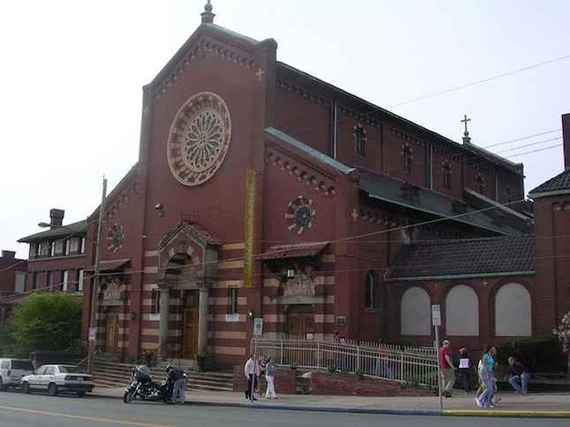 Credit: Wikipedia
Pittsburgh, PA
Was/is: The St. John the Baptist Church
While the former Roman Catholic church (built 1902) was officially deconsecrated in 1993, the stained glass windows, columns/arches, and converted pews offer current/former churchgoers that "Should I really be drinking in here?" twinge. Taking down too many of their award-winning beers (like Pious Monk Dunkel or Pipe Organ Pale) could also lead to an unexpected confession. Bless me Father for I have sinned...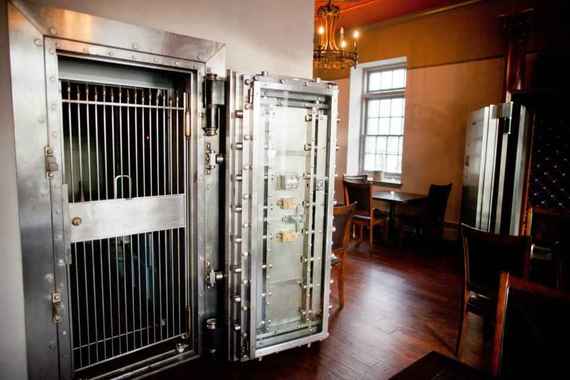 Credit: Facebook user Vault Brewing
Yardley, PA
Was/is: A bank
The Kickstarter-funded Vault Brewing Company's built inside the 1889 Yardley National Bank, where the original 8,000lb vault door now protects the beer-conditioning cellar. An old safe houses wine, deposit slips are part of the décor, and giant brewing vats sit behind original wrought iron partitions. The 310-gallon brewery offers five beers on tap (from a rotating lineup of around 25), including the signature Vault IPA and a Sweet Potato ale.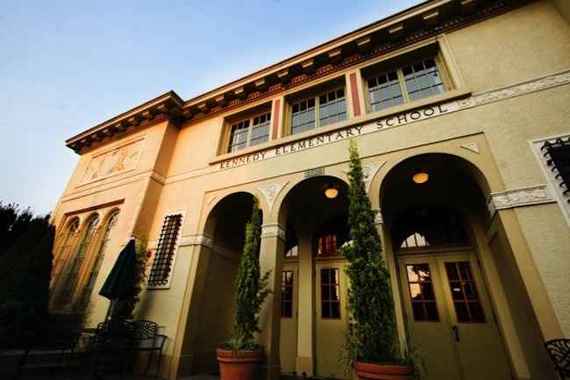 Credit: Facebook user McMenamins Pubs, Breweries & Historic Hotels
Concordia Brewery at the Kennedy School
Portland, OR
Was/is: An elementary school
Housed in an old elementary school that was built in 1915 (but closed in 1975), Kennedy School's a mixed-use complex complete with a hotel, movie theater, concert venue, restaurants, bars, and Concordia Brewery, which opened in 1997 in what used to be the little girls' room. They've brewed over 3,000 kegs to date of favorites like the King's Landing IPA, Oatmeal Porter, and Concordia Pale Ale.
Head over to Thrillist.com for 8 more breweries built in unexpected spots, including a Greyhound bus terminal and a military base!
More from Thrillist:
The 33 Best Beer Bars In The Country
From Vampire Strippers To Zombie Safe Houses: 21 Weird And Wonderful Theme Bars
Follow Thrillist on Twitter: www.twitter.com/Thrillist