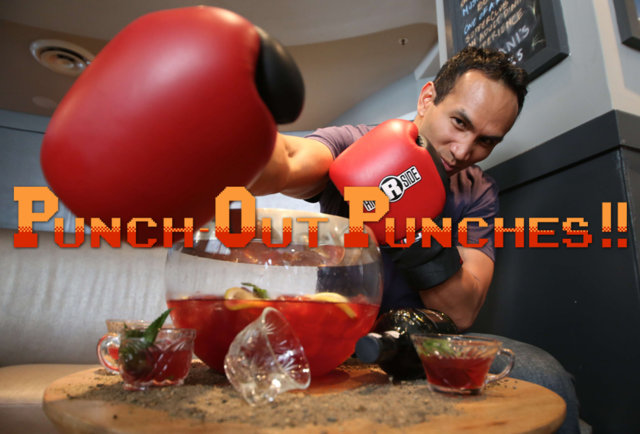 Since Punch-Out!!'s inception in 1987 as THE game you had to master if you wanted to have any chance to tongue-kiss Meredith Simms, the world has waited with bated breath for forward-thinking geniuses to come up with the idea to make booze-filled punches based on actual punches thrown by boxers in the game. But since those geniuses were too busy doing something stupid like creating the Internet, we decided to take it upon ourselves to ask some of the best mixologists from NY, Chicago, SF, Austin, Portland, Seattle, and Denver to make their own and give you the recipes.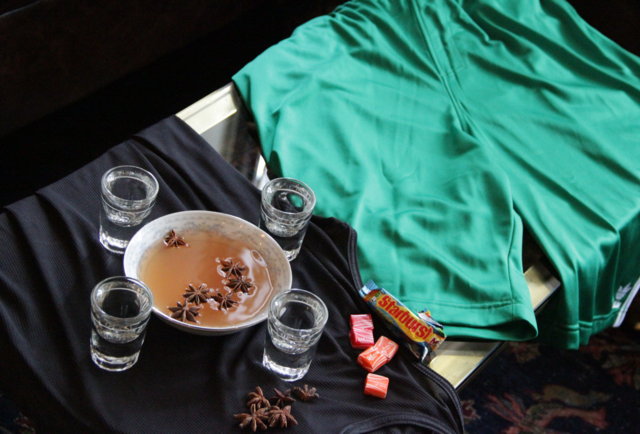 Little Mac's Upper Cut Star Punch, by Hill & Dale's Elliot Carlson, New York City
If you want to look good in tight black tank tops and are willing to jump-punch dudes literally twice your size, kick things off with this simple, literally star-studded recipe that "doesn't look threatening" but is meant to be served in shot glasses and consumed quickly because, like Mac's punches, the speed eventually takes its toll. Oh, and the 151 on the side is apparently there to mimic Mac's "power up," because it will really "knock you on your ass."
How To Make It (Serves 10):
1 liter Earl Grey tea, iced
.25 liter Sailor Jerry spiced rum
1 part orange juice to taste
1 part fresh squeezed lemon juice to taste
A handful of star anise
Soda water
1 bottle Bacardi 151
Directions: Combine the tea, spiced rum, OJ, and lemon juice in a punch bowl. Top with soda water and a handful of star anise. Serve quickly in shot glasses with an occasional 151 "power up." Start wearing tight black tank tops ALL THE TIME.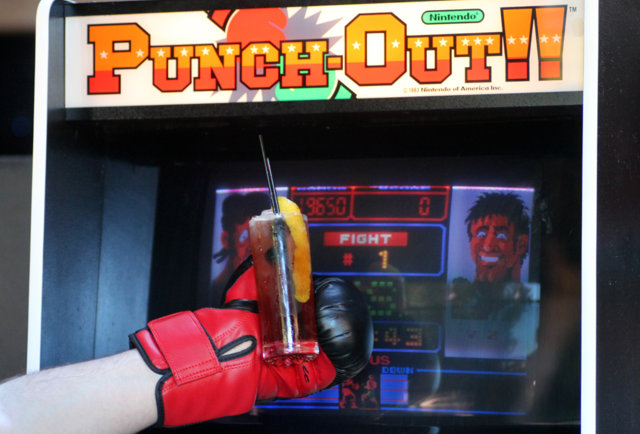 Soda Popinski's Soda Fury Punch, by Headquarters Bar's Tim Williams, Chicago
You know what giant, Speedo-clad, Soviet boxers love to drink before punching people? If you said cream soda and Commie-red cherry liqueur, you've clearly been cheating and reading ahead.
How To Make It (Serves 10):
10oz Evan Williams
7.5oz Cherry Heering cherry liqueur
5oz fresh lemon juice
12oz IBC cream soda
Combine in punch bowl and ladle out into ice-filled Collins glasses garnished with lemon peel and luxardo cherry.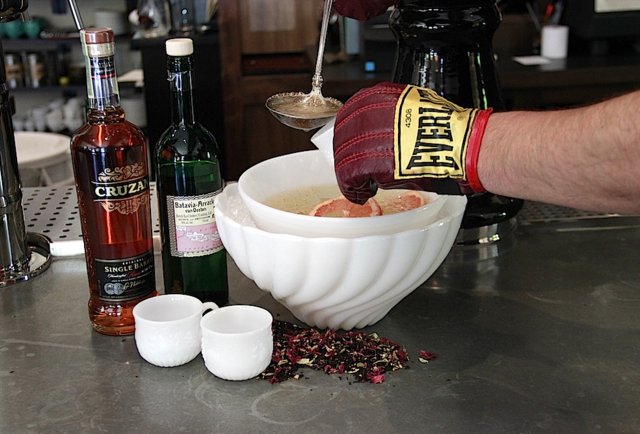 Great Tiger's Magic Punch, by Raven & Rose's Dave Shenaut, Portland
Shenaut's take on India's bobbing, weaving, and teleporting big cat lover features a special tea syrup made using Bombay Breakfast tea, and the Indian booze arrack, which, according to the Internet, is now illegal in certain parts of that country, making it even more awesome.
How To Make It (Serves 12):
18oz Cruzan single barrel rum
6oz Batavia arrack
9oz oleo tea syrup*
9oz fresh lemon juice
3oz B.J. Reynolds orgeat
Dilute using 2 cups of crushed ice and 6oz of Boylan's seltzer, then garnish with fresh grated nutmeg and lemon wheels.
*Four simple steps to make tea syrup and feel cool:
Peel 2 grapefruits.
Cover with .5 cup of super fine sugar and let sit for an hour.
Stir in 8oz of double strong Bombay Breakfast tea (Jasmine Pearl Tea Merchants).
Strain and discard peels.