By: Dan Gentile
In some parts of Texas, putting anything other than salt and pepper on a brisket is considered blasphemy. But to the dismay of more traditional pitmasters (and Spinderella) there's a whole host of folks around the country (and Canada!) who're using brisket to nefariously awesome ends. Here are nine of them, from cider and bourbon to donuts and ice cream.
More: These Are The 33 Best BBQ Joints In America
Brisket mac and cheese sandwich
Meltkraft (address and info)
Philadelphia, PA and Brooklyn, NY
The brisket: Rubbed with paprika, cumin, coriander, salt, and pepper, then braised Passover-style in beef stock with a ton of veggies
The grilled cheese scientists at Meltkraft load their five-hour-braised brisket onto artisan country bread, then layer it with one-year cloth-bound cheddar and a scoop of mac and cheese, just in case you were craving more dairy and carbs.
Deep-fried brisket taco
State Fair of Texas (address and info)
Dallas, TX
The brisket: Hickory smoked, deep-fried, and taco-ified
The Texas State Fair is home to everything from fried Thanksgiving dinner to fried grilled cheese, so it was only a matter of time until they battered Central Texas's greatest export. First, the brisket is lathered up in chili-cheese Fritos, then it takes a quick bath in the fryer before being topped with verde sauce, melted cheese, slaw, corn, and fried okra.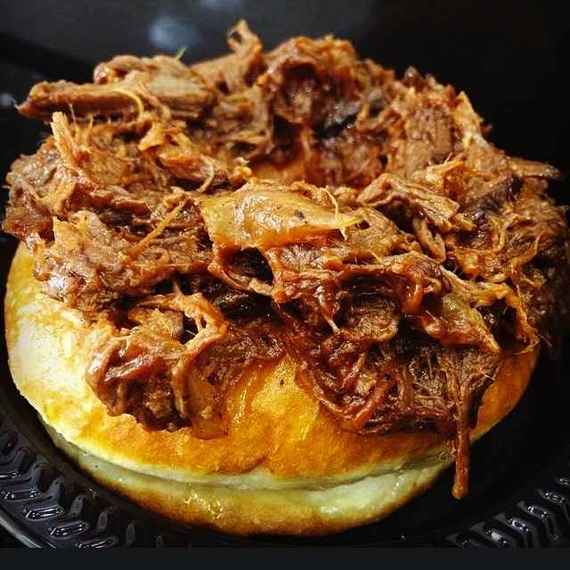 Credit: Instagram/eatglazed
Brisket donut
Glazed (address and info)
Houston, TX
The brisket: Origin unknown
Houston's mad donut-makers are eagerly awaiting the Houston Rodeo in March to unveil this slow-smoked monstrosity. The source of their meat has yet to be disclosed, but what we do know is that it's doused in sauce and caramelized onions, then rested atop a soft donut glazed in honey butter. So we kind of know a lot.
Brisket cider
Eastciders (address and info)
Austin, TX
The brisket: Burnt ends from Micklethwait Craft Meats
Old-school British cider-makers would often use meat to kickstart the fermentation process, so the UK expat behind Eastciders choose to go back to his roots, Texas-style, by feeding the yeast pounds of burnt ends. The resulting batch was intended to be a one-off Halloween offering, but was so tasty that they'll be making another round to bottle.
From ice cream to candles, head to Thrillist.com to check out 5 more ridiculous use of brisket!
More from Thrillist:
10 BBQ Meccas To Visit Before You Die
7 Foolproof Ways To Spot A Fake BBQ Joint
Follow Thrillist on Twitter: www.twitter.com/Thrillist