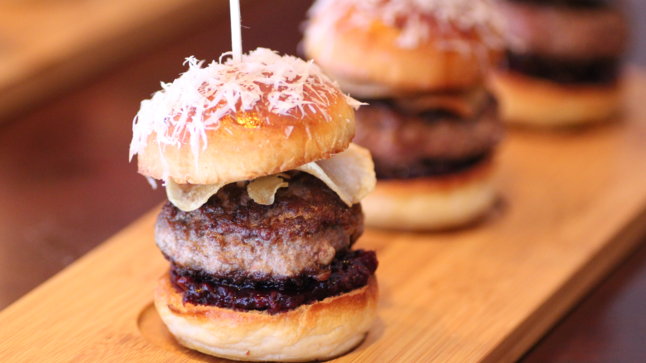 Summers tend to be packed with weddings, and that's a great thing, because it means people can still connect meaningfully in this increasingly isolating world of ours, and that those people are likely going to hire waiters to walk around with trays full of glorious foodstuffs.
But which of these passed morsels of appetizer-y goodness should you seek out with the greatest fervor? We've taken the liberty of figuring that out for you, but first some ground rules and criteria. First, the committee attempted to identify the most commonplace options that tend to repeat themselves across multiple weddings. From there, the factors weighed in ranking them, in no particular order, were: Ease of consumption, consistency of execution, ability to remain appealing in the face of cooling temperatures, and flavor. On with the rankings!
12. Caprese Skewers: These are a staggeringly common choice to appease the vegetarians in the crowd. They can be perfectly pleasant, particularly if tomatoes are in season, but no one's exactly salivating wondering when the salad on a stick guy is coming back around with his tray. Also, you're awkwardly left holding the skewer afterwards, and once you accumulate a few of them it's a dead giveaway that you're the fatty who can't lay off the free apps.
11. Chicken Skewers: Sometimes these are satay-style with some peanut sauce, and sometimes folks go teriyaki because anything with peanuts served to a large group is a lawsuit waiting to happen. Regardless, the chicken tends to dry out a bit, there's a fair amount of gnawing to do before you can go back to conversing like a normal person, and again there's the leftover skewer problem.
10. Mini Quiche: Whether standing in as another vegetarian option or mercifully studded with tiny flecks of bacon or some other pork product, these little bundles of Frenchiness leave a little something to be desired, especially if they've cooled a bit any you start getting that "scrambled eggs that have been left out a bit too long at the free hotel buffet that you weren't all that excited about but it's like, you already paid for it so whatever" taste, know what I mean?
Check out the top 9 passed wedding apps on Thrillist.com, including A CONTROVERSIAL PICK at #1!