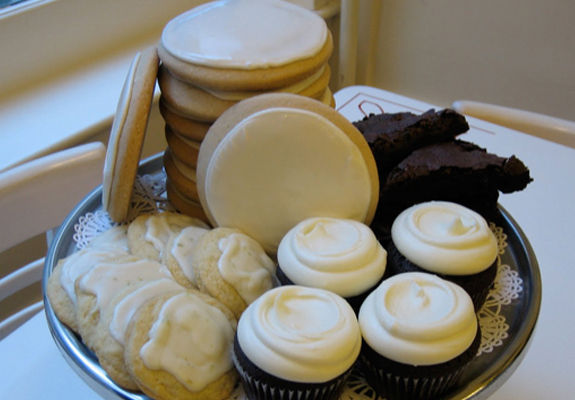 Whether you're stocking up for the Super Bowl or looking to get an early jump on Valentine's Day, get everybody drunk on sweets, with an exclusive, first-time-ever boozy off-menu sampler from Billy's Bakery. Opened by a cupcake veteran, the TriBeCa and Chelsea mainstay's offering this by-request-only, staggeringly alcohol-icious assortment: 8 tequila-lime cookies, 8 large dark rum cookies, 8 mini Bailey's brownies, and 4 Guinness cupcakes, which'll guarantee you get lucky as the Irish, in that, like the Irish, you will have sex.
Basically, this is the place to go to creatively satisfy your sweet tooth: frequented by celebs who know from food (you're goddamn right Martha Stewart's in the house), their twin 1940s-style locations both feature windows where you can watch the bakers working on everything from cheddar-cheese biscuits to Icebox cakes -- but not Iceman cakes, or pretty soon Val Kilmer will block out the sun.
Everybody loves Billy's Bakery, like more than a friend, so get on this offer now because it'll disappear insanely fast.
*Can not redeem on February 13-14.