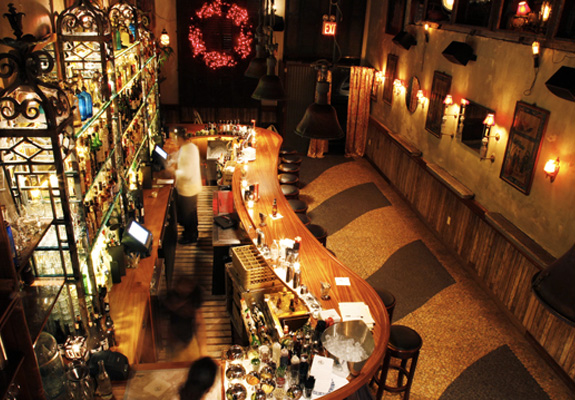 Get a Reward for the ages: the city's most inventive cocktails + the finest pièces de résistance, at New York's premier anti-untz-untz late night cocktail den, Macao Trading Co. Stop by the 1940s East Asian-themed haunt after 11p for a feast including six exotic face-stuffers designed by Babbo & Tia Pol alum Josh Blakely, including everything from smoked-paprika rock shrimp, to Cantonese chicken wings, to a juicy grilled hamburger with Portuguese pimiento cheese -- so tasty, you'll call it "Cara, ta uma delicia". Or possibly just "tasty".
Because of your irresistible magnetism, the chef will saunter over to your table for a VIP chat session where he'll rap with you about the historical inspirations for your feast, though if you guys are heatedly discussing Rex Ryan's unique running style, he'd be happy to join in that too. The '40s were all about the elixirs, so you'll also get two cocktails merging the spices and fruits of E. Asia and Portugal, crafted by owners/mixologists Dushan Zaric and Jason Kosmos, whose claim to fame also covers Employees Only -- not to be confused with the famed liquor bar inside the Secaucus Walmart...wait for it..."Associates Only"!
Late-night feasting, incredible cocktails, and one-on-one with the chef. Reward yourself right now.