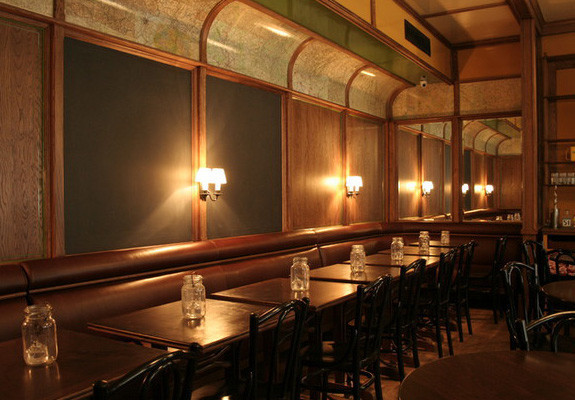 America has shown a profound ability to take global cuisines and make them unhealthy, from deep dishing pizza, to MSGing the hell out of Chinese, though who can blame us when it's Tsooooo delicious? Proving the obstinate French need no such help, Lyon.
Marked outside by a brightly lit marquee and created by a team with cred from La Goulue and BLT Prime, Lyon's inspired by the region's seasonal cuisine and communal dining culture, which is spread over a bar, cafe, and dining room that share an Old World railroad vibe thanks to heavy doses of oak, imported French accents from butcher boards to old bottles, and original road maps from the Michelin Guide, whose man is apparently too tired to guide you himself. The menu kicks off with assorted charcuterie & house-pickled veggies, then moves to hearty options like fish dumplings covered in rich cream and wild mushrooms; watercress risotto-/garlic sausage-abetted escargot; and brisket & onion soup w/ sourdough rye and marrow jam (also a little known soul hit that made everybody bone). Mouthwatering mains flirt with lightness (guinea fowl w/ root vegetables and thyme, charcuterie sauced diver scallops over smashed fingerlings) but inevitably go dense, from lamb shank w/ white bean stew and merguez, to fried pig trotter & foie gras patties served over green lentils w/ sherry vinegar, not to be confused with Cher-y vinegar, which has all gone bad.
Beverages'll consist of 'tails based on traditional French spirits and a Franco-heavy vino list, while desserts include apple beignets w/ cider caramel sauce, chocolate and praline butter mousse, and pear tarts with Szechuan pepper ice cream, proving that France has a profound ability to take unhealthy food and make you global.
Lyon: 118 Greenwich Ave, near W 13th St; West Village; 212.242.5966