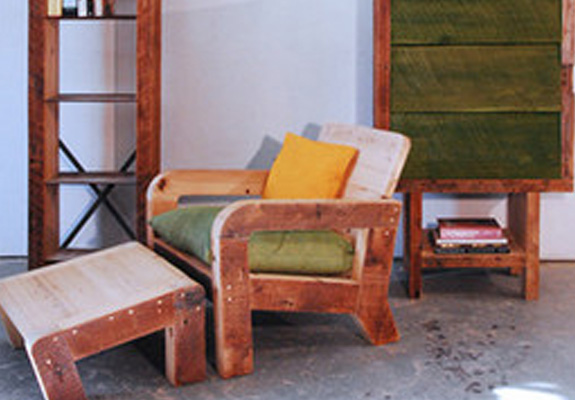 Just because something's made in Manhattan doesn't mean it's 100% local, though frankly, once you're hooking up with the room service it probably doesn't matter she's from a borough. For furniture actually made with Manhattan, peep Made of New York.
Operating out of a South Bronx Studio, the trio behind MONY have combined their diverse backgrounds (a Creative Director at IKEA, a Parsons professor, and a lumber/construction expert) to create a line of Manhattan-ready utilitarian furniture made entirely of wood sourced from the island, which isn't hard to come by considering it's filled with 2005-era Scarlett Johansson. Highlighting the timber by leaving it raw, seating options range from a boxier, mod version of an Adirondack (avail in black, green, blue, or untreated), to stools with a thick, striped, trunk-like circular top resting atop an oversized square-legged bottom, also the name of a new hot culotte from Lane Bryant. Other highlights include a tree-like coat hanger topped with a birdhouse called the "Catch All Organizer"; a square, four-compartment bookshelf with an open back marked by thin, X-ing pieces of wood reminiscent of a Gothic window; and a top-heavy dresser with a brown frame and three greenish drawers standing on a smaller shoe shelf, so anyone with big feet may need their kicks to Shaq up.
Should storage and seating be taken care of, they also have a picnic-esque dining table and a tall leaning wall mirror, though considering it reflects your pad, let's hope you're no stranger to housekeeping.