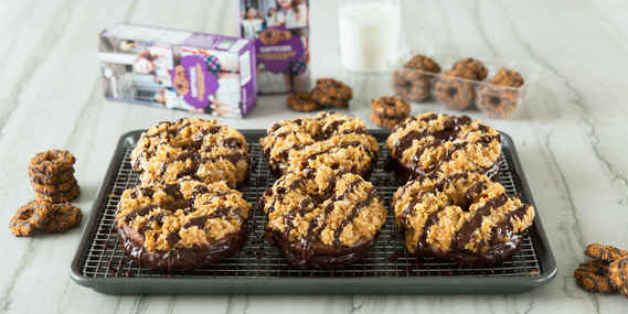 Not even your Girl Scout Cookie dealer can hook you up with these bad boys. You'll have to make these fluffy donuts at home, pile them high with toasted coconut caramel with your own two hands, and dunk 'em in creamy chocolate ganache all by yourself.
Nothing has ever been more worth it. Especially if you recently saw your "Girl Scout Cookie" dealer.
More: 10 Things You Didn't Know About Girl Scout Cookies
Samoa Donuts Recipe
Total Time: 3 hours, 30 minutes
Yield: 6
Ingredients:
For the dough:
1 ¼ cups milk, heated to 110°F
2 ¼ teaspoons (one package) active dry yeast
2 eggs
8 tablespoons (1 stick) butter, melted and cooled
1/4 cup granulated sugar
1 teaspoon salt
4 ¼ cups all-purpose flour, plus more for rolling out the dough
2 quarts canola oil
For the topping:
4 ½ cups shredded sweetened coconut
22 ounces soft caramels
3 tablespoons milk
1/2 teaspoon salt
For the chocolate glaze:
8 ounces dark chocolate chips
1 cup confectioners' sugar
1 teaspoon vanilla extract
1/8 teaspoon salt
1 cup heavy cream
1 tablespoon unsalted butter
Special equipment:
Stand mixer
Got all your ingredients ready? Head to Thrillist.com for the step-by-step instructions!
More from Thrillist:
The Unofficial Comfort Foods of Every State in America
Like Thrillist on Facebook: www.facebook.com/Thrillist