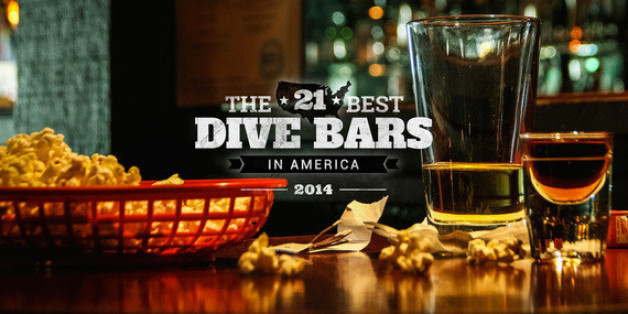 By: Andy Kryza and Liz Childers
Sometimes, you go to a bar for a fancy cocktail. Sometimes, you go for a rare beer paired with some gastropub innovation. And sometimes -- most times -- you go to drink in a dark, windowless room, where the drinks are stiffer than a 2x4, beers are as yellow as a Frank Zappa snowcone, and conversations are limited to grunts and threats over sitting on "Dave's stool".
For Thrillist's second-annual list of America's best dive bars, we surveyed co-workers, travelers, readers, and several stool-hoarding Daves to find the best no-frills bars in the country. Granted, there are divier bars out there, but these are the ones we recommend spending time in, rather than ones we'd dare you to slam a tallboy in before running for your life. Yes, we know we missed some spots. Let us know in the comments where we should nab our next well whiskey. In the meantime, consider us your personal Ben Kenobi: you won't find more wonderful hives of scum and villainy this side of Tatooine.
More: The 43 Worst People You See In Every Bar
Alpine Inn -- Portola Valley, CA
First of all, it's called Zott's because it used to be Rossotti's, and everyone just calls it that, okay? Second, it looks like an old-timey saloon from the movie Tombstone, and allegedly was a roadhouse back in the 1800s along the Old Spanish Trail. Third, you need to go here on a sunny day (luckily, most days in Portola Valley are sunny), walk past all the old video games and the scarred, carved-up tables, order a beer and their cheeseburger on a sub roll, and then sit in their glorious beer garden in the back, among the bikers, Stanford kids, and Peninsula locals. And then you need to stay there for a long, long while.
Back Porch and B&B Bar -- Spearfish, SD
"I know you! You slept with my sister," a shot-slurping woman declared on my first visit to the Back Porch. That seemed unlikely, since I was 20 and with my Grandma the last time I visited this Black Hills town. But then again, a lot of wonderfully salacious things can happen at this wondrous joint housed in a historic old bank building on the college town's Rockwellian Main Street. Bikers en route to Sturgis and locals congregate on the dance floor or look down on the revelry from the balcony as SoDak bands and touring acts rage away. On quieter nights, you can knock back gigantic shots and beers with the regulars who seemingly never leave, served up by staff that straddle the fine line between surly and charming and never let your glass go empty. Which leads to the inevitable question: "Where's that chick's sister?" Probably on the dance floor... two Fireballs, please!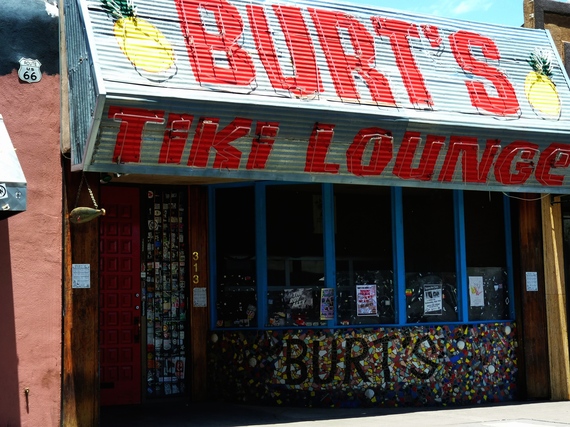 Credit: Flickr/Paul Narvaez
Burt's Tiki Lounge -- Albuquerque, NM
Burt's has a dark, moody vibe, which operates in stark contrast to the sunwashed vast expanse of the nearby New Mexican desert. Add to that a serious bric-a-brac fetish -- with surfboards, oars, and other tropical junk covering the walls -- live rock, and tropical drinks, and you've got yourself a bizarre oasis. It's like stepping into a TGI Fridays that married a dive bar in Oahu, then wandered off into the desert to raise their weird kids. We've said it before, and we'll say it again: Burt's is fantastic.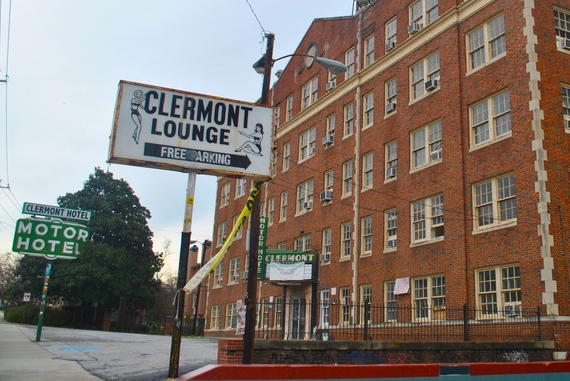 Credit: Flickr/Wayne Hsieh
Clermont Lounge -- Atlanta, GA
The institution pulls a double hit as a neighborhood dive located in the basement of a former flophouse and as a strip club with such a reputation that tourists flock to its single stage to see 65-year-old dancers take the poles or watch a younger girl light her nipples on fire. You can also catch live bands, but that's only when the strippers aren't choosing their dance songs on the jukebox. The upstairs hotel is in redevelopment as a boutique luxury space, but we can only hope that PBRs will still cost you $2 each, and you can drink those cans while watching Blondie -- the most famous stripper -- crush empty ones between her, uh, cans.
Dan's Cafe -- Washington DC
If you look up "no frills" in the dictionary, you will likely not find it, because it is two different words. But that doesn't stop it from being a damn accurate description for Dan's Cafe, from the name to the decor to the famous sign that's peeling paint as I type. But the glory that is Dan's comes from their heavy hand on the liquor. Seldom do you need to go past two drinks at this place before you are set for the night. So while you have that dictionary open, you may want to re-look for Dan's under "best damn deal". You won't find it in there either, but you get what I'm saying.
Dry Creek -- Austin, TX
From the diary of Thrillist sage David Blend: "I spent four years of college trying to get Sarah Ransom to like me. I wasn't alone. The woman who spent almost 50 years running Dry Creek -- a one-pool-table fixture on Mt. Bonnell with a rickety upper deck that miraculously supported the aimlessness of generations of college slackers and regulars alike -- well, she didn't like anyone, which is why every single piece of press about her (including her obituary) identifies her as 'the meanest bartender in Austin'. My senior year, I finally broke through when I noticed a photo of FM 696 she'd tacked to the wall and told her it was one of the most perfect stretches of road in Texas. She agreed, the first words she'd ever spoken to me besides her infamous warnings of 'Bring down your bottles!' and 'No gambling!'. I think she might have smiled as well, but I can't say for sure. Sarah passed in 2009, but Dry Creek's still there, the beer's still cheap and cold, and the dogs out front still look like they might be feral. They won't really bite you though. At a dive bar, just because you don't act nice doesn't mean you're not welcoming."
Duck Island -- Cleveland, OH
It's a late, snowy night in Cleveland's Tremont neighborhood, and we're approaching the ground level of the old house -- formerly a speakeasy -- that Duck Island calls home. A familiar sound -- Humpty bragging about a Burger King bathroom -- greets us. A DJ is spinning in the tiny den, accompanied by an older woman slamming a set of bongos between drinks of her incendiary whiskey & Coke. This place was once trouble, home to bikers and metalheads. It's since turned into the city's most friendly dive, with retro-futuristic furniture, deep-red walls, and a bar serving a mix of fizzy yellow beer, a surprisingly well-curated selection of micros, and cocktails ranging from standard to complex... unified by their extreme generosity of spirits. Speaking of generous spirits, everyone -- young and old -- in the crowded bar was offered a solo on the bongos. And hugs were doled out freely. This place feels like home, and it would even if it wasn't actually in a house. Peace and Humptiness will do that to people.
Happy Village -- Chicago, IL
Parked on a nondescript residential corner like so many quintessential Chicago taverns, Happy Village nails many of the expected dive bar essentials. Darkness? Check. The feeling that you might be drinking in someone's basement? Check. Visits from a dude selling tamales out of a cooler? Well, maybe that's just a Chicago dive staple... but, still, check. Separating Happy Village, however, is a side room devoted entirely to a pair of coveted ping-pong tables (don't try to play beer pong in here, these are for real feats of athleticism). But the crown jewel is the beer garden out back, with its tent and fountain and cheap plastic furniture all adding up to the feeling that you're attending an eighth-grade graduation party with a bunch of people who took WAYYY too long to finish eighth grade.
Linda's Tavern -- Seattle, WA
Before she opened Seattle's King's Hardware, The Bait Shop, and Tallulah's, prolific booze-slinger Linda Derschang's first (and eponymous) drinking destination started serving suds & spirits to the musicians/cool kids of Capitol Hill over 20 years ago, all under the watch of a beautiful taxidermy buffalo hung in a rough-hewn, wood-heavy space that's hosted everyone from political candidates to Kurt Cobain, who was seen entering the bar a day before his death. To this day, they say it still smells like Teen Spirit. And by Teen Spirit, we mean whiskey.
Magnolia Bar & Grill -- Louisville, KY
Don't be mistaken: there's absolutely no grill inside the Mag Bar -- but you're not there for the food anyway. The dimly-lit dive has the requisite pool tables, a pinball machine, and a loaded punk-heavy jukebox. Plus, one of the most disgusting bathrooms you'll ever consider -- and then reconsider -- stepping into. Don't touch the pole on the dance floor. Do show up for the Wednesday dance party that manages to combine dive standards with EDM music and college girls dancing on tables. It all somehow works. As long as the rickety tables hold up.
Head over to Thrillist.com to check 11 more of the best, no-frills, dive bars in the country!
More from Thrillist:
23 American Beers To Drink Before You Die
15 Sure-Fire Ways To Get On Any Bartender's Bad Side
Follow Thrillist on Twitter: www.twitter.com/Thrillist