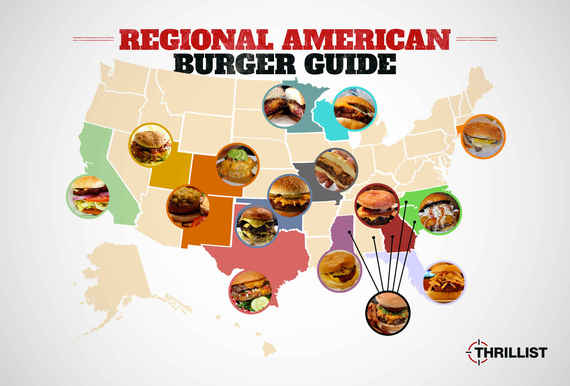 Just like the United States Constitution, a burger means different things to different people depending on which state you're in. To wit, since the invention of the "hamburger sandwich" in Connecticut in the late 1800s, folks all over this great nation have tested new ways to grill some meat and stick it on a bun, and today there are as many regional burger styles as there are things to put on a burger (read: infinite).
These are the 16 essential regional American burger varietals. If there's one we missed, don't hesitate to tell us about it in the comments section. For liberty!
SLUGBURGER
What it is: A burger patty mixed with flour and soy meal and fried
Where it comes from: Northeastern Mississippi
The origin story: Invented by John Weeks back in 1917 in Corinth, MS, they used to be called "Weeksburgers" because dude was totally into himself. But as the style gained popularity in the small NE Mississippi town, the moniker "slugburger" was adopted, a nod to the old slang word for "nickel", which was the cheap price of the burgers during their wartime birth and, later, Depression-era growth. The recipe was specifically designed to stretch ingredients further for those lean-times, and the soy meal extender gives the burgers a tender interior and crunchy exterior.
Where you can get some good ones: White Trolley Cafe (address and info) & Slugburger Cafe (address and info)
More: Sonorans, Coneys, and 13 Other Amazing Regional Hot Dog Styles You Need To Eat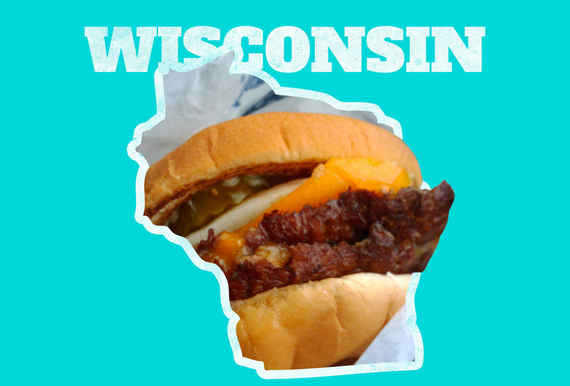 BUTTER BURGER
What it is: A burger with butter in the patty, on the patty, or on the bun
Where it comes from: Wisconsin
The origin story: Not just a term used to describe a girl who's smokin' hot everywhere except for her burger (hey-o!), "butter burger" is probably the most Wisconsin combination of words ever, and this Wisconsin-area specialty style (most likely invented at Solly's Grille, which opened in 1936) utilizes butter in pretty much every iteration you could imagine -- people soak the buns in it before grilling them, drop a pat on the patty while it's cooking, or actually make the patty WITH BUTTER IN IT.
Where you can get some good ones: Solly's Grille (address and info) & Culver's (address and info)
PASTRAMI BURGER
What it is: A cheeseburger with thin-sliced pastrami on top
Where it comes from: Utah
The origin story: Utah might not be as famous for its pastrami as, say, New York City, but they've made some serious strides with it in terms of burger innovation. Salt Lake City in particular has been serving up burgers topped with pastrami, cheese, and Thousand Island dressing out of its many Greek diners and restaurants. The trend was started by Crown Burgers (which was founded in 1978), and spread out like oil in a salty lake from there.
Where you can get some good ones: Crown Burgers (address and info) & Astro Burgers (address and info)
CALIFORNIA BURGER
What it is: A burger with guacamole/avocado and bacon
Where it comes from: California
The origin story: This burger style is shrouded in mystery, but was most likely a symptom of California exporting its culture all over the country ever since the 1970s and 1980s. In most places East of the Mississippi, a "California burger" is a burger with lettuce, tomato, and onion (which have come to be the standard burger veggie toppings). However, closer to the source, a California burger is considered any burger with guacamole/avocado and bacon and is eaten regularly by Arnold Schwarzenegger. Probably on a tank.
Where you can get some good ones: Pretty much anywhere
See more regional burgers from Oklahoma, Texas, North Carolina, Georgia, Minnesota, New Mexico, Colorado, and more!
More from Thrillist:
Filet mignon sucks: famous chefs reveal the most over/underrated meats
33 of the Best, Most Iconic American Foods
Follow Thrillist on Twitter: www.twitter.com/Thrillist