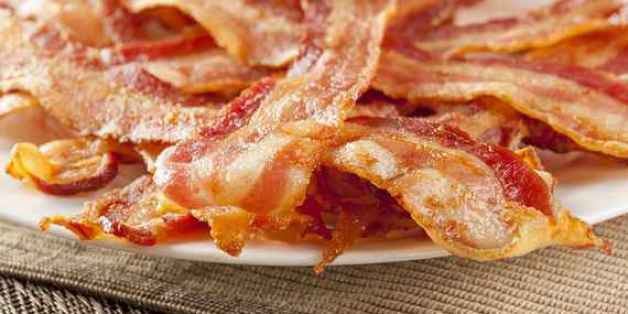 By: Adam Lapetina
If there's one thing that America proves time and time again, it's that there will always be a market for the wacky antics of cartoon sponges. But if it proves two things, the other one is that bacon is the best, most versatile food ever. We've got more of it here than most countries could ever dream of (and dream they do), and it's one of the few foods that can survive being labeled "trendy." Because bacon transcends trendiness. It is America's culinary mascot.
Some places serve up a few strips with eggs. Others, though, take pork's greatest achievement to amazing new heights. That's why we rounded up the 21 best spots for bacon in the country.
More: The Most Iconic Restaurant in Every State (and DC)
The Whole Bomb
Kaiser Tiger (address and info)
Chicago, IL
This West Loop beer hall does a lot of wonderful things with bacon, including wrapping it around dates and deep-fried meatballs. But for a real assault against your ventricles, go for the Whole Bomb. A glorious mutation of meatloaf, the thing starts with 2lbs each of ground beef and pork, which is wrapped up in a 16-strip bacon weave that sits on the smoker for three hours. The 5lb log is then sliced off for sandwiches or, more ideally, is just eaten like a burrito while you weep alone in the dark.
Mount Saint Hell Yeah
Hypnotic Donuts (address and info)
Denton, TX
Ever since the donut boom started in America, there have been bacon-topped donuts. But no place does them with quite as much gusto as Dallas' Hypnotic Donuts, which stocks three pastries with sheer piles of pork belly, including the Mount Saint Hell Yeah, which puts the pork at the summit of a cinnamon roll.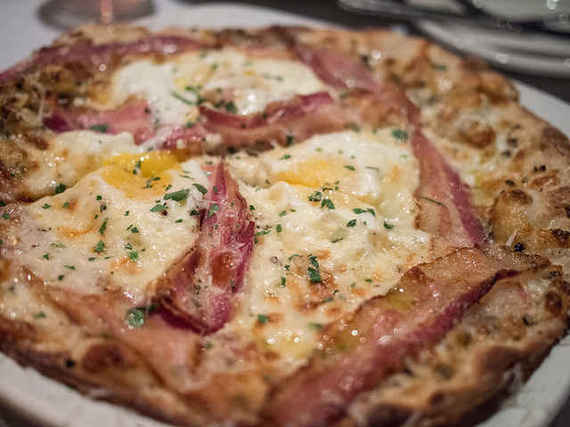 Credit: Flickr/Edsel Little
Sunnyside pizza
Bar Cento (address and info)
Cleveland, OH
This Ohio City spot does its own meats in-house, including pancetta, which is laid down on a pepper-coated crust before being topped with provolone and eggs. Those eggs basically fry in the grease as the pie cooks at a high temp. The result? A pizza with egg yolk and bacon juice as its sauce base.

Bacon Old Fashioned
The Patterson House (address and info)
Nashville, TN
Nashville's Patterson House is one of the city's most beloved bars (and one of ours!), and in addition to boasting an intimate, speakeasy-esque vibe, it's got one of the nation's best liquid applications of bacon: the Bacon Old Fashioned, made with legendary Benton's bacon-infused bourbon, maple syrup, and coffee pecan bitters.
Chicken & waffles with bacon
Bacon (address and info)
Austin, TX
When Bacon opened in 2011, pork-minded Austinites rejoiced. This sanctuary of swine's menu is nearly entirely bacon-based, so you can't really go wrong. But the move here is the chicken and waffles, a mountain of poultry whose secret weapon is the thick chunks of bacon they can bake right into the batter.

The 1lb BLT
Tony's (address and info)
Birch Run, MI
Some men achieve legend through feats of strength, or acts of extreme and selfless valor. In Birch Run, Tony achieved this status simply by making a BLT. Oh, and the "B" is in reference to an entire pound of crispy bacon, served up in an old-school family joint off of I-75. Yes, that means that people eat this thing and drive home. You're a madman, Tony. And a legend.

Irish nachos
Harry's Bar & Grill (address and info)
Brighton, MA
Bacon on nachos is one of those ideas that, when you picture it, will cause a man to facepalm hard for not having thought of it before. Welp, Harry's in Boston thought of it, and took it even further -- instead of chips, they use WAFFLE FRIES. When the nachos were temporarily taken off the menu, 3,500 people signed a petition to get them reinstated. They're that good.
B'B'B' Bacon Burger
Slater's 50/50 (address and info)
San Diego, CA
No conversation about places to get bacon in America would be complete without mention of Slater's 50/50. The place was a pioneer in creative applications of bacon, and their patties are half beef and half bacon (hence the name), so pretty much anything you get here is going to satisfy that craving of yours. But of all their menu items, the B'B'B' Bacon Burger (whose construction we covered here) is the most likely to make your jaw drop (both in awe and in order to fit the damn thing in your mouth).

The Death Muffin
Diesel (address and info)
Atlanta, GA
Diesel's "Bacon Explosion" -- a bacon-stuffed, bacon weave-wrapped sausage loaf covered with maple syrup and cayenne -- already sounds pretty daunting. Add to it cheddar & a poached egg, and put it all on an English muffin, and you've got a menu item that totally warrants the moniker of "The Death Muffin."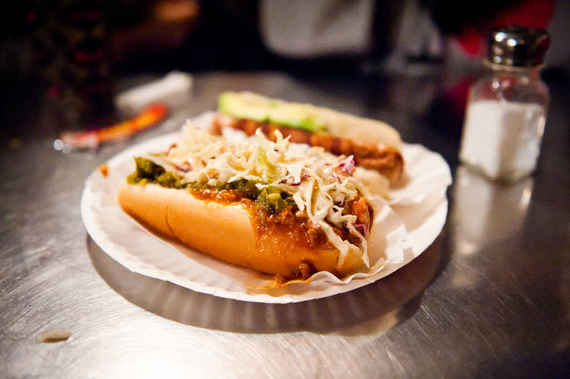 Credit: Flickr/star5112
The Spicy Red Neck
Crif Dogs (address and info)
New York, NY
Crif Dogs is an oasis of hefty late-night eats, where half the hot dogs on the menu are wrapped with bacon for an extra-crunchy snap that'll rouse you from any type of stupor. The Spicy Red Neck is an especially bacon-y example -- a wiener with bacon, cole slaw, chili, and jalapeños -- but really, every option is a testament to their overall mastery of pork.
Head to Thrillist.com for 11 more of the best dishes in America to get your bacon fix!
More from Thrillist:
These are 33 of the Best, Most Iconic American Foods
This Bacon Mac 'N' Cheese Quesadilla Breaks So Many Rules
Follow Thrillist on Twitter: www.twitter.com/Thrillist