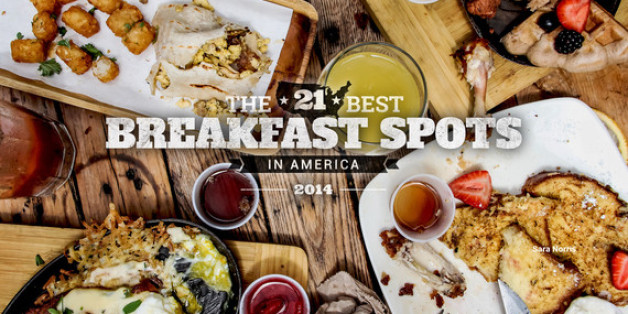 According to doctors and the backs of cereal boxes, breakfast is the most important meal of the day. And because we always agree with whatever they say on Lucky Charms boxes, we spent months eating those breakfasts at places all around the country, and then going back for more biscuits and gravy... just to make sure.
At the end of it all, these 21 spots offered up our favorite breakfasts in the nation (and no, we're not talking about places that exclusively serve that made-up weekend meal of brunch -- these places do breakfast all the time). If you disagree, or think we omitted something, or just want to tell us an unrelated anecdote because you need someone to talk to on the Internet, drop it below in the comments. But for now, just come in and sit down. Breakfast is served: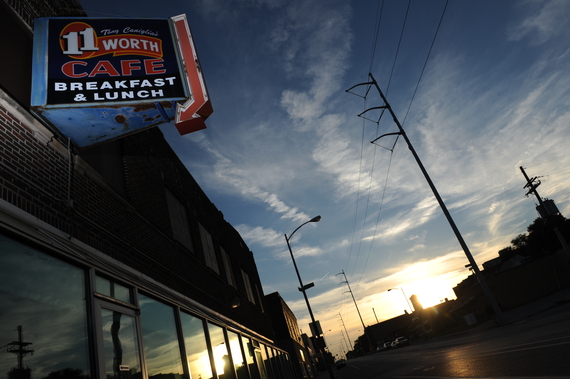 Credit: Matt Houska
11-WORTH CAFE
Omaha, NE
What you're getting: Country Potato Casserole with two eggs and toast
Most VIP Clubs require you to be a high roller, or, at the very least, be highly invested in wearing tight black T-shirts and sunglasses at night, but all it takes to get into the 11-Worth Cafe VIP Club is filling out a member form when you go to eat at the legendary Omaha joint run by Tony Caniglia and his family. And when you go, you better be hungry, especially if you opt for our move, and get the #18, aka the Country Potato Casserole, aka hash browns sautéed with onion, tomato, pepper, mushroom, American & Swiss, plus chicken-fried steak, all topped with their infamous country gravy. You can get two eggs and toast on the side as well for an extra $1.50... or cheaper if you happen to know any Very Important People.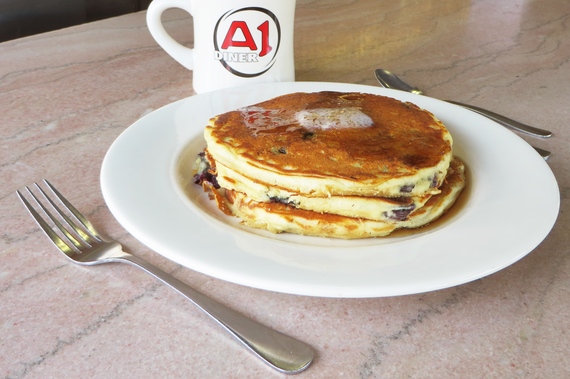 Credit: Michael Giberson
A 1 DINER
Gardiner, ME
What you're getting: Blueberry pancakes
Brief history lesson: Back in the early 1900s, a man named Philip Duprey started the Worcester Lunch Car Company, which had the peculiar gig of just building "lunch cars" or diners. The company lasted 51 years, making over 600 in that time, including one that, since 1946, has sat in Gardiner, Maine. As you may've guessed from every other clue, that is now A 1, and though the scene inside does feel a bit like a time capsule, the food is very much up-to-date, and delicious (what other diners are regularly whipping up Korean vegetable pancakes with spicy green beans, huh?!?), though -- being that it is Maine -- we prefer to keep it simple with their light, crispy local blueberry pancakes. Luckily, the nostalgia comes free.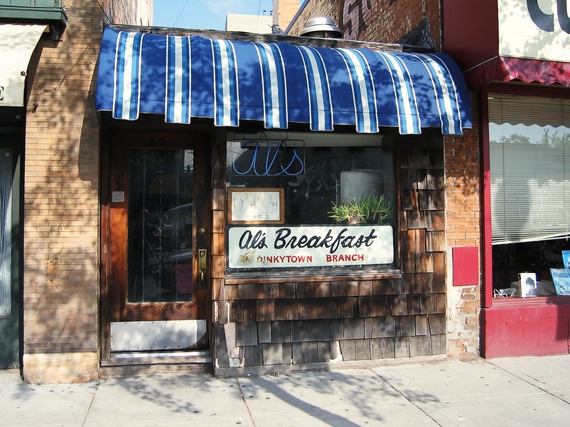 Credit: Flickr/Peter Merholz (Edited)
AL'S BREAKFAST
Minneapolis, MN
What you're getting: Bacon waffle
The Dinkytown diner is only 10ft-wide, a planked shack that would look just as at home on a weathered beachside strip as it does propped up by two buildings in the narrow alleyway where it's been wedged since 1950. Come early -- a line before the 6am opening is completely normal -- and plan to wait with stalwart regulars for one of the 14 stools. While hash browns -- cooked on a griddle so well-seasoned that Southern cast-iron skillet-wielding grandmas would be jealous -- and blueberry pancakes are also winners, trust us on the bacon waffle. Rather than wimpy bits of crisp pork, huge chucks of salty porcine goodness are layered through this fluffy monster. Pour on syrup for a sweet-savory breakfast that's basically a side and main baked into one.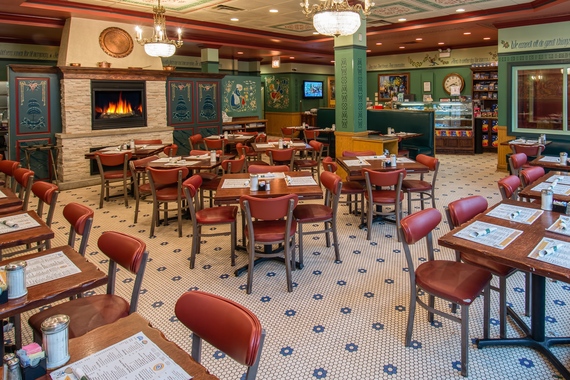 Credit: Ann Sather
ANN SATHER
Chicago, IL
What you're getting: Swedish breakfast sampler & free cinnamon rolls
The Chicago morning institution offers plenty of your standard breakfast fare, but you'll want to give a nod to their Swedish roots with their sampler (technically listed as a special but always available), consisting of one of their Swedish pancakes with lingonberry jam, a juicy potato sausage, a Swedish meatball (weirdly tasty at breakfast time), and an egg in whatever your preferred egg-consumption method is. Normally it'd be a fairly easy breakfast to tackle, but since you will have already mowed through their icing-laden cinnamon rolls that they lay down on the table before the main course, you're walking out of here stuffed.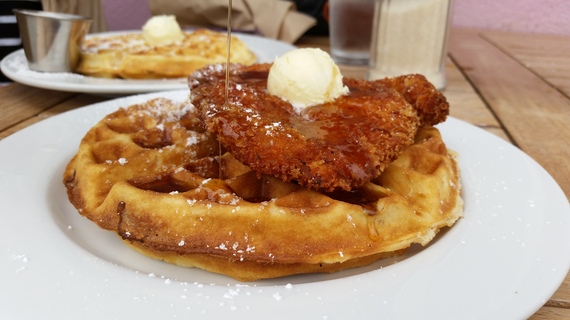 BEACHSIDE COFFEE BAR & KITCHEN
San Francisco, CA
What you're getting: Chicken and Bacon Waffle
If you knew nothing of San Francisco, and just spent an entire day in the Ocean Beach neighborhood, you would come away thinking that SF is not all that different from its more beach-focused Southern counterparts. The hood (which obviously sits right across the Great Highway from the actual Ocean Beach) is more of a surfer's enclave, more laid back and less bustling than the rest of the city, and offers some (relatively) undiscovered gems, Java Beach owners' Patrick and Buffy Maguire's Beachside Coffee Bar being one of them. Though they keep the same exacting standards with the coffee that they do at Java Beach, it's the food here that shines, from the fantastic Irish Breakfast Sandwich, to our personal favorite, the fried chicken and waffle, with their bacon-in-the-batter waffle substituted in.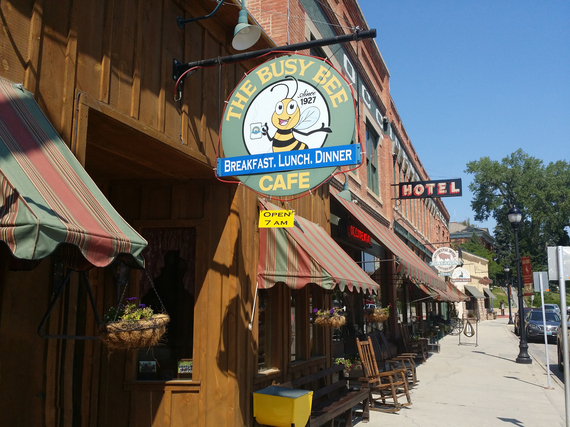 Credit: The Busy Bee Cafe
THE BUSY BEE CAFE
Buffalo, WY
What you're getting: Occidental French Toast with a side of bacon
Smack in the middle of the picturesque mountain town of Buffalo, the Busy Bee is a tiny, charming cafe housed on the end of the town's centerpiece, the historic Occidental Hotel, which also houses a saloon that hosted everyone from Buffalo Bill to Teddy Roosevelt. The modern-ish cafe specializes in huge, cowboy-tranquilizing breakfasts ranging from overstuffed breakfast burritos to baked goods and locally farmed chicken-fried steaks. But nothing is quite as insane as the Occidental French Toast, which is actually a gigantic cinnamon roll dipped in French toast batter, fried, and soaked in maple syrup. Pair it with a side of bacon and maybe book a room in the hotel. You're not getting up for a while.
There's still plenty more of the best breakfast spots in America to go -- check out ones from Georgia, Texas, New Hampshire, Iowa, Michigan, Arizona, and more!
More from Thrillist:
The world's best breakfast: which country's morning meal is tops?
6 things you should absolutely not eat while hungover
Follow Thrillist on Twitter: www.twitter.com/Thrillist