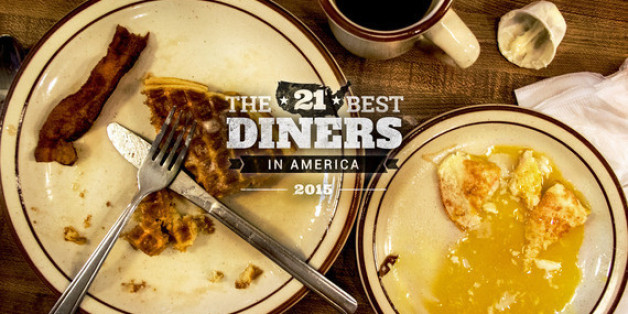 By: Kevin Alexander and Liz Childers
A quality diner is like a minor league utility player: always ready in an emergency, does a few things well, and tends to have long experience spending time in weird, little towns. Our search to find these places took us all over the country, from the oldest diner in Maine to an updated classic in Raleigh and a famous writer's haunt in New Mexico. We ate pie, drank milkshakes, and confusedly stared at birch beer for a while. But we also enjoyed some of the best food and the cheapest prices in the country. Then we ate more pie.
So, check out our 21 favorite diners in the country, and let us know what we missed in the comments, using your polite Internet voice. The free refills are on us:
More: Power-Ranking the Greatest Movie Diners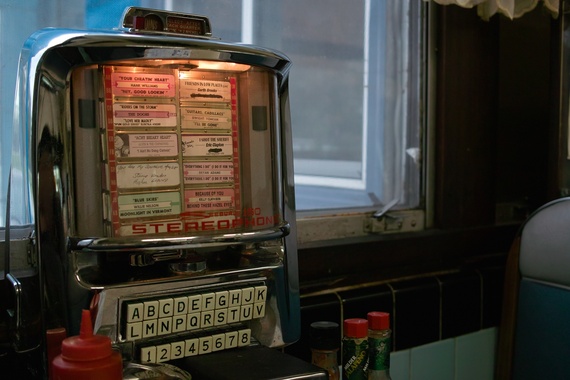 Credit: Flickr/Jun Seita
Bennington, VT
The Blue Benn -- a diner that glows azure from its stools to its trim -- was shipped from Jersey to Bennington and assembled on its current spot in 1948 and, since, very little has changed. Besides an entryway that's extremely necessary to cover the throngs of hopeful, waiting diners in the Vermont weather, the diner is that original car -- kitchen and all. Normally, I'd say to sit at the diner counter, but, here, fight for a booth with its wall-mounted jukebox (the counters have them, but it's common knowledge that no one likes to share their old-school country picks with other eaters): $.25 gets you two songs, and I feel confident saying that mixed berry pancakes sized larger than your head taste better with Patsy Cline crooning.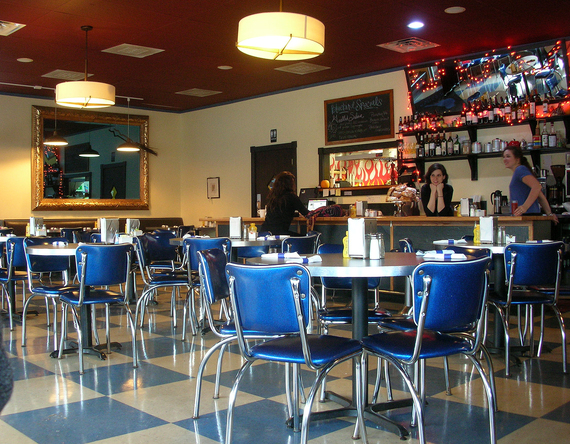 Credit: Flickr/Alan Light
Iowa City, IA
Every year, several Thrillist editors take a road trip to Iowa City. It's a weird tradition that isn't worth explaining, but there is much eating and drinking and feeling old when, at some point, we inevitably stumble into Brothers, Iowa City's main college dive. And in the morning, there is no bigger ally in the fight against nausea than a breakfast at Bluebird. Unlike a lot of diners, they have a manifesto, and it includes the names of the local partners they use to get their food (what's up, Dreesman Buffalo Ranch!), and said food is delicious. Do yourself a favor and get the Huevos Epsteinos, a "cross cultural collision" of homemade chili verde, smoked pork, Parmesan polenta, over-easy eggs, and hash browns. And maybe stay out of Brothers.
Tybee Island, GA
First things first, The Breakfast Club has been serving omelets on the quirky island outside Savannah since 1976, nine years before Judd Nelson threw his fist in the air while strutting across the football field in THAT MOVIE. Jodee Sadowsky, a CIA graduate, has been at the helm for most of that time with a homemade policy governing everything from the Smackwater Jack omelet's spicy sausage to the toast that's definitely the most boring part of the, uh, "Emotionally Satisfying!" PMS omelet order, a two-egg omelet loaded with spinach, garlic, mushrooms, and Parm, served with grits, bacon, and that house-made bread. The line's notoriously long, but, hey, this is the beach, and there are worse places to spend your morning than waiting in the dunes for a seat at this counter.
Jackson, MS
Brent's may've made its Hollywood debut in The Help and undergone a number of renovations since it first opened its doors in 1946, but this Jackson diner maintains its old-school soda-fountain style and well-worn air of a neighborhood institution. Grab a stool and order a French toast sandwich -- two slices housing a fried egg and gooey American cheese -- or a grilled bacon & pimento cheese sandwich with spicy, gooey cheese oozing out. If the menu's overwhelming, just keep sampling until it's time to drink... Brent's may look like it could host a sock hop, but it's also hiding Jackson's best cocktail spot, speakeasy-style, in the back.
Chicago, IL
Built from an old railroad dining car, this 24-hour institution is everything a diner ought to be. No tables. No frills. Just a counter, a big-ass griddle, and guys working it who know how to turn out lifesaving breakfast foods and burgers at a breakneck pace. The signature move here is known as the Slinger, a daunting mountain of hash browns, burger patties, runny eggs, cheese, and grilled onions covered in chili and kicked with toast for mopping up the mess (yes, you get a certificate for finishing). Of course, if that sounds like too much, you could go off-menu for a Dick Burger (topped with a runny egg and hash browns), the late-night brainchild of a regular (Richard) who also happened to be the Alinea sommelier at the time. When the staff at a 3-Michelin star joint endorses your late-night prowess, you're doing something right.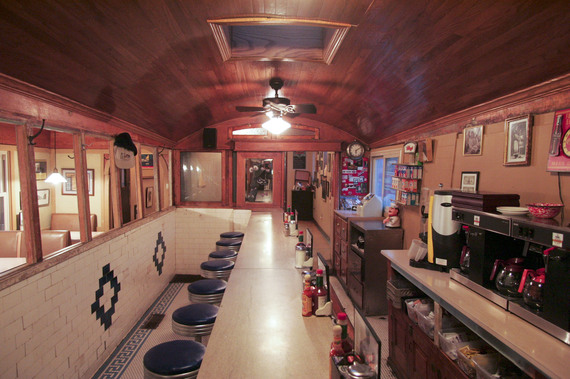 Credit: Sue Leiting/1221creative.com
Kenosha, WI
In 1926, Anthony Franks' $7,500, Jersey-made dining car arrived by rail in Kenosha, WI, finishing its journey to downtown behind a crew of six probably really unhappy horses. The same family ran the diner all the way until 2001 and, two more owners later, little has changed, besides the addition of another dining room (you'll almost definitely be eating here -- few are lucky enough to land a counter stool) and a larger kitchen. Do as everyone else in Kenosha has for the last 89 years and order a Garbage Plate, that's as much a legend as the diner itself: five eggs, hash browns, peppers, onions, and one (or three) meats. It also comes with toast, which you won't be able to eat.
South Boston, MA
Southie is in the midst of an inarguable transformation, as the siren song of gentrification now plays loudly and on repeat. Yet Galley remains the same as it did many years ago, when I lived in an ugly apartment building at N and Sixth known as the Ramada. When you are hurting, and you need something quick to eat in shame back at your apartment, their sausage, egg, and cheese on an English muffin is the move. But if you're actually willing to show your face, get the Southie omelet -- full of hash and cheese, it's a signature dish, and will assist your inarguable transformation back to being a normal functioning person.
La Jolla, CA
In theory, a New York-style diner in San Diego should not work at all. The San Diego attitude's all, "Whatever, brah" and the New York attitude will punch that guy in the face. But luckily for La Jolla, the NY attitude is nowhere to be found, while 12 omelet varieties and bacon pancakes made the trip West. That explains the tons of regulars who show up day after day. Since 1960, the Rudolph family (including the three brothers who currently man the ship) have been treating the faithful to all-day breakfast, along with creative coffee offerings, like a mocha with Mexican chocolate and espresso.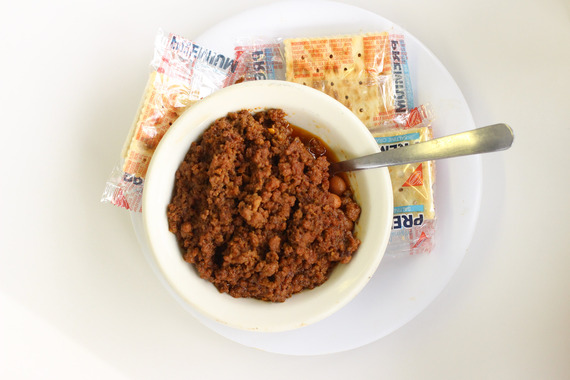 Credit: Shanley Cox/eatitkansascity.com
Kansas City, MO
Hayes does things the same way they did about 60 years ago when they opened -- fresh hamburger meat is still ground and delivered every day and the homemade chili is made using a recipe from 1906. And the tiny Kansas City institution is still selling plenty of sliders in the present day, including an estimated "35-40% in the morning." Nothing like a chili cheeseburger before noon. There's also biscuits and gravy if you like breakfast food in the morning. Hayes' regulars also add character to the place -- people just finishing their shift at the Ford plant nearby and white-collar folk sit elbow-to-elbow at the counter. They don't have much of a choice, either, since the whole place is only 600sqft.
West Palm Beach, FL
Despite the restaurant tag, Howley's is an all-classic '50s diner, from its red leather counter stools to its neon glow that lights up Dixie Highway. You could say a 2004 renovation updated Patrick Howley's eponymous spot, but really it just returned the diner to its original 1950 glory. The menu, though, lines upgraded dishes, like crab cakes and fresh juice smoothies (Remember: you're in Florida.), alongside banana cream pie, berry pie, apple pie, Key lime pie, and all the other pies you've dreamed of eating alongside Special Agent Dale Cooper.
Hungry for more of the best diners in America? Head to Thrillist.com for 11 more delicious spots!
More from Thrillist:
The Unofficial Comfort Foods of Every State in America
The 33 Best Burgers in the Country
Follow Thrillist on Twitter: www.twitter.com/Thrillist