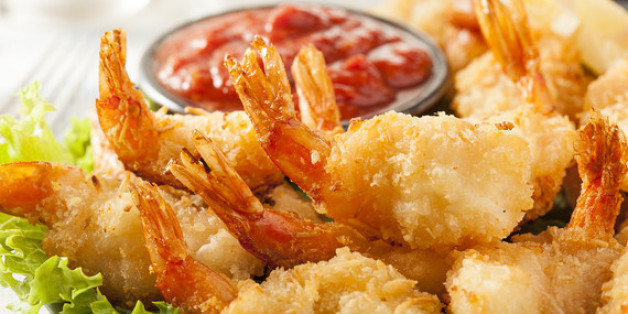 By: Thrillist
It's summertime, the livin' is easy, and seafood shacks are throwing open their doors. There's no better way to consume the fruits of the ocean than with a paper plate on your lap, the wind in your hair, and creaky floorboards beneath your feet. What the following seafood joints lack in ritz they more than make up for in character, legend, and, of course, lobsters, shrimp, crabs, and various other delicious lower life forms. Forget restaurants, and hit our round-up of the 21 best shacks.
More: The 7 Most Underrated American Food Cities in 2015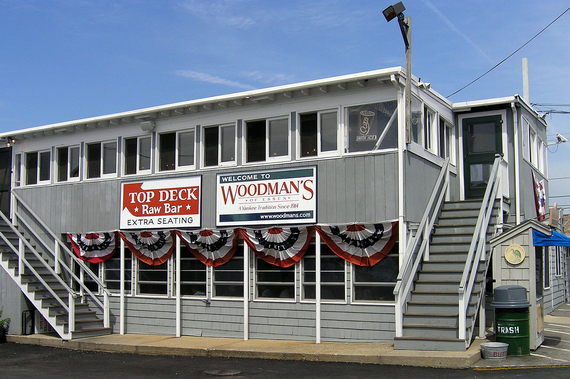 Credit: Flickr/Gail Frederick
Woodman's
Essex, MA
What you're getting: Uh... the fried clams?
At more than a century old (1914), Woodman's claim as inventor of the fried clam and clambake pioneer has more credence than most. Founder Lawrence "Chubby" Woodman's first attempt at the fried clam was in 1916, at the "humorous suggestion of a friend," proving that humor and seafood have both come a long way. He also invented a no-beach-required mobile clambake system, whereby he loaded everything onto a truck, and drove out to hungry hordes all over New England to cook the clams over a wood fire. Chubby's third- and fourth-generation family members continue to run the clambake catering business and restaurant, and 25 of their 80 employees have been clocking in for more than 30 years!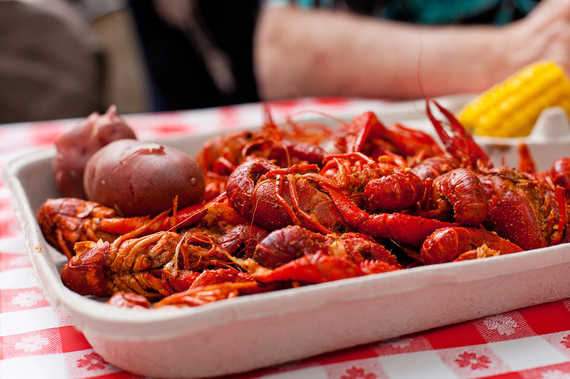 Credit: Flickr/Ashley Bischoff
Big John's Seafood Patio
Erath, LA
What you're getting: Crawfish. Unless you're the type of person who tries to order a grilled cheese at a sushi joint.
Appropriately for a seafood shack/barn located in Vermilion Parish -- "the most Cajun place on Earth" according to the Census Bureau -- Big John leans heavily towards the boil. You could order something else from the menu, but know that it's a mere formality and you risk looking like a weirdo. Orders are by the pound (3, 5, or 10); prepare your sauces while you wait. It's only open through crawfish season, which is roughly November through May, and is just the perfect filler for when those lobster shacks shut up shop.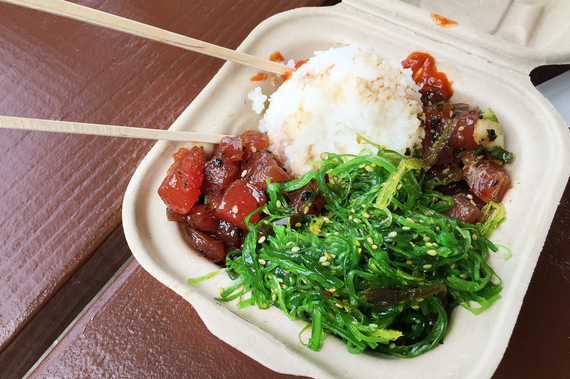 Credit: Flickr/Scott Schiller
Da Poke Shack
Kaulia-Kona, HI
What you're getting: The Dynamite poke bowl. Believe the hype.
It's tiny and located within a condo complex and may look like a place to leave your spare key, but its Japanese-influenced seafood bowls and Hawaiian beer beat out even the most upscale contenders. There are eight different kinds of poke to choose from, but the move is really to go with the spicy Pele's Kiss, or the avocado aioli-topped Dynamite. And maybe get some of that fresh, fresh sashimi while you wait.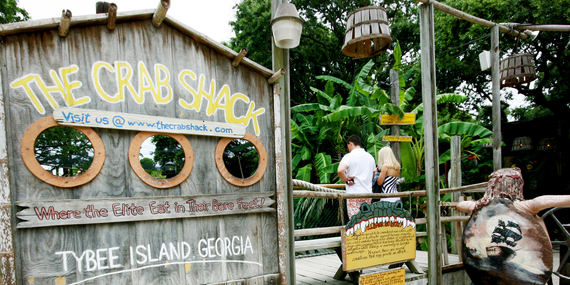 Credit: Flickr/Andrew Miller
The Crab Shack
Tybee Island, GA
What you're getting: The Shack Specialty shellfish platter -- all the shellfish that comes in just off the pier where you're eating, plus all the corn, potatoes, and sausage of a Low Country boil.
Like they were hell-bent on becoming the inspiration for a Jimmy Buffett song (more on him later), in '83, the now-owners of The Crab Shack saw an ad for a fish camp, bought it, left their lives in Atlanta, got their boat captain licenses, started charter-fishing operations out of the marina, and then, eventually, launched The Crab Shack. While it sounds like a gamble, starting a seafood shack at a large fishing camp on a city-island, teeming with Atlantic seafood, is a very smart move indeed.
The Wreck of the Richard and Charlene
Mt. Pleasant, SC
What you're getting: Fried shrimp
When life hands you lemons, make lemonade. And when Hurricane Hugo hands you a wrecked trawler, open a restaurant, with its very name, on that very spot! The Wreck overlooks Shem Creek and is most definitely shack-like in its "take it or leave it" stylings: there's no air-conditioning in the screened-in dining room, and it's worth calling ahead as it keeps irregular hours, only recently started accepting credit cards, and doesn't take reservations, check-splitting -- or any of your nonsense.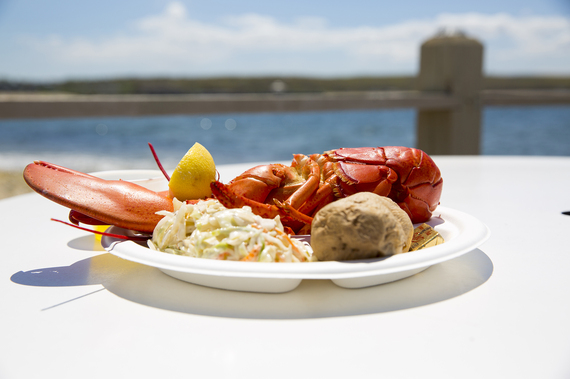 Credit: Anthony Humphreys/Thrillist
Duryea's Lobster Deck
Montauk, NY
What you're getting: Steamed lobster, rolls, and salads. Quickly.
Change is coming to Duryea's, an 80-year-old institution that has technically changed hands, but will remain under current management, with the same menu and prices, for one more summer due to last year's off-the-charts profits. So there's even more reason to make the trek here for Maine and Canadian lobster, clams, and shellfish. All are served up for retail, wholesale, and in-your-face-now on the 70-seater deck, famed for its sunset views over Fort Pond Bay. While those won't change, a high-end seafood restaurant is next, so catch this shack while you can.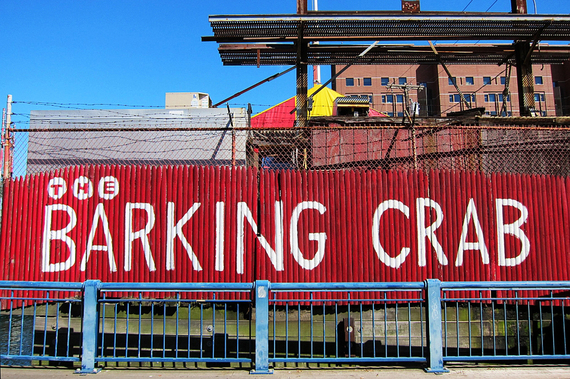 Credit: Flickr/Bosc d'Anjou
The Barking Crab
Boston, MA
What you're getting: Stuffies and a mixed crab bowl
It sat out over Fort Point way before sitting out over Fort Point was a thing. Its yellow and red tent can be seen for miles, and when you see people filling it, stretching out along those communal tables dotted with paper towel rolls and Tabasco, you know that summer has returned to Boston and that is indeed a great thing. Start with the quahog, chourico (Portuguese spelling!), and Ritz cracker "Stuffies," and move onto the crab cake slider sandwich if it's lunch, or throw on a bib and make yourself gleefully messy with a mixed crab bowl, then Water Taxi back to whence you came.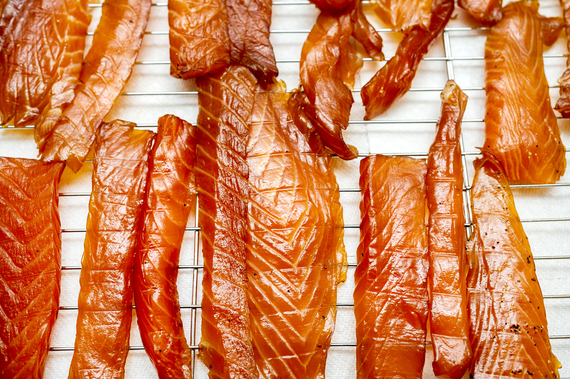 Credit: Flickr/Jazz Guy
Ecola Seafoods Restaurant & Market
Cannon Beach, OR
What you're getting: Smoked salmon jerky
Half of everything at Cannon Beach is named "Ecola"-something, from the Chinook word for "whale," so be sure to ask specific directions to this seafood shack or risk ending up at a gas station. It's a family affair, and has been for the past 22 years; they fish the Washington and Oregon coasts daily, so you can be sure that whatever is on your plate was swimming a very short time ago. Unusually for a seafood shack, Ecola is open 363 days a year, for whatever "seasons, weather and fisherman's luck" is serving up. You should hope it's salmon and halibut.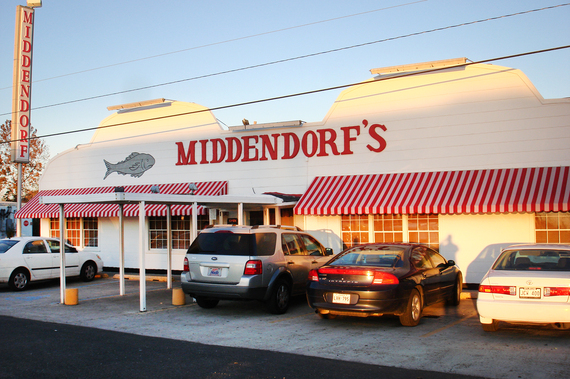 Credit: Flickr/Fuzzy Gerdes
Middendorf's
Akers, LA
What you're getting: Fried thin catfish
You've probably had fried catfish before: it's a simple dish, easy to make with a few spices and breading thrown onto a thick slice of the river fish before it hits the fryer. But if you haven't had it at Middendorf's -- a restaurant in a fishing village that barely exists -- then you have yet to discover just what catfish can taste like. The restaurant cuts their catfish wisp-thin. It's salty and flaky and piled so high on the plate. You'll want to tuck your napkin into your shirt and have your bottle of hot sauce close at hand. And maybe also go ahead and look up fish filet lessons because you'll never be able to eat other catfish again.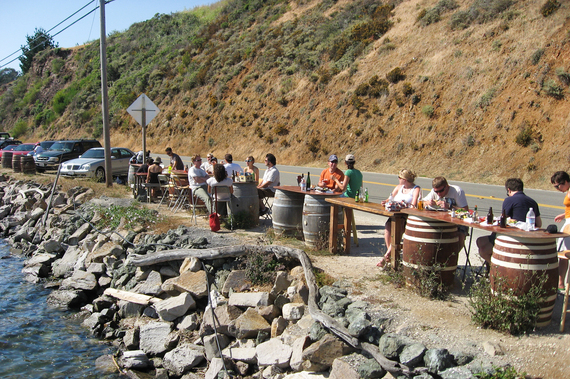 Credit: Flickr/Joanne Wan
The Marshall Store
Marshall, CA
What you're getting: Did we say every kind of oyster dish?
You will see other larger oyster companies en route to The Marshall Store up in Tomales Bay, and you will be inclined to say, "Wait, those places are crowded and popular looking! Maybe I should go there." But that would be a mistake. Instead have your party find a spot at one of the tables sitting on barrels overlooking the bay, go in and grab a six-pack or some wine from the refrigerator, and order up every kind of oyster (fresh from their farm right there) dish they make. No joke, you need to get all six: the raw, BBQ, chorizo, Kilpatrick with bacon & Worcestershire, Rockefeller, and the smoked. They have other things and they are delicious (particularly the fish tacos), but pay them no mind on that first visit. You have some oyster-based work to do.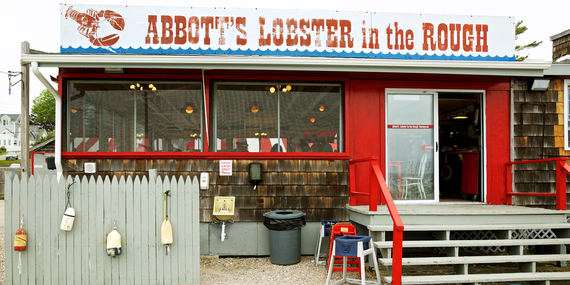 Credit: Anthony Humphreys/Thrillist
Abbott's Lobster in the Rough
Noank, CT
What you're getting: Picnic-style lobster by the shore, or "in the rough." There is a smattering of tables inside, but... summer.
Abbott's Lobster encourages fever-pitch excitement by counting down to the first lobster of the season on its website and it works: lobster fiends from all over the country are known to camp out for days, in anticipation of that first taste of crustacean. But know that this counter-service, BYOB restaurant's steamers, stuffed clams, and chowder are also not to be missed, as more than 100,000 visitors per year and a bunch of food writers can attest.
The other 10 shacks are waiting for you, over at Thrillist.com!
More from Thrillist:
Every State in the USA, Ranked by Its Food/Drink
You're Drinking Beer Wrong: 7 Reasons Basic Pint Glasses Suck
Like Thrillist on Facebook: www.facebook.com/Thrillist