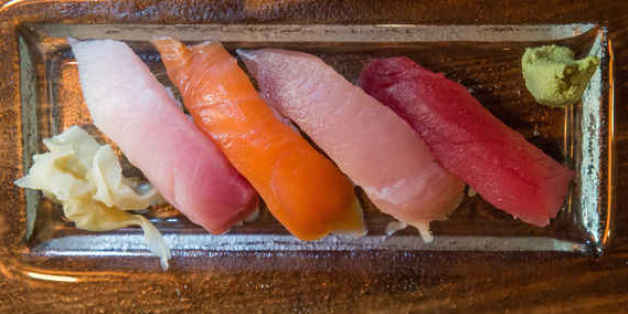 By: Kevin Alexander and Liz Childers
Sushi. It's what for dinner. And lunch, especially if you're in a rush at Whole Foods. But who in this great land of ours makes the best sushi? The freshest & most mouthwatering maki? The heaven-approved hand rolls? Well, in order to find out, we spent a lot of time dipping and eating everywhere from strange strip malls in Pasadena to the stranger side roads of downtown Boston, plus many spots in between. We paid particular attention to the places closest to the water, and those that care more about giving you seasonal, changing menus of fish you can get locally than just giving you the same thing over and over. Not that we're really complaining, Whole Foods.
So pick up your chopsticks, tuck in your napkin, and slurp down our picks for the best sushi spots across America.
More: Sushi Chefs Reveal the Most Over and Underrated Fish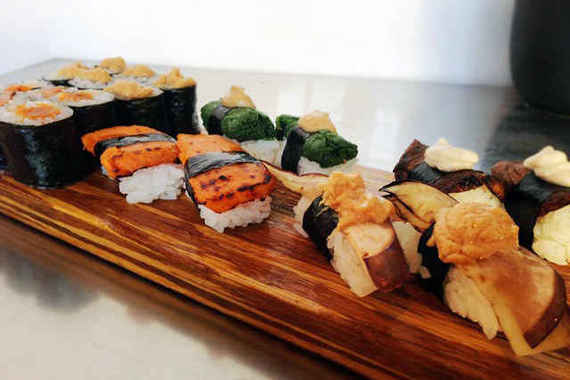 Credit: Arami
Chicago, IL
Arami was an instant hit when it opened in Chicago in 2010, drawing patrons in with its tranquil skylit back room and, more importantly, well-executed, traditionally rooted sushi that could swim (figuratively speaking, the fish is generally no longer alive) with anyone's. Since then chefs have changed, but the level of excellence hasn't. Like many elite places, reserving yourself the omakase is most likely to lead you to a transcendent experience, but going a la carte will still leave you quite pleased with specialty sashimi options like hamachi with mushroom and truffle oil. Pro tip: if you have any annoying vegan friends, their yasai (that means vegetable!) creations like eggplant with peanut red miso dressing will likely keep them quiet. You may even find yourself wanting to steal some.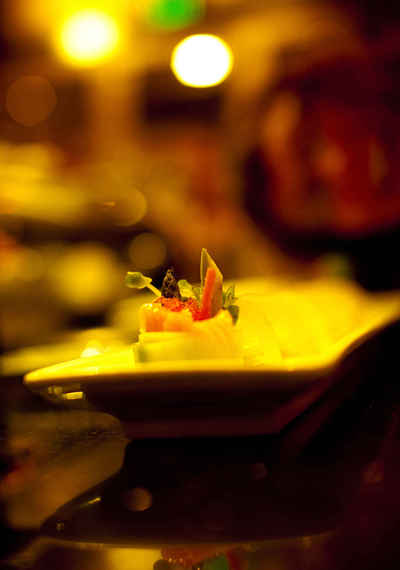 Credit: Flickr/Owen Byrne (edited)
Santa Barbara, CA
Located on Santa Barbara's bustling State St., Arigato's all about sushi as art. This is a place where something as simple as sashimi looks like it was plated at the Louvre, where even things as simple as salmon are adorned with gorgonzola sauce and dill. That's to say nothing of the not-sushi dishes like a plate of broiled scallops, shiitakes, and crab piled on sushi rice and lit on fire. Everything here's a gorgeous spectacle. But spectacle's worthless if the fish isn't perfect. Lucky for you, it is.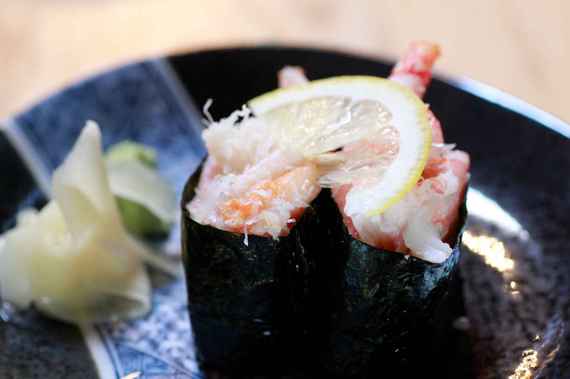 Credit: Thrillist
Portland, OR
This Northeast sushi spot melds Portlandia style with traditional sushi, tapping local beers with Asian influences and hosting pairing dinners with local breweries. While their menu doesn't stick strictly to what sushi purists would like, even their funkier rolls, like a spicy tuna & tempura shishito pepper number, don't go overboard. They also boast an omasake that's a bargain compared to options in larger cities on this list.
San Francisco, CA
First off, they have a really cool mural which tells you how to eat sushi. Second off, it's somewhat crazy that, for all the amazing Asian food, sushi has long been a weakness in SF's culinarily fortified defenses. Well, ICHI, from Tim and Erin Archuleta, solves that. It keeps the SF ethos in mind with the sustainable, seasonal menu, but doesn't skimp on anything delicious. If you are smart, you'll start by heading to the NI Bar in the back for izakaya and cocktails, and then get the omakase chef's choice (one of the best omakase deals in town). Be smart.
New York, NY
Separated by a glass wall from David Bouley's TriBeCa restaurant, Ichimura at Brushstroke boasts two Michelin stars -- only two other NYC spots have that -- and a trio of stars from the Times. Chef Eiji Ichimura, who helms the tiny omakase counter, prepares his fish edomae-style, meaning they're cured and aged, the way sushi always was until the early 1800s, so every bite has an extra bite of umami than what you're used to. But, then again, you're probably not used to anything quite as tasty as this.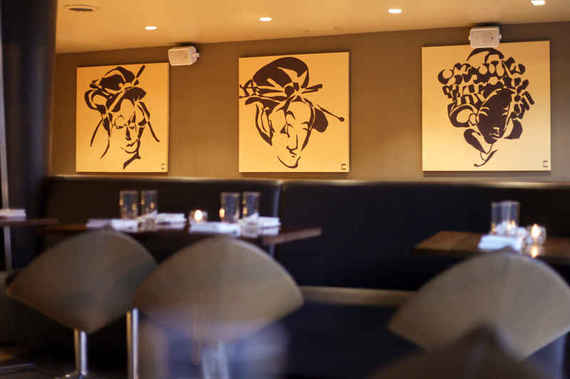 Credit: Mirai
Chicago, IL
Proving he has quite the track record in place, long before he left Arami, B.K. Park, the sushi-wizard who used to be at Arami, also departed this Wicker Park spot that's been a Chicago staple for over a decade. Mirai is a dimly lit, sexy spot with a menu of traditional sushi mingling with unique picks, and chef Jun Ishikawa wields a light touch to delicate dishes like Ika Uni Ae, tender, thin squid slices served in a sweet, creamy sea urchin sauce.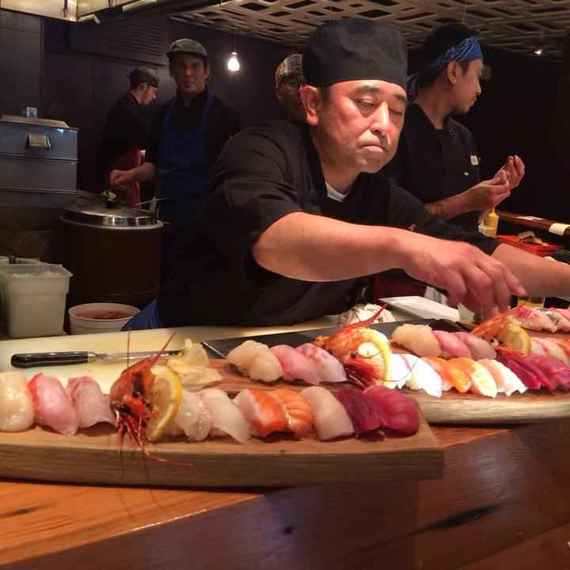 Credit: Miyake
Portland, ME
After working the NYC restaurant scene, Masa Miyake moved with his family to Portland and its far cheaper start-up costs. The Japan-born chef turned his expertise to local bounty, creating an uniquely Maine experience with options like the truffle oil-touched lobster, crab & scallop hamayaki that's all from nearby waters. The chef has even taken it so far as to open Miyake Farms, so diners know exactly from where that yolky spot in the the Golden Egg dish of uni, roe, and egg came.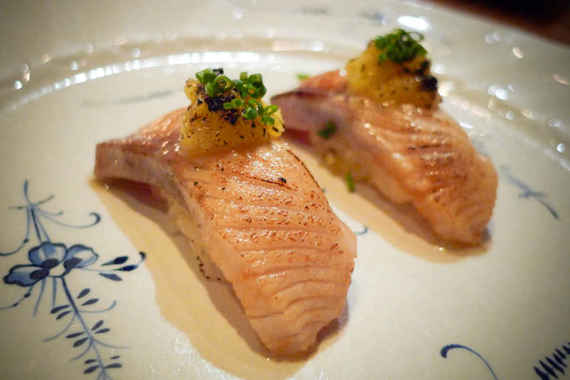 Credit: Flickr/Scott Dexter
Boston, MA
In 2008, Tim Cushman shocked the food world when his small 40-seat sushi restaurant in a random part of Boston by South Station was named Best New Restaurant in the country by the NY Times. That same year, I went there on my birthday, and was totally out of my league, especially when they brought out the foie gras nigiri with cocoa pulp and sake at the end of the meal. I actually nearly fainted, because I wasn't used to the flavor combination. And yet -- whenever I could afford to -- I kept coming back. Cushman -- who famously has no formal training, but acted as a restaurant consultant for many years before hatching this masterpiece -- can and still does bring it with nearly everything he serves, from the tea-brined chicken thighs to the spiced chile oil-drizzled hamachi tartare. If you don't opt for the 17-course tasting menu, and go a la carte, you still have to get the nigiri. I DARE YOU.
Los Angeles, CA
After 2011's devastating tsunami slowed business at his six-seat spot in Japan, chef Hiro Naruke was brought to America by a trio of LA lawyers who'd started obsessing over the itamae's sushi-touch years before during their visits to Tokyo. A seat at Hiro's downtown spot is a 20-course, intimate omakase experience that starts with small appetizers and dives into edomae-style sushi with delicately vinegared rice and aged or cured delicate fish cuts.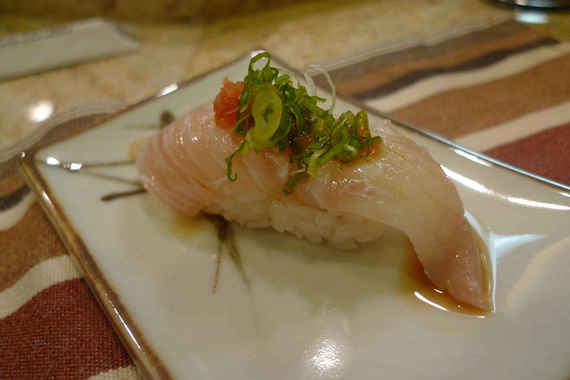 Credit: Flickr/Ron Dollete
Los Angeles, CA
Imagine you're one of the most beloved sushi chefs in LA: you've had a restaurant for two decades, you helped bring raw fish to a city that's embraced it, and, now that you've hit retirement age, you want to slow down. You pass your restaurant, Sushi Ike, on to your disciples, and take a deserved break... until everyone realizes that your disciples just aren't making mouth-orgasms the way you were, and convince you to open this tiny, hole-in-the-wall, absolutely incredible omakase joint, where you can once again serve up your signature seared salmon ("Do not put the rice down! Put it right in your mouth! Now!"), your unbelievably textured octopus, and the freshest... uh... everything from the sea that you can get your hands on. You've imagined Sushi Kamagure Ike aka mecca. Yes, it's that good.
Want to know where to go for the freshest, most mouthwatering sushi in the country? Head to Thrillist.com for 11 more of America's best sushi spots!
More from Thrillist:
Beyond Sushi and Ramen: Japanese Chefs Recommend 9 Lesser-Known Foods
An Exclusive Look Inside the Hidden World of the Sushi Chef
Follow Thrillist on Twitter: www.twitter.com/Thrillist