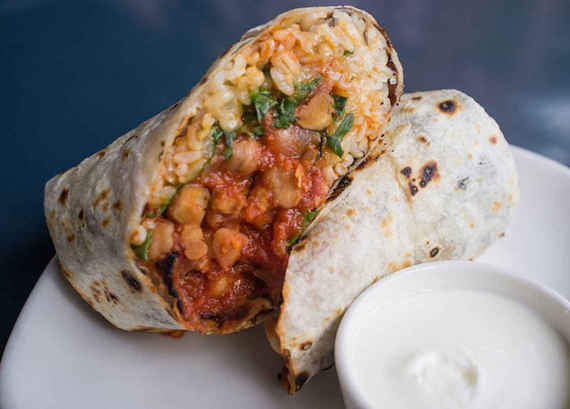 Credit: Mana Food Bar
Here at Thrillist, life is a whirlwind of delicious burgers and bacon-wrapped everything. So being the lone pescatarian on the national food and drink team, I thought it was time to switch it up and cover places that serve bean & spicy mayo sliders and coconut bacon-crusted everything. These dishes can convert even the staunchest of carnivores -- from vegified classic diner foods to all-vegan Thai and Tex-Mex to gourmet raw food tasting menus.
Curb your steak lust for a minute, and enjoy the 21 best vegetarian/vegan restaurants in America: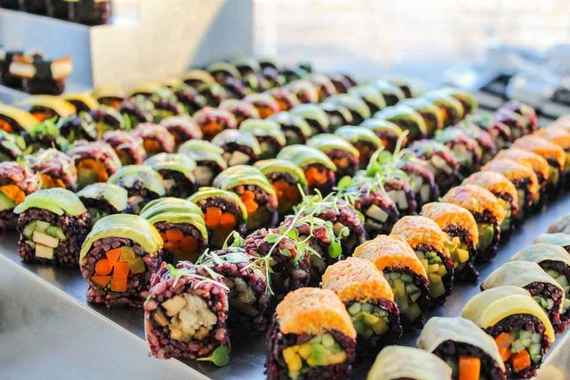 Credit: Beyond Sushi
BEYOND SUSHI
New York, NY
What you're getting: Spicy Mang roll
While the sheer idea of eating sushi sans fish is something straight out of your darkest nightmares, Beyond Sushi has somehow figured out a way to turn it into something even Jiro might dream about. Run by a dynamic husband & wife duo, Beyond reinvents traditional sushi using fresh, local, all-vegan ingredients. Colorful and beautifully crafted, your chopsticks should dig into a Spicy Mang roll with black rice, avocado, mango, cucumber, spicy veggies, and toasted cayenne sauce or the Mighty Mushroom roll made up of six-grain rice, enoki, tofu, shiitake, arugala, and shiitake teriyaki sauce.
More: Salmon Sucks: Sushi Chefs Reveal the Most Over and Underrated Fish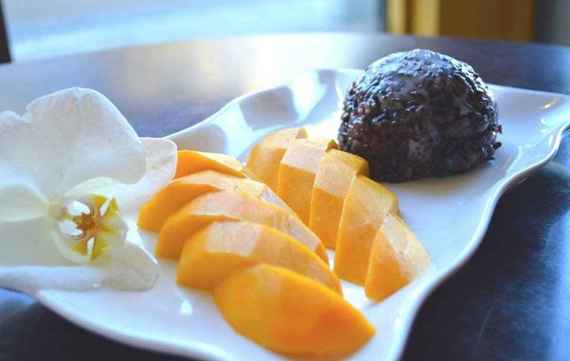 Credit: Bulan Thai
BULAN THAI
Los Angeles, CA
What you're getting: Hot wings, pad see-ew with 'chicken'
Whether you're a vegetarian or not, Bulan is a top-notch Thai treasure that won't leave you compromising taste (or general happiness) with its meatless menu. Well-known for having an awesomely attentive staff, they take traditional, authentic Thai dishes and creatively turn them into bold and delicious vegetarianized versions that still pack the same punch. Soy Thai iced teas, deep-fried veggie hot wings, and flavorful veggie chicken pad see-ew (pan-fried flat rice noodles with broccoli, sprouts, egg, and special soy sauce) will surely hit the spot.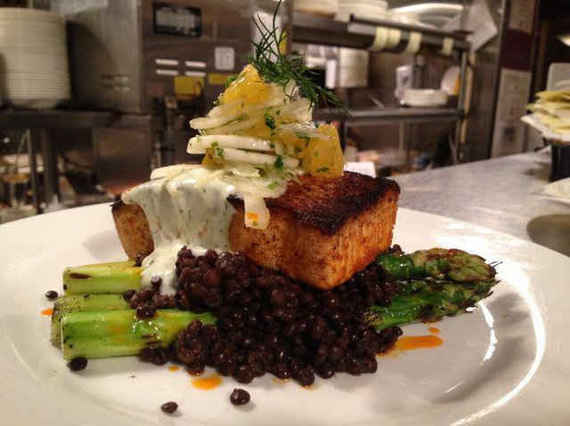 Credit: Candle Cafe
CANDLE CAFE
New York, NY
What you're getting: Cajun seitan sandwich
Born from a health food store/juice bar turned juice bar/vegetarian cafe and a $53,000 lottery win, and named for the previous owners' custom of lighting candles to bless their space, Candle Cafe is now a 100% vegan NYC dining destination. Their healthy and sustainable meals include a Cajun seitan sandwich with steamed greens, caramelized onions, avocado & chili aoili on focaccia, and spinach manicotti with seitan & tapioca cheese, roasted garlic tomato sauce, tarragon cream, and cashew Parmesan. Oh, and their chocolate mousse pie and coconut-based ice cream might be the only desserts you'll turn down for.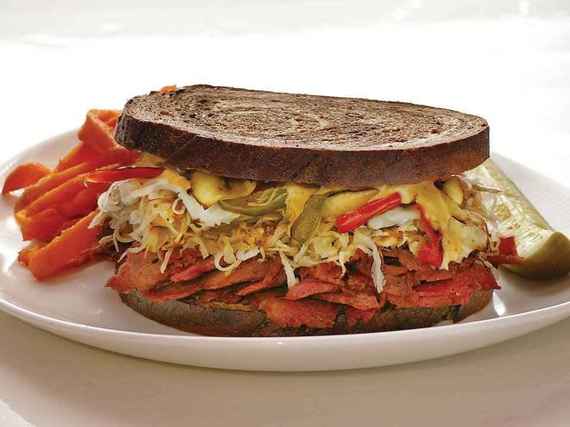 Credit: The Chicago Diner
THE CHICAGO DINER
Chicago, IL
What you're getting: The Radical Reuben and a vegan shake
With the motto "Meat-free since '83", The Chicago Diner is a Windy City staple. The original Lakeview location boasts traditional American diner decor while the second spot in Logan Square has a more modern vibe, but both serve up the same comfort food that could convert any carnivore. From their renowned Reuben with corned beef seitan, sauerkraut & vegan thousand island to BBQ, buffalo, and Thai chili seitan 'wings', there's something to satisfy everyone. Don't forget to end your meal with a vegan shake (they have flavors like cookie dough peanut butter, vanilla chai, and carrot cake).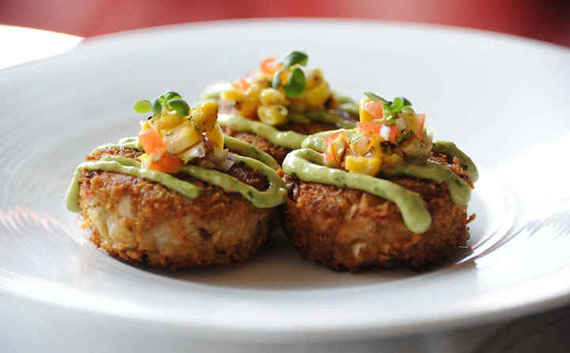 Credit: Crossroads Kitchen
CROSSROADS KITCHEN
Los Angeles, CA
What you're getting: Artichoke oysters,"crab cakes" & the risotto-stuffed hot banana pepper
While eating here won't be cheap, it will be seriously delicious. This sophisticated Melrose Ave restaurant offers Mediterranean small plates and well-crafted cocktails for an upscale, plant-based dining experience. The small plates are great for sharing, like the "crab cakes" made from hearts of palm & charred corn relish, but for something a little heartier, go for the wood-fired meaty lasagna or pappardelle bolognese. Whatever you select should be accompanied by a cocktail, like the Sophia with blanco tequila, mezcal, Kalamata olive syrup, lime, and grapefruit.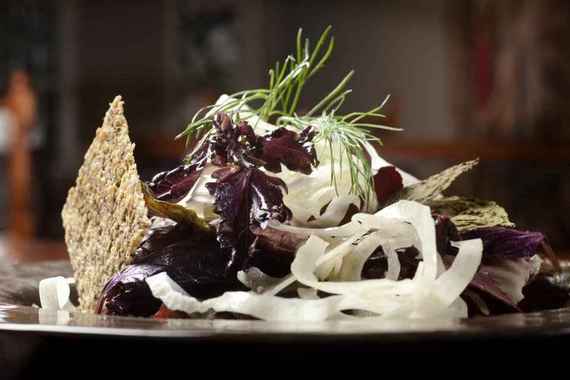 Credit: Elizabeth's Gone Raw
ELIZABETH'S GONE RAW
Washington DC
What you're getting: You don't have a choice!
Without a doubt the most upscale and unique pick on this list, Elizabeth's Gone Raw is a culinary gift to the world (veghead or not) opened by Elizabeth Petty, who was introduced to the benefits of vegan and raw foods when she was fighting breast cancer. Only open on Friday nights, you don't even have a say in what you're eating, as they only have a prix-fixe six-course tasting menu that changes on a weekly basis. Past menus have included savory options like smoked 'crab' flan, roasted 'chicken' with quinoa, peaches, fennel, marjoram & pink peppercorn, black truffle-fried cauliflower with sun-dried tomato sauce, and white peach & jasmine crisp. Sure, this'll cost something close to what a night at a steakhouse'll run you, but a dining experience this masterful is worth the price.
See all the rest of the best vegetarian/vegan restaurants in America -- only on Thrillist.com!
More from Thrillist:
You're ordering sushi all wrong: 8 tips to make you a sushi expert
The 10 Best Healthy (ish) Fast-Food Items
Follow Thrillist on Twitter: www.twitter.com/Thrillist