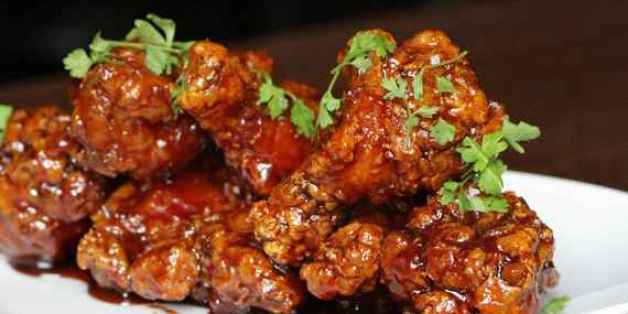 By: Dave Infante
There is no "best" type of chicken wing. Great wings win hearts and stomachs with well-balanced flavors and quality meat regardless of whether they're naked, dredged, sauced, or smoked. So instead of tracking down the best wings from Buffalo or Chinese restaurants or women wearing tank tops three sizes too small, we tracked down the best chicken wings of any kind. Competition was fierce, but, in the end, these 21 wing joints distinguished themselves on meat quality, innovation, and overall atmosphere.
You'll surely decide this list is "invalid" when you discover that your favorite place isn't mentioned. By all means, take this fury to the comments. But now, on to America's finest fowl:
More: The 33 Best Pizza Shops In America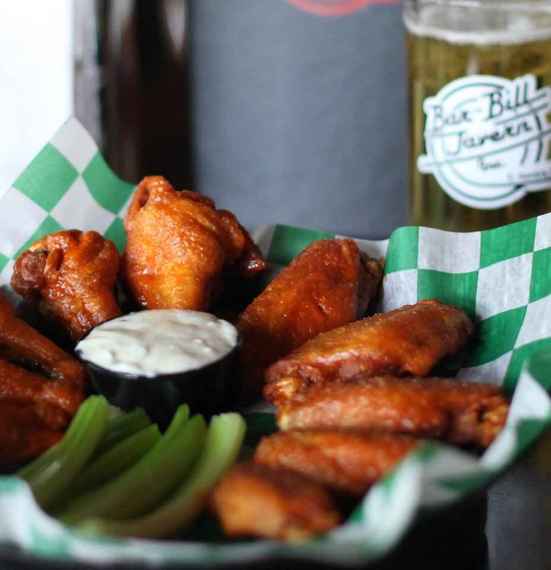 Credit: Bar Bill
East Aurora, NY
First things first: Anchor Bar, recognized for inventing the glorious combo of poultry parts & spicy sauce we now know as the Buffalo wing, does not appear on this list. There are a few reasons; Bar Bill is one of 'em. This mug-club-havin' roadhouse earned its stripes slinging beef on weck to Western NY drinkers 'til 1983 -- the year a full-service kitchen started flinging out the fiery wings that would catapult the Bill into city- and nation-wide conversations. They remain mostly unchanged: big-not-huge, crispy, doused in a dozen sauces (try honey butter BBQ!), and plated with BBT's blue cheese dressing. Locals adore this place so much that the now-retired former owner (whose name was Joe, not Bill) apparently used to organize Caribbean vacations with groups of regulars, which presumably doubled as reconnaissance missions to uncover what the West Indies' wing game was cooking up.

Blue Door Pub
Minneapolis & St. Paul, MN
They're known for their Blucy burgers, stuffed with bleu cheese instead of the Jucy Lucy's cheddar. And you should definitely get one of those as well. But not before you've dug into their made-from-scratch sauced wings. They have eleven different styles, including the amazingly named "Steal Your Face", but the move here is to split between the original Buffalo and the Frogtown special, which come tossed in a spicy peanut butter sauce that tastes somewhat Asian and somewhat like magical culinary wizard crack.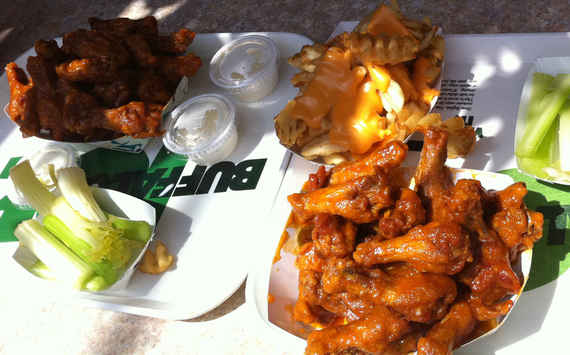 Credit: Flickr/Marc Whitman
Evanston, IL
The first time I went here was in college with a friend who grew up a few towns away. We were hungover (college!), and she kept repeating it, like a mantra: I need Buff Joe's. I need Buff Joe's. This was annoying, but after I bit into those damn perfect crispy, spicy wings, I started in on the mantra too. Founder Joe Prudden spices them with secret and simple things, so don't look for different sauces: they've just got the one. Add in the bonus Cheddar Chips, which are waffle-cut fries covered with thick, heart-stopping cheddar, and you'll say it too.

Buff's Pub
Newton, MA
It's in a random spot in Newton that you wouldn't really pass by unless you knew where you were headed. It doesn't bother with frills or tricks. They know why you are coming there; after all, they've got the best wings in Massachusetts. I mean, look at their g-damn name. Anyway, the move here is to split between the honey hot and the regular Buffalo classic wings, and then wash it all down with one of their pale ales brewed by Harpoon. Then be prepared to talk about the Patriots. A lot.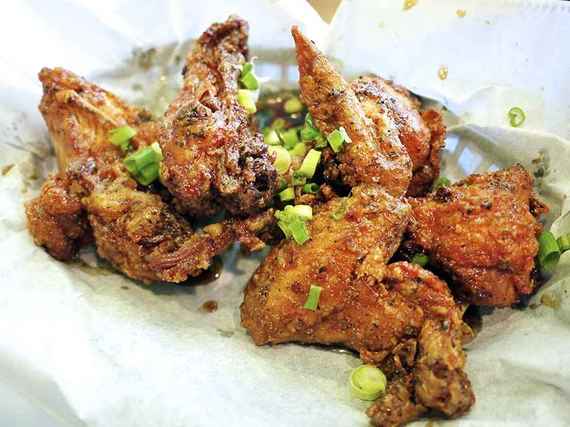 Credit: Flickr/Bing
Chicago, IL
The name says it all, really. These twice-fried Korean style beauties have a flawlessly textured skin that yields to a juicy interior and thoughts of tearing into another one before you've even finished the one you're presently dispatching. Get them BBQ style (a harmonious marriage of American and Korean flavor profiles) or go for the Seoul Sassy, a symphony of ginger-soy-garlic goodness.

Candlelight Inn
Scarsdale, NY
Just a short MetroNorth ride North of Manhattan lies Westchester County. It's through this wooded tract of wealth, privilege, and divorced bankers that Candlelight Inn (candleless and also not an inn) has shone like a beacon of hope since 1955. The wings here are meaty & generously fried to a crunch, then slathered even more generously with enough sauce to add to follow-up bites. They're cash-only, always mobbed, and surrounded by a never-ending glacier of strip malls, but when you first cross the threshold and the spicy tang of Chernobyl sauce hits your nostrils, none of that matters. You might even say those issues don't hold a candle... to... uh, nevermind.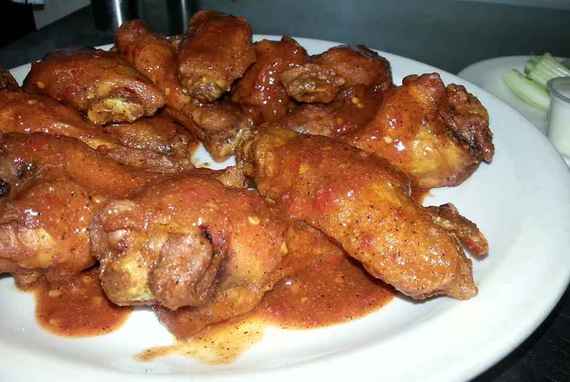 Credit: Duffy's Irish Pub
Washington, DC
What can you say about a people's-favorite Irish pub that's also a Packers bar that's also a Nats bar that's also a go-to pregame spot for the best concert venue in our nation's capital? You could say, "That was a run-on sentence bro, get ahold of yourself", or you could just point out the obvious: Duffy's wings are DC's best. "Traditional medium" is plenty hot for casual eaters, and that's just one of a half-dozen familiar flavors available from the 9:30 Club-adjacent mainstay. The move here is the Old Bay Chesapeake finish -- a poultry-specific dry rub based on Maryland's beloved seasoning that's applied to charbroiled wings.

Gabriel's Gate
Buffalo, NY
The "2" in the 1-2 Western NY punch that sunk Anchor's chances at glory is Gabriel's Gate, an Allentown favorite set up inside an old row-house from 1864. They just do 'em better -- not only better than the original, but better than almost anyone in the country. A single order of medium-heat wings is the move: crispy, saucy, and utterly enormous, these may not be Buffalo's first... but they're the ones you need to eat when you're here.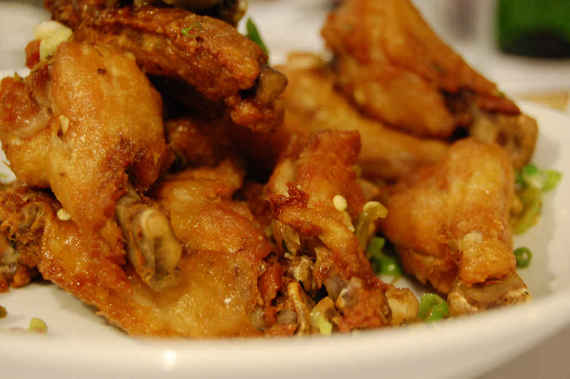 Credit: Flickr/Stu Spivack
Cleveland, OH
Chef Jonathon Sawyer has made his name taking lowbrow cuisine -- we're talking full roasted pig heads, burgers, and fried fish -- and transforming the dishes into spectacular, highbrow comfort food. None are more renowned than his confit chicken wings, which are cured in a sweet-and-spicy marinade for a couple days before taking a 12-hour immersion bath in pure fat from pretty much every animal that grazes on the restaurant's menu. The resulting wings are impossibly crispy and intensely tender with a garnish of roasted jalapeño, lemon, garlic, and scallion adding layers of flavor that render sauce completely unnecessary.

Hattie B's
Nashville, TN
When you visit Nashville, you go to Prince's or Hattie B's or, these days, even fancier spots like Acme, and you get some type of hot chicken -- that spicy dry-rubbed, battered, and deep-fried poultry that is as synonymous with Music City as cowboy hats and sweltering humidity. But once you've gotten that basic fried bird, move on to Hattie B's platters of mouth-tingling whole wings. After they come out of the deep-fryer, the wings bathe in a mixture of oil and a paprika-cayenne-spice explosion. The result? The flavors soak deep into the crispy bird. Order 'em Damn Hot with blue cheese and let your tongue dance with as much of that heat and flavor as you can handle.
Head over to Thrillist.com for 11 more of the best chicken wing spots in the country!
More from Thrillist:
Which Fast-Food Fried Chicken Is The Most Delicious?
The True Origins Of 13 Classic American Foods
Follow Thrillist on Twitter: www.twitter.com/Thrillist