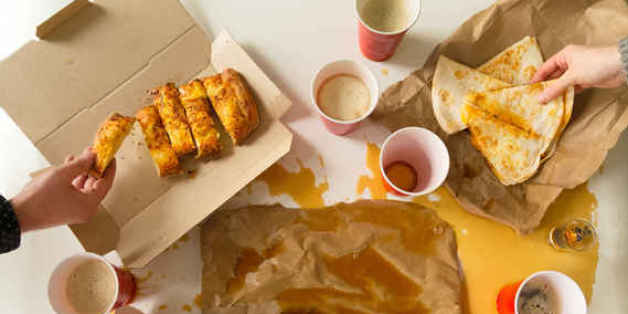 By: Adam Lapetina
A grumbling stomach mid-drinking is a universal sign that the night is about to take a turn for the more hedonistic. The late-night dives, the funkily festooned street carts, the greasy spoons -- all places your stomach can lead you, all serving myriad dishes to ensure that it's sent to sleep with more than just beer sloshing around in there. These meals are all adequate in the moment, but a few of them continue to shine long after the haziness of the night has worn off.
This is a list of 26 of the best of them, from around the country.
More: 6 Things You Should Absolutely Not Eat While Hungover
Dirty Fries
Lardo (address and info)
Portland, OR
Nothing pairs with beer -- either beer you're currently drinking or beer you drank a while ago -- quite like a giant mess of fries. At Portland's best sandwich shop, those hand-cut fries are loaded with Parm, herbs, peppers, and scraps from whatever house-cured pig they have chilling around. That's right. You might be getting deep-fried ham chunks, or at the very least some impromptu cracklings.

Stadium Beef Tips
Stadium Sports Grill (address and info)
Belle Fourche, Spearfish, and Madison, SD
Beef country's answer to chicken nuggets is big pile of beef tips, which take a bath in a special marinade, then get breaded and deep-fried to order. That's right: breaded, medium-rare steak bites are a thing. You're welcome.
The Tsunami
Crif Dogs (address and info)
New York, NY
When you're done at the attached speakeasy (PDT) or any of the other 101 bars in the East Village, the telltale wiener sign of Crif Dogs lures you in like a moth to a place where moths are served delicious hot dogs. The best of the bunch here has got to be the Tsunami, a bacon-wrapped dog covered in pineapple, green onions, and teriyaki sauce. It's salty, sweet, and Thrillist editor-approved.

The Beefy Double Cheeseburger
Halo Burger (address and info)
Mid Michigan
In Michigan, you can get a great coney dog at every diner and on every freeway exit. But only in and around Flint can you get a Beefy Double, which tastes a lot like an amped-up version of Five Guys, and consists of a bottom bun, a patty, cheese, a patty, cheese, a middle bun, a patty, cheese, a patty, cheese, and a top bun. Toppings range from onions to olives. Most locations are open 24 hours. Don't deny yourself onion rings.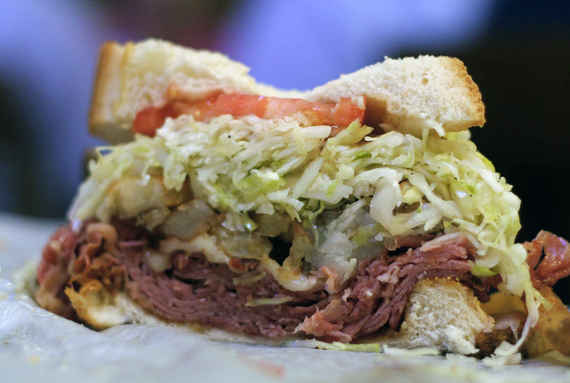 Credit: Flickr/Sandor Weisz
Pastrami & cheese
Primanti Bros. (address and info)
Pittsburgh, PA (and beyond)
Pick a meat, any meat -- we like the pastrami, but you can't go wrong with anything, whether it's kielbasa, fish, turkey, or even knockwurst -- put on a bib, and get ready. That meat will be buried in a pile of coleslaw and fries crammed between slices of bread. It's the stuff of legend, served up 24 hours a day in the original location and late-night everywhere else. Which is a good thing, since sleep is unavoidable afterward. Dream of large women.

Bacon-wrapped tots
High Life Lounge (address and info)
Des Moines, IA
Tater tots. Topped with jalapeños. Individually wrapped in thick-cut bacon and deep-fried. Then topped with cheese. Oh, and there's ranch. That is all.

Chorizo Completo
Chris Gould's Hot Dog Cart @ The Dive Bar (address and info)
Worcester, MA
Being surrounded by bars can be dizzying in a variety of ways, so it's pretty serendipitous that a supremely quick and cheap hot dog cart is located in the heart of Worcester's biggest party district. The dude running this place cooks up solid interpretations of regional hot dog specialties ranging from Chicago-style to the ridiculously hearty Completo (with avocado, diced tomato, mayo, and hot sauce), which is best piled on grilled, split local chorizo and a buttered bun.
The Parmageddon
Melt Bar & Grilled (address and info)
Lakewood, OH
Melt specializes in grilled cheeses -- really, really good grilled cheeses -- loaded with everything from bologna to meatloaf, chorizo, lasagna, and fried chicken. The Parmageddon, named for the Polish-heavy Cleveland suburb of Parma, packs in pirogies and kraut and glues them together with melted cheddar. It's like eating Cleveland in sandwich form.

Cheeseburger and fries
Sam's Pizza and Hamburgers (address and info)
San Francisco, CA
No tour of San Francisco's best drinking spots would be complete without a filling meal to cap off the night. Enter: Sam's Pizza and Hamburgers, which is actually run by a dude named Mike (but everyone calls him Sam for the sake of continuity), and eschews the pizza late at night to focus on serving one of the best damn cheeseburgers in America. It's diner-style, grilled right in front of you, practically oozes cheese, and costs $5.25. Paired best with an Anchor Steam, if you're interested in prolonging your debauchery.
Head to Thrillist.com for the full list of the best drunk foods around America!
More from Thrillist:
The Unofficial Comfort Foods of Every State in America
The 21 Best Sandwich Shops in America
Follow Thrillist on Twitter: www.twitter.com/Thrillist