By: Kevin Alexander and Liz Childers
@KAlexander03
@lizchilders1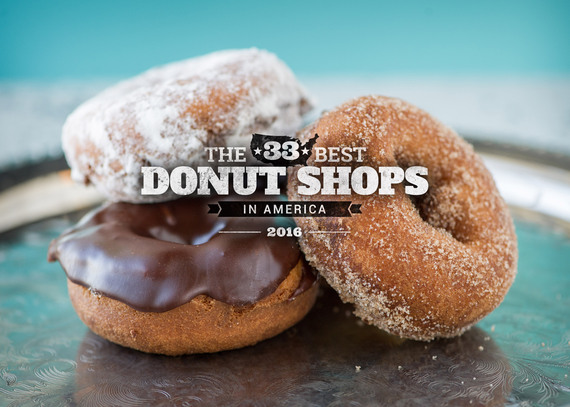 Credit: Bryan Avigne/Thrillist
The donut's origins -- as a pragmatic New England ship captain's mother's take on the Dutch olykoeks (aka "oily cakes") with nuts in the center because the dough wouldn't cook through -- are not that sexy. And up until the last 10 years or so, one could argue that donuts weren't sexy -- mostly a breakfast pastry used to make unoriginal jokes about chubby cops.
My how that has changed. Over the course of the last decade we've seen the Phoenix-like rise of the artisanal gourmet donut, with toppings made from scratch, innovative hybrid take-offs (hello Cronut), and a reputation makeover. Donuts are like the pastry version of that unpopular high school kid who goes to college and buys new jackets and comes back cool. And we're damn glad about it.
How we picked the list is pretty simple: over the course of the year, we ate a lot of donuts and wrote down the ones we liked. And if Liz or myself didn't eat the donuts, other members of our editorial staff and trusted freelancers ate the donuts and made the argument for said donuts' inclusion. And then we all argued about the list for a while until we got it down to 33. Point being: we actually ate the donuts, and now we want you to eat them too.
More: The 33 Best Pizza Shops in America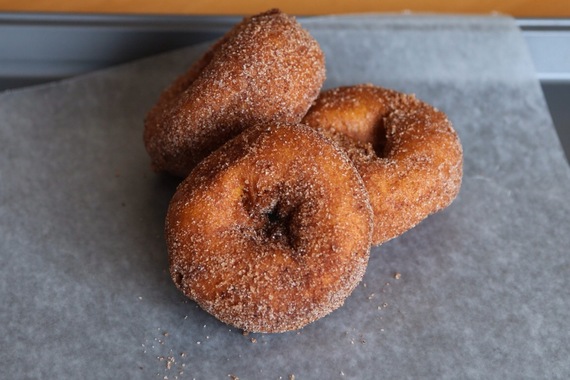 Credit: Flickr/Jerry Huddleston
A Baker's Wife
Minneapolis, MN
I have family in Minneapolis (fine, Excelsior), and my sister went to college there, so I try and get out there once a year in the summer, to go out on the lake and listen to soothing, Nordic-inflected accents and eat things. And for a few years, I was solidly in the Glam Doll camp for best donuts (NOTE: they're still very delicious). But that was just because I rarely went to South Minneapolis, and never got to A Baker's Wife. Now, this place is an actual pastry shop, so it has more than just donuts, but everyone orders the donuts. And you can understand why once you bite into that cinnamon-and-sugar cake masterpiece, which has none of the oily texture you sometimes get with poorly constructed donuts. It was light and just the right amount sweet, and oh yeah: it only cost 50 CENTS. I'll see you again this summer, and this time I'm bringing a $5. -- Kevin Alexander, national writer-at-large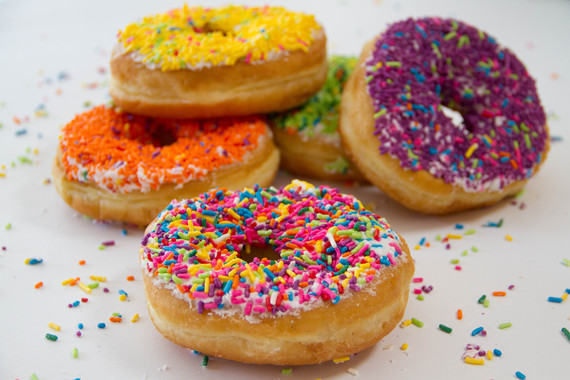 Credit: Sarah Anderson/Thrillist
Allie's Donuts
North Kingstown, RI
As a kid, did you bring cupcakes to school to celebrate your birthday? That's adorable. You know what I brought? A donut the size of a cake. A donut cake, if you will, shaped like an ice skate, a heart, the sun, or whatever else I could dream up. I can attribute my elementary-aged baller status to Allie's Donuts, a Rhode Island institution that has been around for decades, catering to locals and touristy beach-goers alike. The place is packed with a line out the door every weekend, and if you want one of its custom-made donut cakes, you've got to call weeks in advance. It also offers the individual classics, from old-fashioned crullers to glazed donuts and jelly sticks. But the top seller is a fluffy yeast donut with fluorescent sprinkles atop sugary, melt-in-your-mouth white frosting. It's a child's dream donut. It's an adult's dream donut. And it's best enjoyed en route to the ocean with the windows down and sprinkles all over the car. -- Sarah Anderson, senior production assistant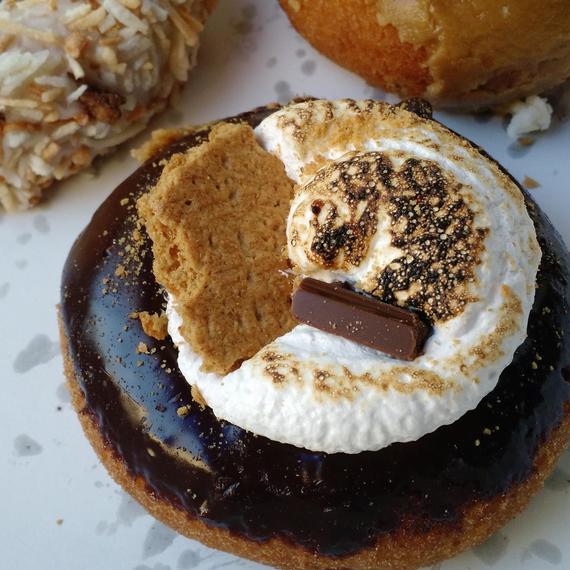 Credit: Christina Ng/Thrillist
Blackbird Doughnuts
Boston, MA
The Gallows is one of my favorite Boston restaurants, with a burger worthy of an out-of-town journey. When it opened up a donut shop, I was excited but confused, as running a restaurant and successfully pulling off damn good donuts are two things that don't necessarily intersect. But clearly I worry too much. Blackbird's donuts (made on site, which, as touted on the website, is actually a rarity in Boston proper) have that artisanal look, meaning they're impeccably dressed up in beautiful glazes and offer up weird-ish flavors (when I was there the shop had a blueberry white chocolate Bismarck and a cold-brew coconut).
I always get the simple donuts, though, when trying out new shops (because, basically, if you can't do a layup, how're you going to hit a half-court shot?), and both the simple raised-style vanilla glazed and the cinnamon-sugar cake donuts checked off all the boxes: airy, pillowy dough in the raised, and that moist cake without the oil in the latter. It also has soft-serve, I should point out, in case you don't feel like a donut alone poses much of a challenge to your system. -- KA
Blue Star Donuts
Portland, OR
A few years back, I knew Blue Star was going to be making a big impression on Portland... a tough nut to crack considering the city has been on the forefront of the donut revolution for as long as people have been standing in line for Voodoo Doughnut's dong-shaped cream concoctions (a long time). Well, now Blue Star has multiple locations throughout Portland, one in LA, and one in Japan, where Portland has become the new Hello Kitty. The expansion, however, hasn't changed anything. The crème brulee donuts are still perfect in their burnt-sugar crunch, with a pipe of Cointreau syrup jammed in the top. The brioche-based dough is a fantastic counter to the traditional cake in everything from the buttermilk old-fashioneds to dulce de leche, Mexican chocolate, and almond granache. Soon, Portland might have to share Blue Star with the world. If that means more donuts of this caliber for everybody, well, we'll take it. -- Andy Kryza, senior editor, Food and Drink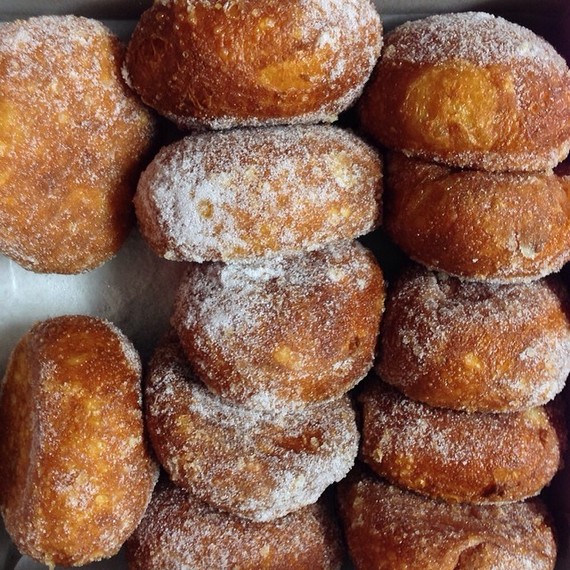 Credit: Flickr/Daniel Seto
Champion Malasadas
Honolulu, HI
Now look: I am a Leonard's man, and I have expressed that on several of the previous lists. But our Hawaii contributor Summer Nakaishi insisted that, although she too digs Leonard's, Champion's malasadas are "equally as good or better" thanks to the dough's famed aging process, which makes them less airy, but still chewy with a crispy outer layer. They fly under the radar for people like me, who just come barreling in from the mainland all sunburned demanding Leonard's in still-creased, newly purchased Hawaiian shirts. -- KA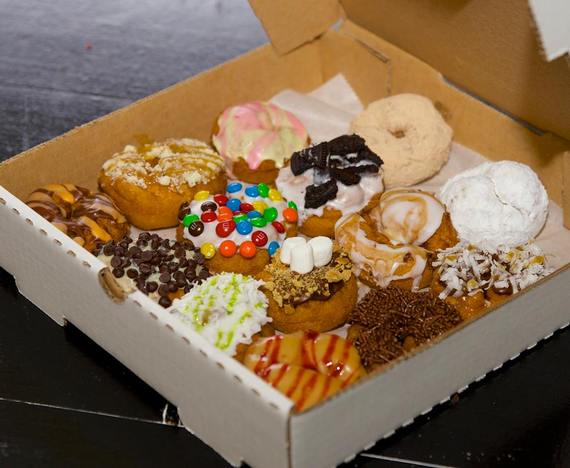 Credit: Da Vinci's Donuts
Da Vinci's Donuts
Atlanta, GA
I'm from Alabama, just over the Georgia border, and Atlanta was always the "big-city" destination, the place my family went for museums (culture!) and its the first home of the first restaurant where I had a very formal waiter scrape the tablecloth in front of me after I exploded bread everywhere. (I was 9! Sorry!) If you're imagining Elf-like skyscraper-ogling moments, you're on the right track.
While I'm now less intimidated by Atlanta, I do still get very excited when I find any place that contradicts my 9-year-old intimidation. Da Vinci's is relatively new -- it opened in 2014 -- and Melissa Rudd, who owns the spot with her husband, draws inspiration from making donuts with her family as a child, and her small, dunkable cake donuts are a refreshing throwback to, well, simpler times. You can grab some of the elaborate orders like the caramel apple that's stuffed with apple pie filling and coated in an oozing caramel icing, but stick with classics: I dare you not to fall under the basic powdered's instant nostalgia-inducing power and picture Saturday mornings with a bag of the bite-size grocery store bites. But, you know, in the big city and much, much better. -- Liz Childers, senior cities director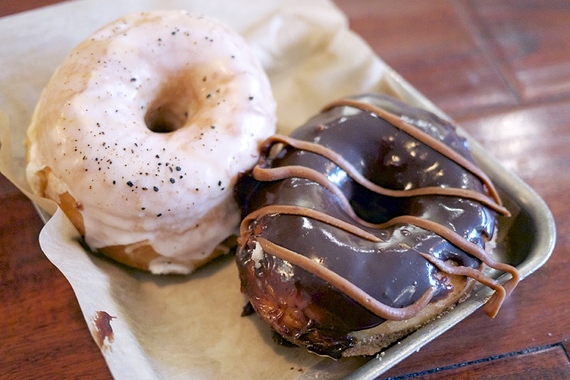 Credit: Flickr/Bing
DISTRICT: Donuts. Sliders. Brew.
New Orleans, LA
The last time I went into DISTRICT, I was alone, which I've since decided is the best way to go. For one, it's easier to get a spot at the counter and, despite being open two and a half years, and having a surprisingly large shop for a Magazine St breakfast-cum-lunch spot, seats are hard to nab considering the line that weaves and jumbles overwhelmingly by the door. But also, eating a giant donut stuffed with cheesecake filling and topped with a citrus blueberry glaze has the instant effect of making you look like a kindergartner who has encountered sugar for the first time -- even if you're tackling it with a fork and knife.
For a city with such a phenomenal dining culture, New Orleans also has a history of being slow to join food trends, so DISTRICT was a sugary explosion onto the scene in 2013. While there are a few flavors that fall into the "simple" category of the daily rotating menu, most options are just the right version of over-the-top, like that blueberry-lemon cheesecake one or a whiskey-ginger number. If donuts aren't your thing (we'll try not to judge you), the nitro iced coffee or the fried chicken sliders are still worth a trip or five. But let this place convert you to donuts. And then eat them with full enthusiasm -- and lots of napkins -- alone. -- LC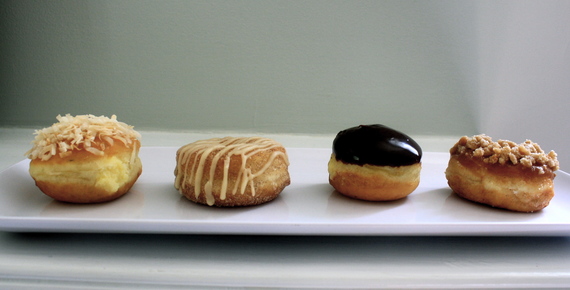 Credit: Courtesy of District Doughnut and Coffee
District Doughnut and Coffee
Washington, DC
If you're headed to the Barracks Row neighborhood of DC it's probably to eat at Rose's Luxury because Bon Appetit told you to while you were thumbing through the magazine during a layover. But there's a better reason to get to Southeast -- and it's warm, round, and dipped in Nutella. I'm talking about the Goodfellow at District Doughnut, which is named after a CrossFit coach despite its status as a caloric punch to the gut. After being dipped in Nutella and cream, it gets a heavy dose of applewood-smoked bacon that Elvis would dig. Other flavors include the simple brown butter and the salted dulce de leche. There's a scientific reason why District slays it at fried dough. It's that the donut maker, Christine Schaefer, is a Le Cordon Bleu graduate, so don't forget to yell "YES CHEF" at the register. Probably with a mouthful of sugar. -- Laura Hayes, Thrillist DC contributing writer
Do-Rite Donuts
Chicago, IL
As one would have to expect from a shop keeping such prestigious donut-making company, Do-Rite does the fancy-donut basics right (spelling, less so), with the chocolate old fashioned and pistachio-Meyer lemon being standouts among the steady offerings. But it also pushes the creative envelope. If it didn't, would it offer fried-chicken donut sandwiches kissed with a spicy maple aioli? Would it offer a steady stream of visionary donut collabs, including the latest, an insane Upside Down, Inside Out creation conceived with music video revolutionaries OK Go?! Look, if both the dudes who create insanity like this AND Winston from New Girl want to get into the donut game with you, you're doing it right. Or Rite, even. -- Matt Lynch, executive editor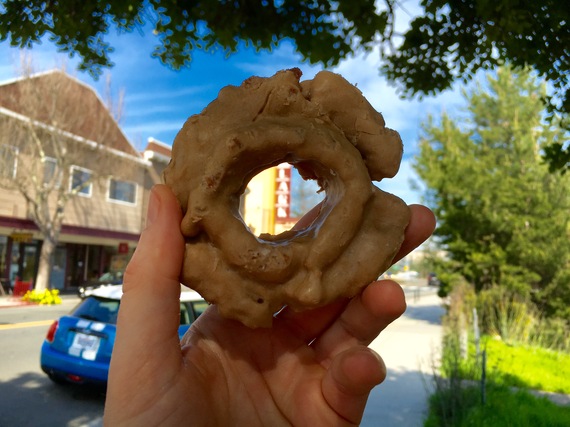 Credit: Kevin Alexander/Thrillist
Donut Alley
Larkspur, CA
Larkspur, CA basically looks like a fake town they'd make up for romantic comedies in which the very good-looking firefighter lives in a place so picturesque as to be nearly offensive. And in the heart of Downtown Larkspur, down what is not really an alley as much as just a Magnolia Center parking lot, sits the shop, which Steve and Ann Pring took over in 2008. Inside is completely standard -- just a few tables, a bunch of delicious-looking donuts, and three of what look like hampers with labels like "powdered sugar," "chocolate," and "blueberry."
But ignore the spartan interior and focus on the donuts -- though this spot's got a standard variety, you're here specifically for the old fashioned, which has one of the best and most subtle, crunchy crusts I had this year. Get one of each flavor (it comes in four varieties), then head out the door and eat them amid the splendor of a somehow not-made-up beautiful Marin County town, and you'll be having a pretty damn good day. -- KA
Donut Bar
San Diego, CA
I go down and visit my father in San Diego five or six times a year, because I'm a nice son/family is important/I like free dinners. And each time I go, I set aside a morning to make the trip to Donut Bar (now making a third consecutive appearance on our list), partially because it's my job or whatever, but also because I continue to be obsessed with its Big Poppa-Tart donut (for more about what's actually in it, read this). Does it make me feel gross after I eat it? Of course. It's A DONUT STUFFED WITH CRUSHED-UP POP-TARTS. Do I continue doing it five or six times a year? Yes. Also because family is important or whatever. -- KA
Donut Byte Labs
Portland, OR
If I learned anything from T2, it's that I'm oddly attracted to women who can do endless pull-ups, but also that robots can't cry. But they can bring tears to our eyes, as proven by both Arnold's touching goodbye and the next-level desserts made by a semi-automated robot at Portland food cart Donut Byte Labs. The place specializes in miniature rings, pumped out fresh all day by a specialized android of sorts, then gussied up by an actual human who custom-makes every single 'nut in the box to order (plan to spend some time on the sidewalk). They're hit with everything from bacon and real maple to salted caramel, Reese's peanut butter, and a blowtorch, which caramelizes the cinnamon sugar on the insane French toast bite. Ive seen the future. And in it, John Connor is very, very fat. But he's cool with it. -- AK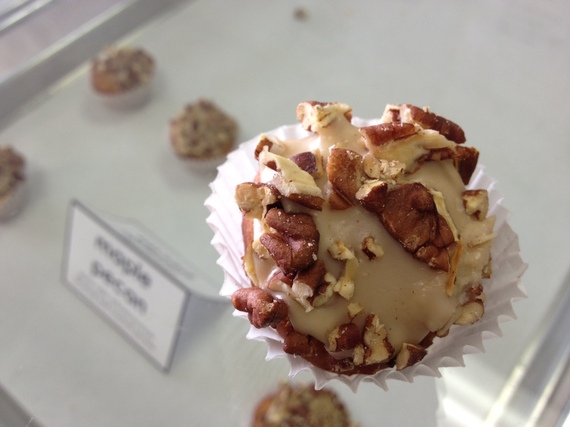 Credit: Flickr/Susie Wyshak
Donut Savant
Oakland, CA
The first time I went to Donut Savant, I didn't do things right. You see, there are three sizes of donuts here, and the champion move is to get the donut holes. Meanwhile I just got two normal (delicious!) donuts and returned home, only to be told by a buddy in Oakland that I'd just made a horrible mistake. What I didn't realize originally is that, unlike most donut holes, which are just kind of afterthoughts, the holes here actually resemble tiny donut cupcakes, as thoughtfully crafted as the rest. And also: you can eat SO MANY MORE THAN TWO. I'd recommend getting at least a half-dozen, including but not limited to the salted maple and the vanilla dust. OK, and maybe a regular-sized vanilla cream Cron't. Decisions are hard. -- KA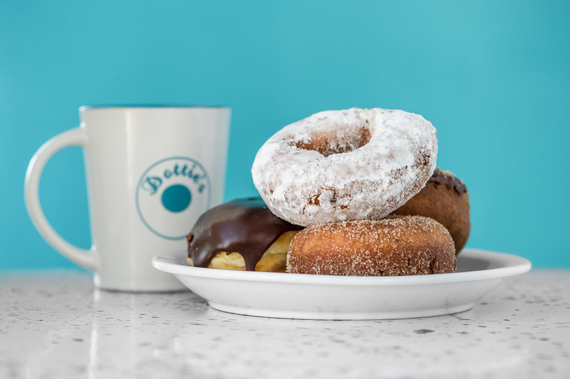 Credit: Bryan Avigne/Thrillist
Dottie's Diner
Woodbury, CT
Dottie's stays on the list for a second time in a row, thanks to the fact that we still can't get enough of her alliteration ("the deluxe destination for delicious donuts") or her donuts, and the fact that though I was obsessed with the powdered sugar last time, this time I tried the jelly and now I can't even remember ever wanting anything else. Although I have to say -- the strawberry pancakes looked pretty damn good, too. -- KA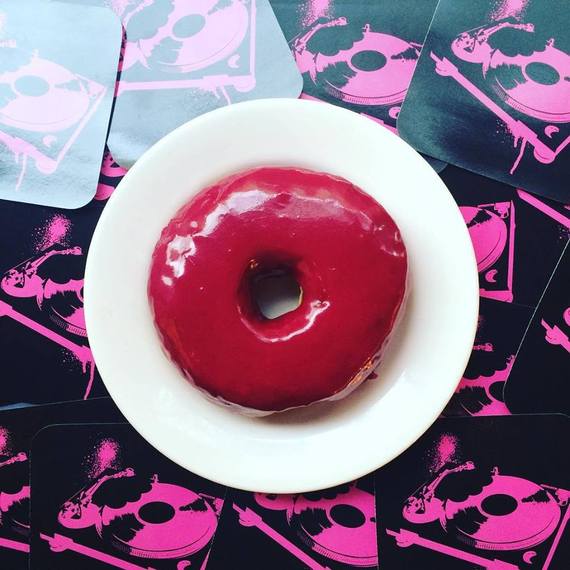 Credit: The Doughnut Project
The Doughnut Project
New York, NY
With just six flavors to choose from, this West Village newcomer specializing in small-batch yeast donuts stands out among NYC donut shops with countless elevated flavors in constant rotation. The Costanza (salted chocolate with buttered pretzel) and the Bronx (olive oil and black pepper) tend to receive the most hype, but my vote goes to the outstanding and admittedly strange beet donut stuffed with ricotta -- named Those Beetz are Dope, which we'll forgive, because it's just that good -- and the the bacon maple bar (or The Classic). But the beet & ricotta is enough to land The Doughnut Project a spot on this list -- the bright-pink glaze makes for the perfect mix of sweet and savory, with an added kick of savory from the fluffy cheese filling inside (which, it should be noted, is not obnoxiously over-filled, as filled donuts tend to be). Also, the maple bacon bar features a full strip of bacon. No further explanation necessary. -- Lucy Meilus, New York editor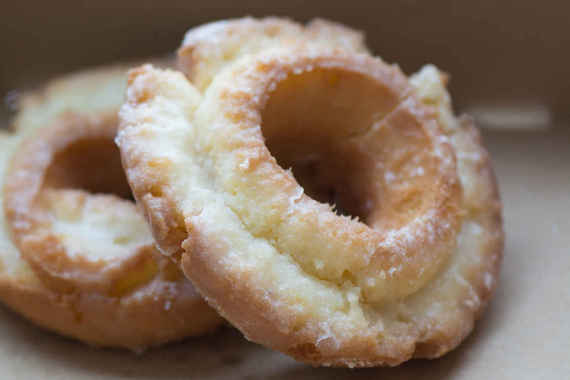 Credit: Kailey Lindman/Thrillist
Doughnut Vault
Chicago, IL
On our list once again, this wildly popular fried-dough purveyor has been known to break hearts over its limited number of fresh-baked donuts (it only bakes a certain number daily; once they run out, it closes until the following day), so you'll have to plan your trip wisely. Stop by on the early side for an array of some of the best old-fashioned-style donuts in the city, like toasted almond, coconut cream, and lemon poppy seed. Pro tip: a limited number of the coveted old fashioneds are also available at the restaurant group's other cafes, including Sawada Coffee, C.C. Ferns, and 3 Arts Club Café. -- Sean Cooley, senior city editor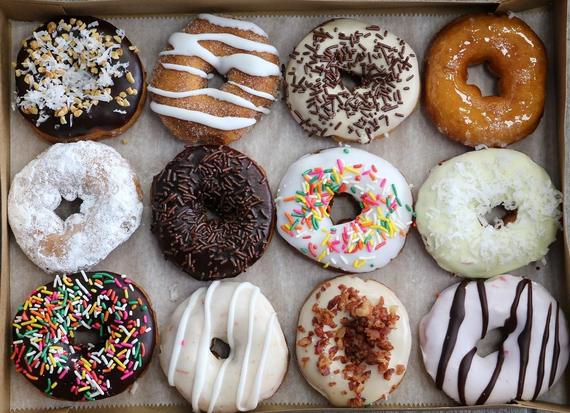 Credit: Duck Donuts
Duck Donuts
Duck, NC (& other locations)
The first time I went to Duck Donuts, I bought one donut. Five minutes later, after I'd eaten it in two bites and turned around, I made my second trip to the cash register, and purchased 24 donuts. That's what Duck Donuts does to a man. This place doesn't lay up. The donuts are of the stomach-filling cake-batter variety, fried in soy-based shortening and each heavier than an iPhone. At the original location, the donuts are fried on a conveyor belt behind glass panels, so you can follow your fattening little friend from batter ring to fully topped beauty. This makes it feel like a field trip. Field trips were pretty great, huh? Pro tip: eat more than one, but fewer than 24. Do as I say, not as I do. -- Dave Infante, writer-at-large
To find out which 17 other donut shops across America are going to haunt your dreams, get the full story at Thrillist.com!
More from Thrillist:
The 21 Best Plates of Pancakes in America
The Best Pillsbury Hacks You Can Make Right Now
Like Thrillist on Facebook: www.facebook.com/Thrillist
Also on HuffPost:
PHOTO GALLERY
Everyone's Doing It: Homemade Donuts