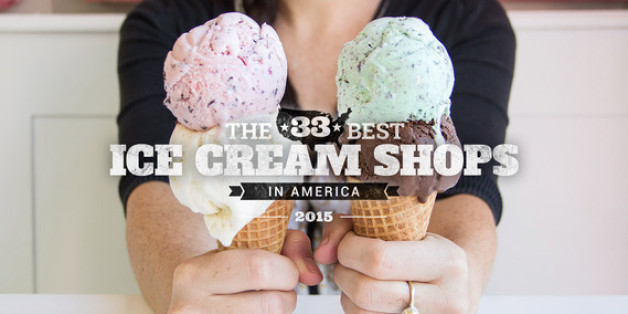 By: Kevin Alexander and Liz Childers
Few things in life are better than eating an ice cream cone on a hot day. Like maybe finding your soulmate. Or learning how to do the dance moves from Will Smith's Men in Black. And since we can't help you with your dating life or teach you how to take a walk with me, we opted to just eat all of the ice cream over the past year, in everywhere from college-town creameries, to desolate stretches of Maine, to BROOKLYN (?!?). We kept many from our original list of 21, and tried to get in some old-school legends we missed, and some new-school spots just waiting to be legendary.
So just throw on your classiest pair of elastic-waisted jeans and get ready to indulge your eyes in picture after picture of frozen perfection. And, as Will Smith said in the '90s, don't jeer us, we're fearless. Except in the comments section.
More: The Best Burger in Every State in America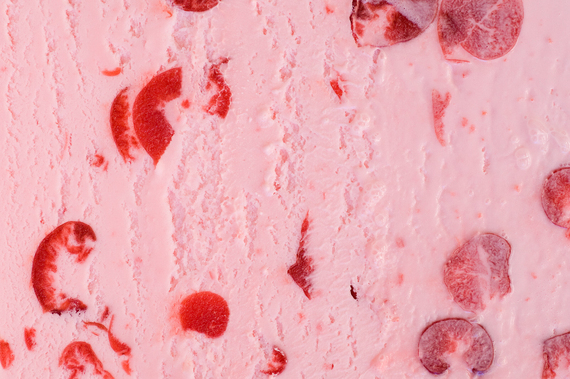 Credit: Flickr/Penn State (edited)
Berkey Creamery
University Park, PA
Don't worry new high school graduates: if you act now, you can still transfer to Penn State by second semester, which is plenty of time to spend your dining hall dollars strictly on the cheddar, yogurt, ricotta, sour cream, chocolate milk, ice cream, and sherbet that basically pours out of Berkey. The university's creamery makes 225,000 gallons of the frozen goodness annually, and its short course boasts Ben & Jerry (THAT Ben & Jerry) as alumni. The only downside is their strict no-mix policy when it comes to choosing cone flavors. But, remember, you're about to transfer here, so you have so much time left to put on the freshman 15 (plus more?) via Black Cow (vanilla with root beer sherbet swirl) and blueberry cheesecake (blueberry swirled into cheesecake ice cream).
Creole Creamery
New Orleans, LA
With an old local bakery's neon sign still mounted over its doorway, Creole Creamery looks like a soda fountain -- and, with a hot-pink interior reminiscent of an old-school parlour, that impression doesn't alter much once you step inside. The flavors, however, do step outside the box with a surprisingly tasty avocado and a refreshing, fruity peach Riesling, but stay old-fashioned, with their signature Creole cream cheese. The ice cream uses an old-style farmhouse cheese -- think sweet, more spreadable cream cheese -- and whips it into the ice cream. The result is velvety smooth, refreshing ice cream that's just about the only thing that can help you survive a New Orleans August.
Dairy Joy
Weston, MA
I've been eating this ice cream since before I had teeth, so yes, some of the love for Dairy Joy is clearly nostalgia-based. But the other is that they simply make some of the best soft-serve ice cream in all of New England. Sure, it is annoying that they're only open seasonally and they close as soon as it gets dark out, and you usually have to go sit on the logs over in the corner of the parking lot because it's so crowded, and lick your Java Berry or Creamsicle quickly lest it melt all over your hand. But that just kind of adds to the charm.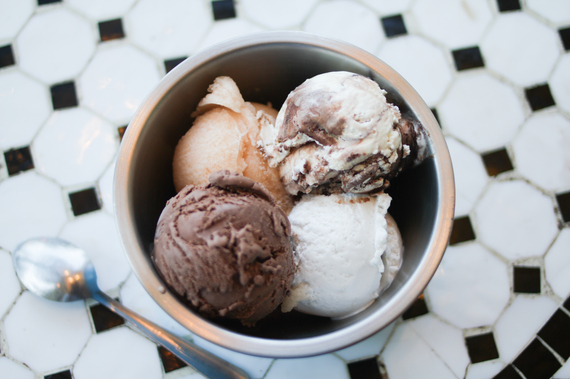 Credit: Flickr/Anders Mellbratt (edited)
Fairfax Scoop
Fairfax, CA
Back 14 years ago when Ray Martin first opened his tiny Scoop, there were no other locally sourced organic ice creams being peddled around Marin. And yet Ray insisted that all of his ingredients from the berries to the honey in their famous honey lavender to the red chiles in the fantastic cinnamon/ginger/chili Controlled Burn come from local purveyors, and you can watch him or his employees ladle their homemade waffle batter onto the press for the cones and waffle cups. Yes, it's small, and cramped, and the line is often stretched out around the block. But it's ever so worth it.
Glacé Artisan Ice Cream
Kansas City, MO
Once you realize that Glacé is the brain-freezing dessert project from the same man plopping neon, metallic-hued sweets into boxes at Christopher Elbow Artisanal Chocolates, and then go back a little further, and learn that Elbow did stints along the Vegas Strip, including a stop with Emeril, then this ice cream wonderland begins to make a great deal of sense. Don't come expecting a scoop of plain ol' vanilla. Rather, think a little higher for the rosewater vanilla. And then just ignore that anyway because you can get a scoop of goat Cheese & cherries. Or blackberry chocolate flake. Or peanut butter and jelly. But, still, appreciate the beauty of rosewater vanilla.
Clumpies Ice Cream
Chattanooga, TN
Fifteen years in the business, Clumpies was opened by the son of a third-generation candy maker, who turned the family's sweet tooth to the freezer section. Working in small batches, the creamery keeps things simple -- mostly -- with rich and creamy flavors, like chocolate chocolate chunk and butter pecan. And then not-so-simple with tongue-tingling, Pop Rock-infused Tutti Frutti ice cream. This does have candy-making genes, after all.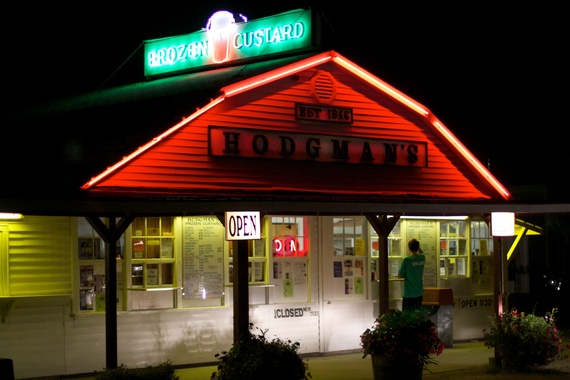 Credit: Flickr/Geoffrey Kirk
Hodgman's Frozen Custard
New Gloucester, ME
Picture driving through Maine with your grandparents every summer and stuffing yourself with lobster rolls and fried clams and blueberries and L.L.Bean fleeces. And then, even though you are so full that you actually wish the elastic in your Umbros stretched a little more, you stop at this little roadside who on Lewiston Road in New Gloucester and opt for the vanilla in a cone, expecting that it will be just like the normal ice cream you've eaten. And you'd be wrong. The frozen custard is thicker and creamier and somehow stays on your tongue longer. It's delicious. Oh yeah, and this was my summer ever year until I got too old to wear Umbros. Which was sometime after I was 17.
Izzy's Ice Cream
St. Paul, MN
It's rare that you see anyone described as an "upbeat ice cream specialist" on a Google description, but that is pretty apt for Lara Hammel and Jeff Sommers, both Minnesota natives, and owners of Izzy's. As a lawyer and a teacher, they had no experience when they opened 15 years ago, but studied hard, and now the name rings out for pretty much anyone in the Twin Cities. We're partial to some of their signature flavors, like the cereal milk with baked Kashi in the mix, as well as the addictively spicy Norwegian chai.
Cliff's Homemade Ice Cream
Ledgewood, NJ
This Jersey spot is an all-encompassing tug at the nostalgia strings from the atmosphere to the flavors. Looking exactly like it was opened in '75 -- it was -- this is a drive-in ice cream stand, rather than a parlor. Park, go up to the window, and start the very long process of choosing from 11 soft ice creams and 60 hard, hand-dipped ice creams. You should, eventually, get the strawberry, because you're at the kind of old-school spot where you feel like you should but also because it's award-winning, and then grab a seat at the picnic table. When you finish and lick the melting strawberry off your hand, go back again for the double dark chocolate fudge crunch, sit back down, and maybe pretend you're 8 years old again. This is the spot to do it.

Credit: Kailley Lindman/Thrillist
Margie's Fine Candies
Chicago, IL
If your father created a cradle in the back of a candy case to literally raise you in an ice cream parlor, you'd have some pride too. And that's exactly what happened with Peter George Poulos Jr., who owns the legendary ice cream shop in Chicago, open since 1921, and known for their hot fudge sundaes. If you go, don't mess around: go straight to one of those old-school booths with the tableside jukebox, put on something by Chubby Checker, and cover your face in fudge as if you're applying war paint. Oh, and then eat the ice cream too.
Fat Cat Creamery
Houston, TX
Yes, you can get into the whole locally sourced from Texas farms thing. And yes, their packaging is all compostable down to their damn spoons made of cornstarch. But your stomach and taste buds won't know that. All they'll know is that you're eating a flavor called Waterloo strawberry buttermilk made with strawberry jam, buttermilk ice cream, and Waterloo Texas gin, and you never want to stop. Unless you get the milk chocolate stout. Or one of their incredible seasonal flavors (and yes, the rumor was true: they did have an Easter-themed malted milk ice cream with Cadbury Egg pieces inside).
Quenelle
Burbank, CA
Fun fact: a quenelle is a shape that fancy restaurants often use to make your ice cream or sorbet look appetizing. Even more fun fact: you can't get the ice cream at Quenelle in the quenelle shape. But their loyal customers don't care, because when you have everything from blueberry pie ice cream to monthly rotating flavors like Red Bull/vodka popsicles (bring your ID) to hand-dipped apple pie ice cream bars you can cover in a brown butter glaze with graham cracker streusel, there's something for everyone. If it wasn't clear that they're not a traditional ice cream shop, you won't find sundaes or milkshakes on the menu. But you can find local brewery Golden Road's IPA in ice cream form. Yeah, you're gonna need to bring that ID for sure.
Bi-Rite Creamery
San Francisco, CA
We've said it before, as they're on our list for the second straight year, but if you see someone lining up on 18th street in the Mission at, say, 2 p.m. on a Wednesday, it's not a protest against tech. It's the line for the original Bi-Rite opened across from the market in 2006. Their Straus Family Creamery dairy ice creams are perfection, whether you get them in the original Mission store by Dolores or over in NoPa inside the newer Bi-Rite Market. Either way, it's worth waiting for. On a weekday morning.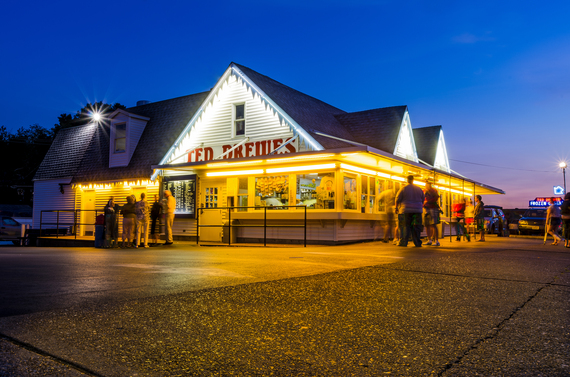 Credit: Flickr/Philip Leara
Ted Drewes
St. Louis, MO
Before Shake Shack came along and made the whole "concrete" thing popular nationwide, there was Ted Drewes. The family has been selling frozen custard for more than 80 years, and -- even more strange but nonetheless awesome -- "Christmas trees for over 50 years." So even if you're just there to purchase a tree under which you will put wrapped boxes of Micro Machines, you might as well get one of their amazing concretes, especially the Twisted Caramel, since the crumbled pretzels add just the right saltiness to that caramel.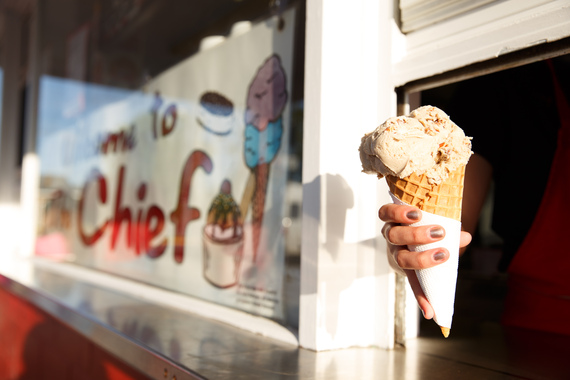 Credit: Grant Beachy/Thrillist
The Chief
Goshen, IN
Maybe it's the hand-painted sign that simply says "The Chief." Or the simple red and white decor. Maybe it's their fantastic version of that weird Midwest flavor "Blue Moon," which kind of tastes like blue raspberry and vanilla, but is neon enough that you'd think it was created during an EDM concert.
Ample Hills Creamery
Brooklyn, NY
Before Brooklyn was teeming with moms pushing babies in strollers and dudes wearing fedoras and moms pushing babies wearing fedoras in strollers, it was teeming with cows. And while those cows are missing -- as are the hills Walt Whitman famously waxed about -- Ample Hills pays tribute to the era from its two-story Gowanus creamery. Everything is made on-site -- seriously, they are a registered dairy plant -- and the result is delicious concoctions, like peppermint ice cream that's loaded with dark chocolate-covered mint patties and regular favorite, the Munchies, a pretzel-infused ice cream packed with Ritz crackers, chips, more pretzels, and M&M's. Plus, there's the basics, like strawberries and cream, meaning there is a flavor for every Brooklyn fedora wearer.
Did your favorite ice cream spot make it into the other 17? Find out, only at Thrillist.com!
More from Thrillist:
How to Get Free Food All Year Long
16 Amazing Regional Snacks That Should Be Everywhere Right Now
Like Thrillist on Facebook: www.facebook.com/Thrillist