By: Adam Lapetina
There are things in America that you can find no matter where you are. The kindness of strangers. A building with Donald Trump's name on it. Good pizza. We like to think that somewhere, in each state, there's a truly sublime pie, and to prove that point, we've crunched the numbers (and the crusts) and come up with a definitive list of the best pizzerias in every corner of this great nation.
We've already told you where you can find some truly superlative pies in the ol' US of A, but let's be honest: certain regions get a little more attention than others (we're looking at you, North Dakota). So now, we're opening up the playing field (to South Dakota... and everyone else). These are the best pizzerias in every state in America.
More: Every State In The USA, Ranked By Its Food/Drink
ALABAMA
Post Office Pies (address and info)
Birmingham
When John Hall moved back to his hometown of Birmingham, he brought with him experience on the line at Manhattan's Gramercy Tavern, Per Se, and Momofuku, and, most importantly, the cred of operating an illegal pizza pop-up out of his NYC apartment. With two handmade brick ovens, crusts that took six months to perfect, and a bevy of house-made toppings, like sausage -- plus a brewery next door supplying the booze, Hall's spot is revolutionizing pizza in Bama's largest city.
ALASKA
Moose's Tooth Pizza and Pub (address and info)
Anchorage
Stunt pizzas can be a red flag, and Moose's Tooth has them in spades. And shrimp. And salmon. And bratwurst. But here's the thing: the stunts are as good as the mainstays, served up on a choice of thick or thin crust (get thick: it's cold outside) and paired up with house-made beer and sarsaparilla. The pies would make even Bill Seward's harshest critics reconsider the wealth of the Alaska Purchase.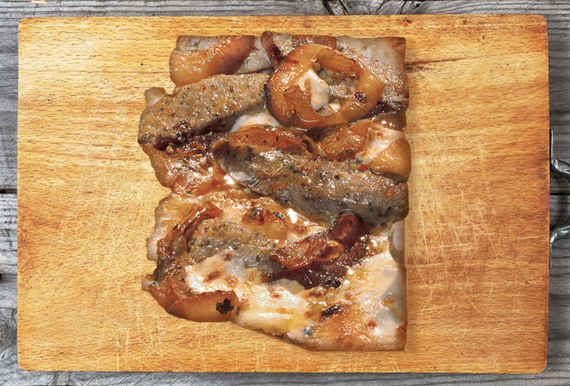 Credit: Pizza Bianco/Jennifer Bui
ARIZONA
Pizzeria Bianco (address and info)
Phoenix
This wasn't even close. Chris Bianco's legendary place, which arguably started the artisanal pizza trend, is the best pizza in AZ by several miles and has been for 25 years.

ARKANSAS
ZAZA (address and info)
Little Rock, Conway
A traditional American pizzeria this place is not: ZAZA specializes in Neapolitan stylings, and has some surprising toppings on their crispy wood-fired pies. They only use the finest Italian ingredients (like San Marzano tomatoes and doppio zero flour) to make specialty pizzas like the 3 Little Pigs with bacon, ham, and pepperoni. Also Italian and delicious: their gelato.

CALIFORNIA
Pizzaiolo (address and info)
Oakland
California is tough. Not so much in the Southern part of the state, where Mozza reigns supreme, but in the SF area, there are a lot of contenders. So with respect to Una Pizza, Ragazza, Tony's, and Delfina, we're going with Pizzaiolo in Oakland. For nearly 10 years, Charlie Hallowell's East Bay joint has consistently put out fantastic Neapolitan/NorCal-style pizzas. Many have come close, and the argument could be made that some places have individual pies that are better, but no one has mastered that unique California style at such a high level for as long.
COLORADO
Osteria Marco (address and info)
Denver
One of Denver's premiere restaurateurs opened up this pizza place, and it's a passion project. Mozzarella is made in-house, and pizzas don't conform to any particular style -- it's all his own.

CONNECTICUT
Frank Pepe Pizzeria Napoletana (address and info)
Multiple locations
We've pretty extensively explored Connecticut's pizza scene in the past, and it is unequivocally one of the best in the country. The best and most hotly debated places are located in New Haven, where warring coal-fired spots have duked it out for generations. But while Sally's is one of the premier pizzerias in the country, we still have to give the title to the OG New Haven apizza-slinger: Pepe's. Their white clam pie, served without tomato sauce, is a national treasure, simple as that.

DELAWARE
Grotto Pizza (address and info)
Multiple locations
The legend started in 1960, when Dominick Pulieri and his brother-in-law and sister came to Delaware to open a pizzeria. And despite the fact that people in Delaware in the '60s were like "wait, what's pizza again?", they've prospered and expanded, thanks to their now-signature swirl of sauce above the cheese. Some fancier folk may oppose this choice, as it is certainly not gourmet, but this pick was ALL ABOUT NOSTALGIA, FRIENDS, especially when you order the Baker's Choice with pepperoni, mushrooms, sweet peppers, sausage, onion, garlic, and even more cheese below that sauce swirl, then act like a true Delawarean (?) and go down to the beach and eat it.

FLORIDA
Steve's Pizza (address and info)
Miami
Miami's got more than a few good pizzerias, and the popularity of the NY-style slice there is undeniable. That being said, if you so much as suggest that Lucali is their best pizzeria, they'll pelt you with oranges or whatever. Besides, Steve's is the local favorite for home-grown thin-crust pies, and it's open until midnight every night, so hard-partying types can get their fix, too.
GEORGIA
Antico Pizza Napoletana (address and info)
Atlanta
Antico just turned 5, but with respect to newer spots, like Fritti, the first spot to bring Neapolitan style to Georgia gets our nod, as it continues to churn out crisp, thin pies that take a perfectly timed two-minute stint in the oven and consistently keep lines out the door.

HAWAII
Inferno's Wood Fire Pizza (address and info)
Honolulu, Waikiki
Though local legends like Boston Pizza and JJ Dolan's were in the running, we had to go with the newer kid on the block, Inferno's, which spits out thin, Neapolitan pizzas from an 800-degree Kiawe wood-fired oven that they call "The Beast". Get the Guava Smoked Pork with fresh mozzarella, Maui onions, local Kilauea BBQ sauce, and their Shinsato pork. It's very for real.

IDAHO
Flying Pie (address and info)
Multiple locations
Sometimes, the best pizza is just an old-fashioned, hand-tossed pie. Flying Pie does just that, with a salty, garlicky dough topped with bicep-straining toppings. Unless you're from New York or named Corleone, this is what you think of when you think of good pizza.

ILLINOIS
Vito and Nick's Pizzeria (address and info)
Chicago
This pick might be a bit controversial, what with Chicago's myriad of awesome deep-dishes... and "stuffed" pizzas, which are basically the same thing but even more like casseroles. However, well-behaved pizza writers seldom make history. So, after some intense debate, we decided to go with (GASP) a thin-crust joint. Vito and Nick's crunchy-edged game is incredibly strong, they've been doing it since 1932, and their square-cut slices contain hidden treasures that even the deep-dish guys could learn a thing or two from.
Head over to Thrillist.com for the full story and see if your favorite pizzeria in your state made it on the list!
More from Thrillist:
The 33 Best Burgers In the Country
Testing The Secret Menus At 8 Chains, From Chipotle To Shake Shack
Follow Thrillist on Twitter: www.twitter.com/Thrillist