By: Matt Meltzer
One of the best things about this great nation of ours is that we don't like to be bored. Like, ever. But mostly, on road trips. Which is why we have all these bizarre roadside attractions that, in addition to entertaining us on long drives, also entertain the rest of the world by giving it something to laugh at us about.
But let's be honest, sometimes you want more than a selfie in front of a giant ball of string. And since every state has at least one wonderful attraction that draws visitors from far and wide, we decided to find out what it was, based on a delicate balance of local pride, iconic drawing power and whether or not it actually sounds like something you'd willingly travel to do. So here they are: 50 states, 50 attractions and just a few minutes until you find yourself pricing flights on that site with the William Shatner commercials.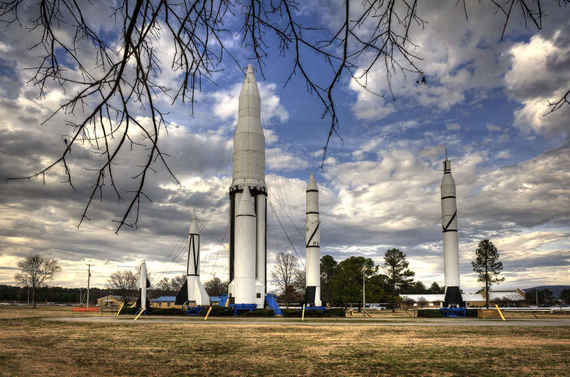 Credit: Flickr/NASA's Marshall Space Flight Center
Alabama
US Space and Rocket Center
Huntsville, AL
While Houston and Cape Canaveral grab all the glory for the US space program, Wernher von Braun and his gang actually developed all the equipment that sent Americans to space in tiny Huntsville, Alabama. Here you can see the largest collection of space hardware in the world, as well as Apollo 16 and the only fully stacked shuttle display, plus... SPACE CAMP!
Alaska
Denali National Park and Preserve
When you've got the highest point in North America, it's hard to argue that cruise ship fjords are a better attraction. Denali -- or Mt. McKinley as you may know it -- is the centerpiece of this 6-million-acre national park, only a small percentage of which is accessible by car. Snow in August isn't an unusual sight, nor is spotting a grizzly bear on your long, bumpy bus ride to one of its wilderness lodges.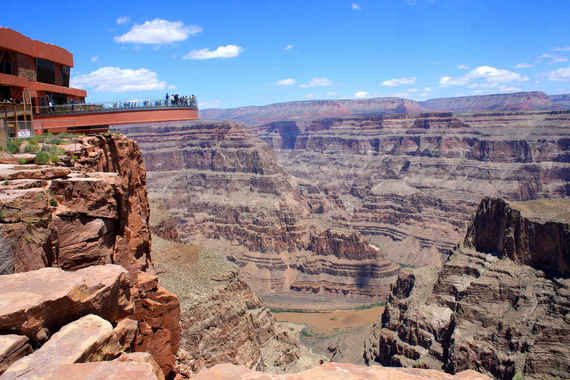 Credit: Flickr/Leonardo Stabile
Arizona
Grand Canyon
While some have argued that a visit to the Grand Canyon basically amounts to driving two hours through the desert, enjoying the canyon's beauty for five minutes, spending another five minutes there because you feel bad, then trying to figure out what to do with the rest of your day, the fact remains -- it's still one of the most awe-inspiring natural wonders in the world.
Arkansas
Hot Springs National Park
Sure, the somewhat-sulphuric smell of bubbling pools of natural hot water can be occasionally noxious. So can a trip to one of Arkansas' many Walmarts, but at least here you leave relaxed. America's oldest national preserve and smallest national park was once home to a mighty row of bathhouses where rich and poor alike came to bathe and be healed by the springs' naturally hot waters. Only a few of the houses still remain, but a couple have been converted into a visitors center and art museum.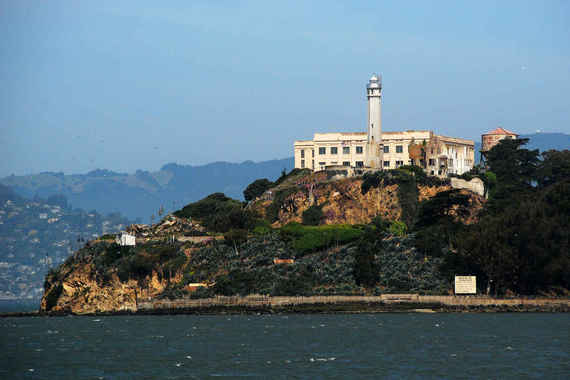 Credit: Flickr/Brian Haberer
California
Alcatraz
San Francisco, CA
No, they didn't use exploding neck collars or place prisoners in some kind of parallel universe, but The Rock is right up there with most fictional prisons as a place you'd never want to end up. America's fascination with the penal system is no more obvious than at this former federal penitentiary on an island in the middle of San Francisco Bay, where Al Capone once lived and 1.3 million people visit every year.
Colorado
Red Rocks Amphitheater
Denver, CO
If you've seen one legal marijuana dispensary, you've seen 'em all. And since not everyone can ski, the best attraction in Colorado is hands down this live music venue outside Denver. Not only does it have possibly the best acoustics of any venue IN THE WORLD, it offers sweeping views of the surrounding Fountain Formation and is a must-play spot for any rockstar with aspirations of recording an album that ends with "live at Red Rocks."

Credit: Flickr/Sean_Marshall
Connecticut
Louis' Lunch
New Haven, CT
Yes, we are telling you the coolest thing to do in Connecticut is eat lunch. ESPN headquarters is more overrated than the SEC, and Louis' Lunch is the birthplace of the hamburger (although why it's not called a Newhavener, you'll have to ask them). If you don't believe us, just ask the Library of Congress. It recognizes LL as the inventor of said all-beef patty and the oldest continuously operating burger joint in the nation.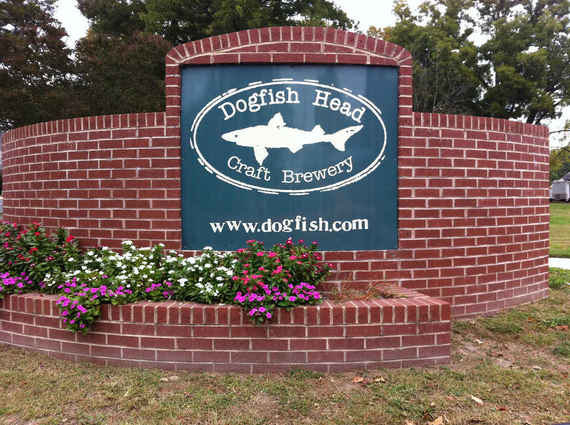 Credit: Flickr/Eric Mörner
Delaware
Dogfish Head Brewery
Rehoboth Beach, DE
You know people love your beer when consumer demand forces you to expand your facilities TWICE in less than 20 years. Which is what the makers of your favorite 90 Minute IPA and Indian Brown Ale have done, with this location on The Avenue in one of America's best small beach towns. Not only does Dogfish serve up its famous beer, but also a full menu of suds-inspired food, live entertainment and distilled rum, gin and vodka. In face, it does so much here now that the actual beer production had to be moved to nearby Milton, DE.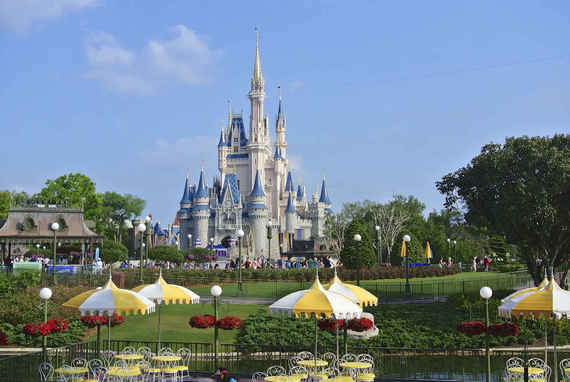 Credit: Flickr/Jaclyn
Florida
Disney World
Orlando, FL
Because federal law mandates that all people with children who live east of the Mississippi must visit this Central Florida fun factory at least once. Sure, Florida has thousands of miles of beaches and the insanity of Miami, but spending three hours in line with sweltering humidity, screaming children and a melting mouse-ear ice cream bar for a three-minute ride really puts the "sunshine" in your "Sunshine State" experience.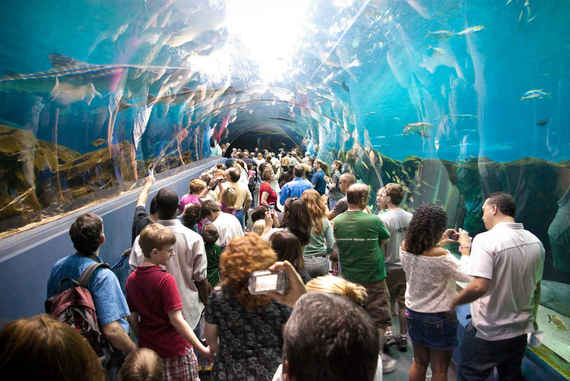 Credit: Flickr/Robert S. Donovan
Georgia
Georgia Aquarium
Atlanta, GA
"Aquarium" is kind of a deceiving term here, as this Atlanta aqua land is really more like SeaWorld without the animal abuse. Here you can scuba dive with whale sharks and manta rays, play with otters and penguins, work alongside Beluga trainers or just stare into the world's largest indoor marine habitat. They'll even let you spend the night if you want, just don't expect the sea creatures to break out into a musical number.
Hawaii
Punaluu Black Sand Beach
Hawaii Island, HI
Perpetual volcanic activity isn't exactly a selling point when you talk about living on the big island, unless, of course, you're talking about the dramatic black sand beaches on the southeastern Kau coast. Just don't try to take any of that black sand home in a bottle 'cause -- like trying to climb Hawaii's other best tourist attraction, the Stairway to Heaven -- it's totally illegal.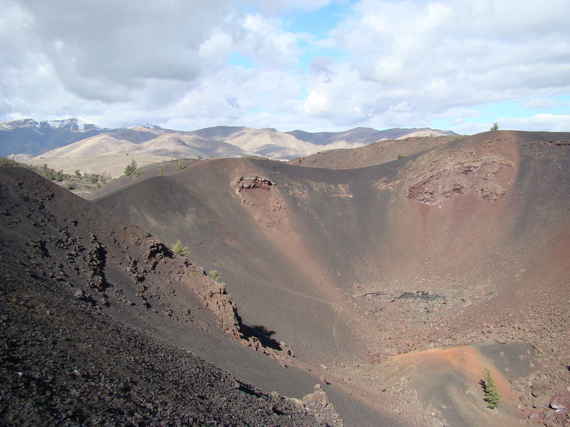 Credit: Flickr/rbbaird
Idaho
Craters of the Moon National Monument and Preserve
Sure, after finally landing on the actual moon, NASA said the name of this park was totally misleading, but changing all the signs to say "Craters That Look Nothing Like the Moon but are Still Totally Badass National Park" was going too far. So the name remains, as does this 400-square-mile preserve where you can walk on giant basaltic lava fields, hike through caves and peer into the world's deepest rift crack.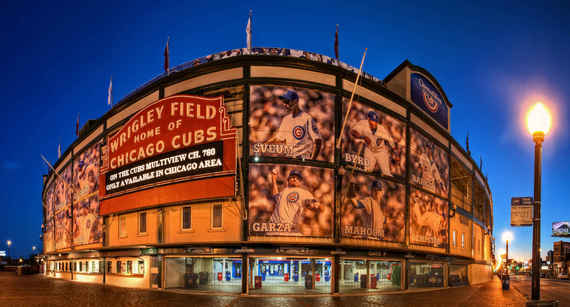 Credit: Flickr/Justin Mier
Illinois
Wrigley Field
Chicago, IL
To keep the stands packed after years upon years upon years upon years of losing baseball takes something special. And the ivy-covered walls and throwback neighborhood-ballpark aesthetics of Wrigley are exactly that, where even long-suffering Cubs fans don't seem to be suffering all that much when they're knocking back Goose Islands in the bleachers and enjoying the best example today of baseball's bygone glory days. Where does it rank among all 30 MLB stadiums, though? Find out, right here.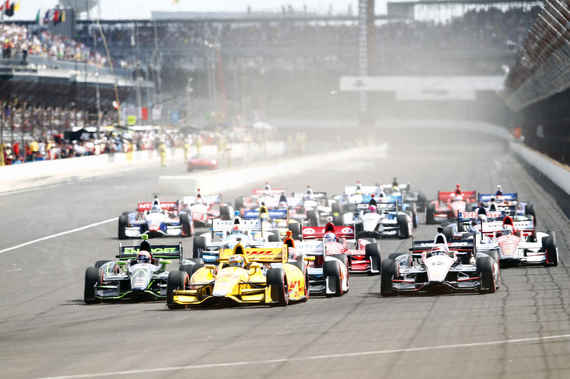 Credit: Flickr/Daniel Incandela
Indiana
Indianapolis Motor Speedway
Indianapolis, IN
Kinda like how we only care about soccer once every four years with the World Cup, Americans more or less only notice IndyCar racing on Memorial Day weekend, when the best drivers in the world descend on Indianapolis for the Indy 500. But even if you can't make it to the race -- which is also one of the best parties in America -- there's still the Speedway Hall of Fame, a golf course and, oh yeah, opportunities to drive a real Indy car on the actual Brickyard track.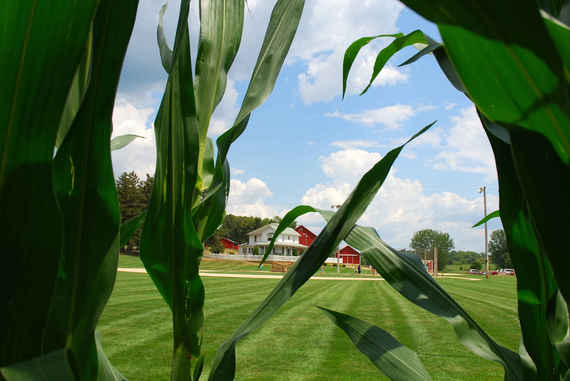 Credit: Flickr/Mindy
Iowa
The Field of Dreams Filming Locale
Dyersville, IA
Whereas most Hollywood movies tend to cop out and use LA as the backdrop for pretty much everything (who knew there were cliffs in Miami Beach!?), FOD producers went authentic and shot this '80s baseball classic on the Lansing family farm in Dyersville. You can still visit the farmhouse and baseball field, but dead baseball legends will, sadly, not come marching in from the surrounding cornfields.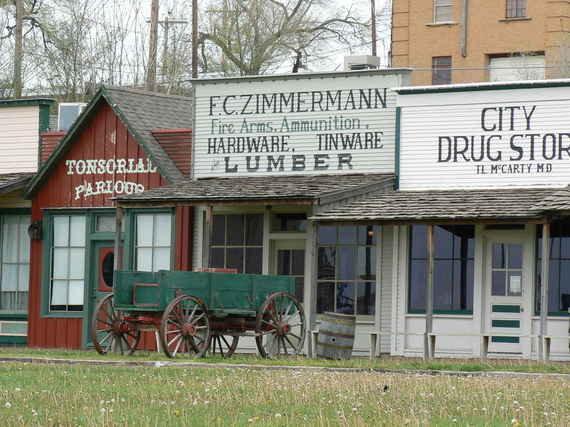 Credit: Flickr/Vicky Somma
Kansas
Boot Hill/Dodge City, KS
As you've probably used the expression "Get the heck outta Dodge" thousands of times and likely had no idea where it came from, well, here's your answer. In Dodge City, you can step back into an era where middle-of-the-street gunfights were the norm, visit their burial spot at Boot Hill Cemetery (so named for men who died while still wearing their boots) or stroll the recently restored Front St, which was once home to the China Doll Brothel and Long Branch Saloon.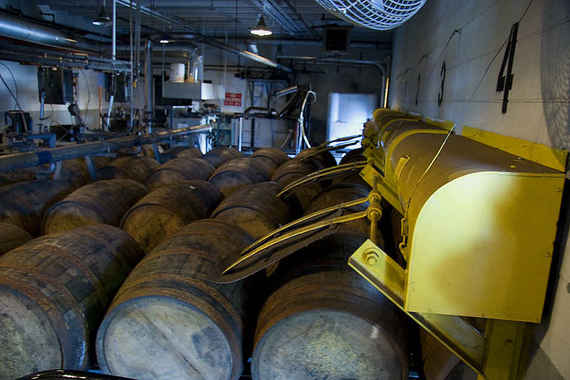 Credit: Flickr/Juan Monroy
Kentucky
Kentucky Bourbon Trail
The thing to remember about doing the Bourbon Trail: DO NOT DO IT ALL IN ONE DAY. That's 10 distilleries, and even if you designate a driver, you can't designate a hangover-er, so it's best to explore Western Kentucky (and the distilleries of Jim Beam, Woodford Reserve, Maker's Mark, Wild Turkey and more) in shifts, staying at the historic inns in between. Also, don't forget to check out The Old Talbott Tavern -- the oldest bar and oldest restaurant in the Bluegrass State.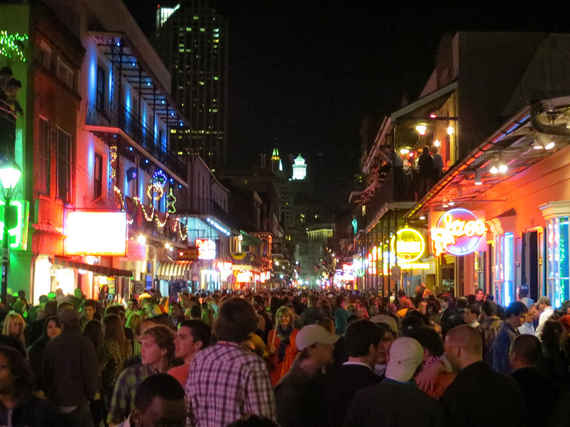 Credit: Flickr/Sean_Marshall
Louisiana
Bourbon Street/French Quarter
New Orleans, LA
Not that Louisiana doesn't have plenty of other great things to offer, like, uh, Shreveport, but if you say you're going to this state, people assume you're going to drink Hand Grenades, listen to jazz, eat the best food in the country and then make some bad decisions. And even if you'd rather spend your New Orleans vacation NOT popping Advil, the architecture and history of the French Quarter are two of those few things in America that you won't find anywhere else.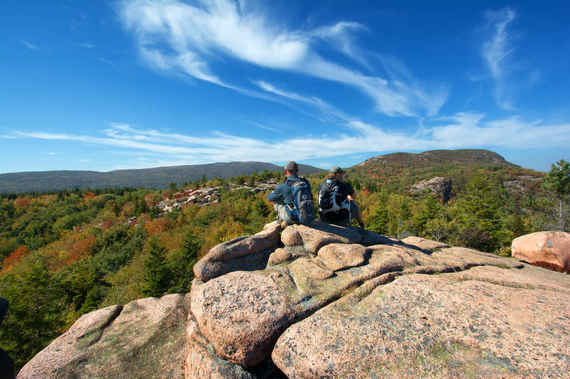 Credit: Flickr/David Barnas
Maine
Acadia National Park
The oldest national park east of the Mississippi sits just off the rocky shores of Down East Maine and boasts 47,000 acres of pristine New England beauty. Its main highlight is Cadillac Mountain (named after a French explorer, not the Escalade), which welcomes the sun to America every day as one of the most eastern spots in the country. The view from the mountain stretches out over Frenchman Bay and the Porcupine Islands, and provides some of the most dramatic scenery on the Eastern Seaboard.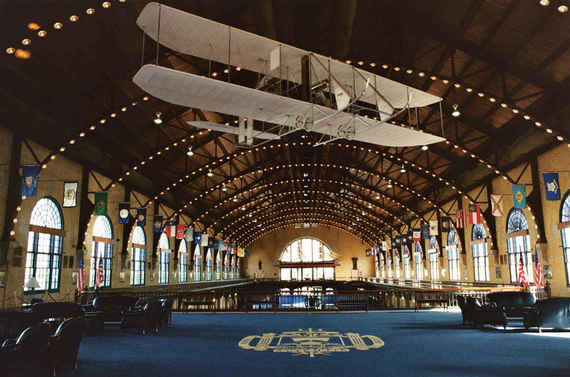 Credit: Flickr/guy_incognito
Maryland
Annapolis/U.S. Naval Academy
While Baltimore has a pretty cool boardwalk and a nifty retro baseball stadium, you know what it doesn't have? The US Naval Academy. Or the oldest bar in the state. Or, well, you get it. And since Edgar Allen Poe's house is in a neighborhood that makes the Tell Tale Heart look like Sweet Valley High, the most unique and non-deadly place you can go in Maryland is historic Annapolis.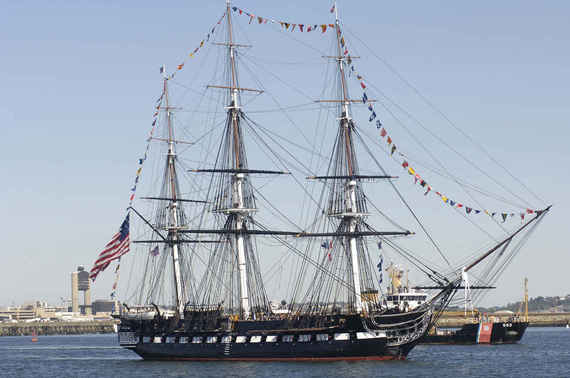 Credit: Flickr/Gray Lensman QX!
Massachusetts
USS Constitution
Boston, MA
Escape the throngs of loudmouthed Boston sports fans trying to convince you that Brady is innocent by immersing yourself in US history instead, as you walk the 2.5-mile Freedom Trail through the city. While top sites include the Boston Tea Party Museum, Paul Revere's House, Bunker Hill and Faneuil Hall, the highlight is America's oldest warship -- the three-masted, wood-hulled beast that beat not one but FIVE British Naval vessels in the War of 1812, earning it the name "Old Ironsides" and a permanent spot in Boston Harbor.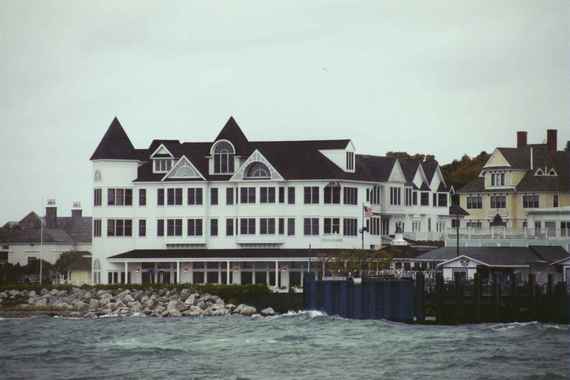 Credit: Flickr/firemen93
Michigan
Mackinac Island
Michigan might be the most underrated state in America when it comes to natural beauty, and nowhere is that more obvious than during a summer trip to this spot smack between the Upper and Lower Peninsulas. The entire island is a national historic landmark and boasts the coolest hotel in the state -- the Victorian Grand -- as well as famous fudge and Mackinac Island State Park. Also, there are almost no cars on the island, and the preferred mode of transportation is horse-drawn carriage.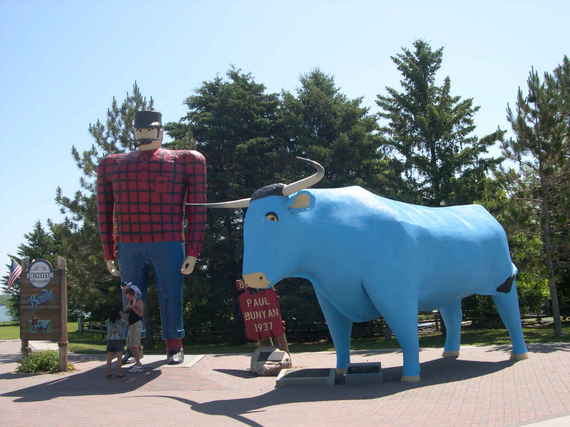 Credit: Flickr/State Historic Preservation Office Local History Services
Minnesota
Paul Bunyon and Babe the Blue Ox
Bemidji, MN
With a significant tip of the hat to the Mall of America and the Spam Museum, the most unusual, interesting thing in the Land of 10,000 Lakes doesn't involve water at all. But rather a must-see, 18ft, 2.5-ton statue of Paul Bunyon flanked by his trusty blue ox Babe, that it should be noted, rocks a whopping 14ft horn span. And once you've seen it, well, you're in Bemidji, so really the world's your oyster.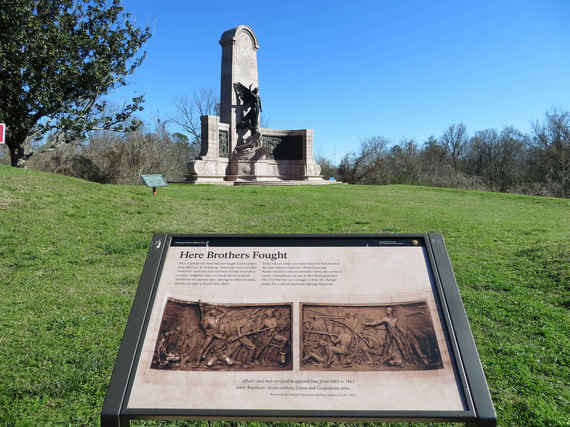 Credit: Flickr/Sean_Marshall
Mississippi
Vicksburg National Military Park
Vicksburg, MS
While Gettysburg gets all the love from Yankees, perhaps the greatest War-Between-the-States battle site sits in Western Mississippi, where this 47-day siege on Vicksburg and the associated campaign claimed more than 20,000 total casualties and resulted in the Union taking control of the Mississippi River. Today, you can visit 1,325 historic monuments, 20 miles of trenches and even the restored USS Cairo, which was the first US ship downed by a torpedo when it was sunk in 1862.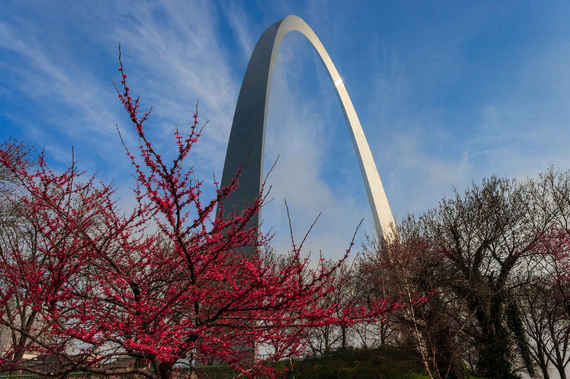 Credit: Flickr/Philip Leara
Missouri
Gateway Arch
St. Louis, MO
Since St. Louis was considered the Gateway to the West, this arch was constructed in the 1960s to give the St. Louis skyline an iconic monument. Today you can take trams all the way to the top of the tallest man-made monument in the Western Hemisphere and enjoy a panoramic view of the city and the Mississippi River. Although once you're back at the bottom, check out the old courthouse and the rest of the Jefferson Western Expansion Memorial.
The other 25 states are waiting after the jump, at Thrillist.com!
More from Thrillist:
What Every US State Is the Best At
The 10 Most Beautiful Neighborhoods in America, Ranked
Like Thrillist on Facebook: www.facebook.com/Thrillist
Also on HuffPost:
PHOTO GALLERY
51 U.S. Attractions & Facts