By: Erik Christensen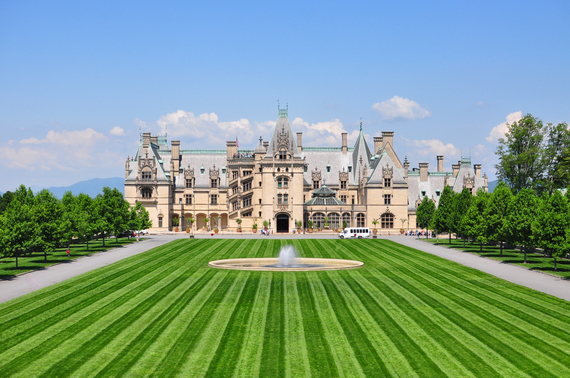 Credit: Flickr/Blake Lewis
Our purple mountains and amber waves are nice and all, but we've been building fast and furiously (2 Fast, 2 Furiously?) since we landed at Plymouth Rock. And we've come a long way since log cabins on fruited plains. Here is the most beautiful building in every state, plus the District of Columbia.
More: The Best Tourist Attraction In Every State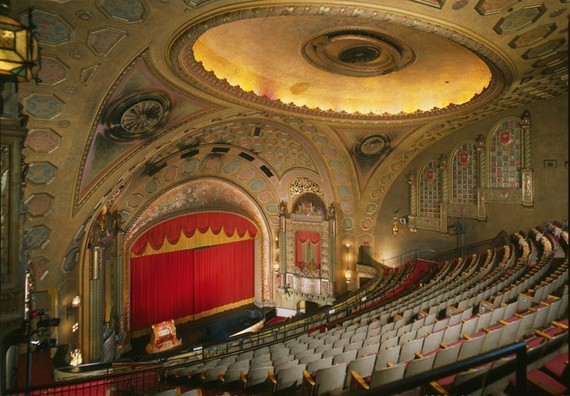 Credit: Wikimedia/Altairisfar
Alabama
Alabama Theatre
Birmingham, AL
The majestic Alabama Theatre truly is the "Showplace of the South," from the beautifully restored gold leaf details to the bright red Crawford Special Publix One Mighty Wurlitzer Opus 1783 organ (yep, that's its full name). What was once a movie palace and host of the Alabama live Mickey Mouse Club now offers a full array of concerts, plays, and dance performances.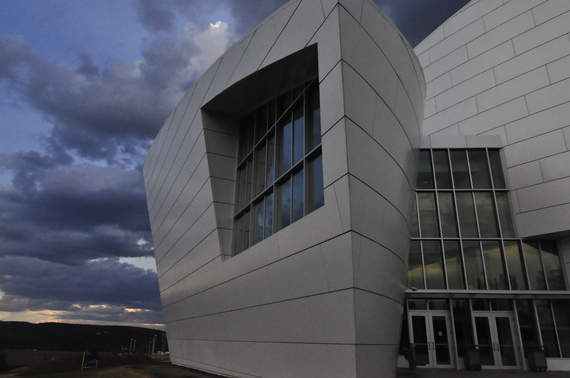 Credit: Flickr/Dan
Alaska
Museum of the North
Fairbanks, AK
Located on the University of Alaska Fairbanks campus, the Museum of the North looks like a sleek sculpture designed to blend in with the usually white and wintery landscape. The swooping geometries, evocative of the natural surroundings, transfer to the interior where you will find 1.4 million artifacts and specimens including Blue Babe, a 36,000-year-old bison mummy.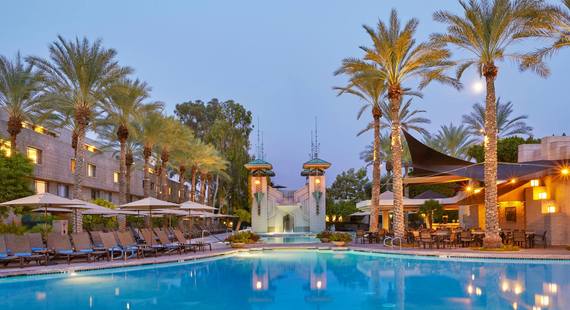 Credit: Arizona Biltmore, A Waldorf Astoria Resort
Arizona
Arizona Biltmore
Phoenix, AZ
Referred to as "The Jewel of the Desert," the Arizona Biltmore is exactly that. Designed by Frank Lloyd Wright protégé Albert Chase McArthur, this grand hotel is constructed from pre-cast desert sand blocks (in 34 different patterns) giving it the signature color of the local scenery. Fun fact: every US president from Hoover to George W. Bush has been a guest here.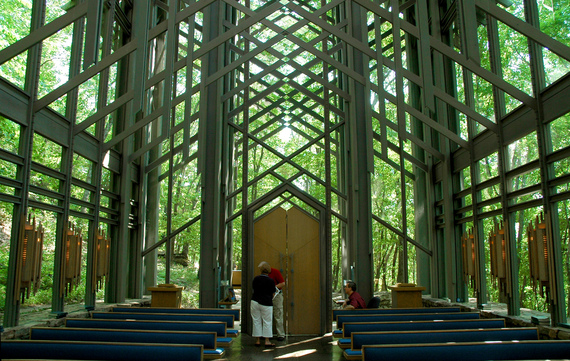 Credit: Flickr/Clinton Steeds
Arkansas
Thorncrown Chapel
Eureka Springs, AR
E. Fay Jones' masterpiece defines "little chapel in the woods" from now until the end of time. For real. The simple design features 425 windows that seamlessly integrate the forest and native flagstone outside with the carved wood inside. The American Institute of Architects considers Thorncrown Chapel to be the fourth best building of the 20th century.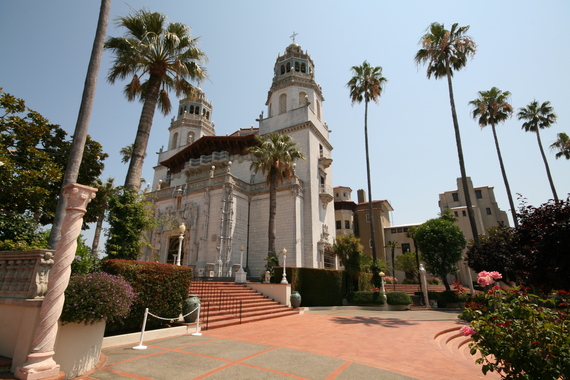 Credit: Flickr/Jan Andersen
California
Hearst Castle
San Simeon, CA
California has many iconic buildings, but opulent Hearst Castle takes the proverbial cake. Perched in the San Simeon hills, the newspaper magnate's "modest" pad merges multiple European architecture styles into one colossal must-see landmark. Fun fact: back in its heyday, Hollywood A-listers (Chaplin, Gable, et al) often arrived via plane thanks to the estate's airfield.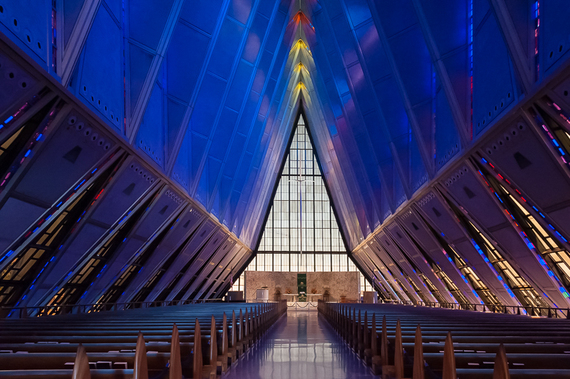 Credit: Flickr/Jacqueline Poggi
Colorado
United States Air Force Academy Cadet Chapel
US Air Force Academy, CO
The 17 soaring spires, the complex tetrahedrons, and the floor-to-very-tall-ceiling stained-glass windows make SOM's Cadet Chapel design a classic of modernist architecture. Completed in 1962, it was honored by the American Institute of Architects with their prestigious Twenty-Five Year Award in 1996, and the chapel became a National Historic Landmark in 2004.
Connecticut
The Glass House
New Canaan, CT
Widely regarded as Philip Johnson's masterpiece, The Glass House goes for complete minimalism and transparency -- allowing nature to be the "wallpaper" when viewed from the interior. Deep, man, deep.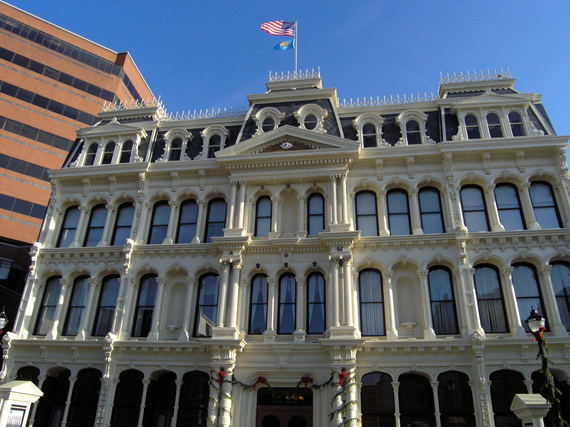 Credit: Flickr/David Son
Delaware
The Grand Opera House
Wilmington, DE
Originally built as a Masonic Temple and auditorium in 1871, the majestic Grand is one of the last/best examples of 19thcentury cast iron architecture in America. Inside, the performance hall is an old-school theatre, postcard perfect with giant chandeliers, detailed frescoes, and red plush seats. Notable past performers include John Philip Sousa and "Buffalo Bill" Cody.
District of Columbia
The U.S. Capitol
Washington DC
'Merica.
Florida
Vizcaya Museum & Gardens
Miami, FL
Sorry, little Billy, the most beautiful building in Florida is NOT Cinderella Castle in the Magic Kingdom. It's Vizcaya, the estate-turned-museum of James Deering, that guy who made his fortune with International Harvester. Lording over Mainland Miami, the handsome villa incorporates Tuscan Italian Renaissance and Mediterranean Revival styles with just a dash of Baroque.
Georgia
Cathedral of St. John the Baptist
Savannah, GA
Established by French Catholic emigres in the early 1800s, Savannah's Cathedral of St. John the Baptist exemplifies French Gothic architecture. And then some. The graceful stone and brick exterior contains an equally graceful interior featuring gothic rib vaults, gilded decorations, and a giant rosette stained-glass window.
Hawaii
Aliiolani Hale
Honolulu, HI
It's like a little bit of the Italian Renaissance landed in the middle of Honolulu. This former seat of government for the Kingdom of Hawaii and Republic of Hawaii is now the home of the Hawaii State Supreme Court... and the building is supremely photogenic. Even though it might be more well-known for the gold leaf statue of King Kamehameha out front, Aliiolani Hale is one of the most recognizable buildings in the state.
Idaho
Idaho State Capitol
Boise, ID
As far as state capitol buildings go, Idaho's government HQ stands out as one of the best in all the land. Inspired by various classical designs (i.e., St. Peter's, the US Capitol), the architects incorporated FOUR different types of marble, adorned it with 219 pillars, and crowned it with a big-ass dome and a 5ft 7in golden eagle. 'Nuff said.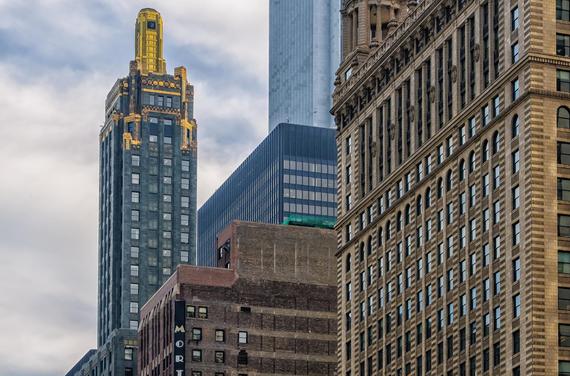 Credit: Flickr/Carol Smith

Illinois
Carbide and Carbon Building
Chicago, IL
Like chips off the old block, famed Chicago architect Danial Burnham's sons designed this Art Deco standout clad in dark green terra cotta, polished black granite, and gold leaf. You know... for that little something extra. According to lore, they wanted it to look like a Champagne bottle.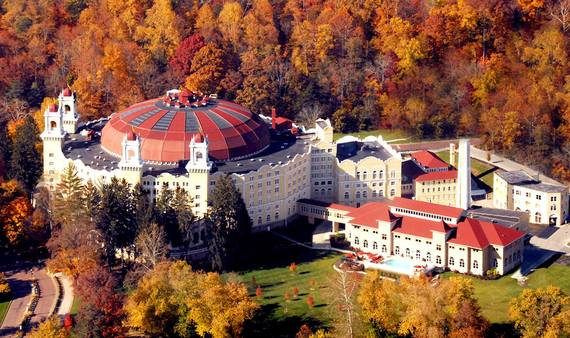 Credit: West Baden Springs Hotel
Indiana
West Baden Springs Hotel
West Baden Springs, IN
Hiding out in the Indiana cornfields is West Baden Springs Hotel, an architectural and engineering marvel that you never knew existed. Unless you're from Indiana, and even then, maybe not. It's been a resort since opening in 1902, and guests visit to enjoy its many posh amenities and ogle the famed dome atrium. And the dome is freakin' gigantic at 200ft wide. It was the largest free-spanning dome IN THE WORLD from 1902-1913 and the largest in the US until 1955. If you're ever in Larry Bird Country, you've gotta check this place out.
Iowa
Iowa State Capitol
Des Moines, IA
Not to be outdone by Idaho, Iowa also boasts a duly dignified state capitol with its modified Renaissance style, deep porticoes, and 23-carat gold dome. It's packed with other frills like a quote from "The Gettysburg Address" and Iowa limestone on the exterior, and 29 different types of marble and woodwork made from Iowa trees on the interior.
Kansas
Kansas State Capitol
Topeka, KS
Because the good people of Kansas aren't impressed when you declare a building in Kansas City, Missouri, as their state's most beautiful, we will not mention the Nelson-Atkins Museum's Bloch Building -- even though it comprises five translucent boxes connected by green-roofed pavilions and is pretty incredible. Instead, the honor of best-looking building in the Sunflower State goes to the capitol in Topeka, which took 37 years to construct and is considered by many to be "the state's most important architectural treasure."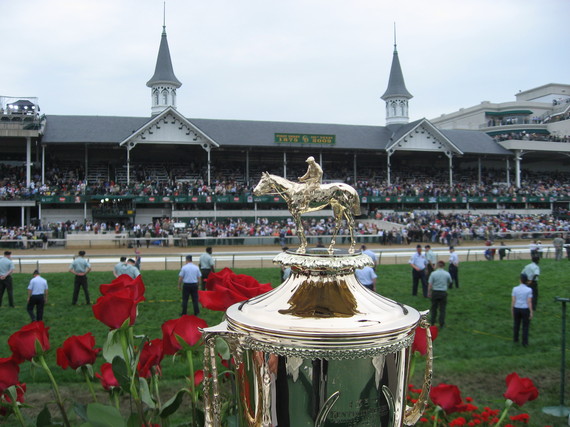 Credit: Flickr/Jorge
Kentucky
Churchill Downs
Louisville, KY
The home of the Kentucky Derby is pretty much synonymous with the Bluegrass State, from the arcaded main entrance to the top of its iconic twin spires. And it's just got that nostalgia factor courtesy of 140+ years of history. Fun fact: over 150,000 people jam in there on Derby Day.
Louisiana
Old State Capitol
Baton Rouge, LA
What could easily be mistaken for Camelot, Louisiana's Old State Capitol is a Neo-Gothic medieval castle that stands guard on the Mississippi River. (No, the grail isn't there.) The stately structure has all the fortress trimmings including crenellations and turrets outside, and dark carved wood inside. The most stunning element is the highly intricate, and very rare, stained-glass dome supported by a slender column above the main stair hall.
Maine
Victoria Mansion
Portland, ME
And you thought we would pick the Wedding Cake House in Kennebunk. Wrong! Victoria Mansion takes top prize in Vacationland as a well-appointed brownstone inspired by Italianate villas. It's been on Danforth St since 1860 and was built with ahead-of-its-time extras like central heating, gas lighting, hot AND cold running water, and a servant call system.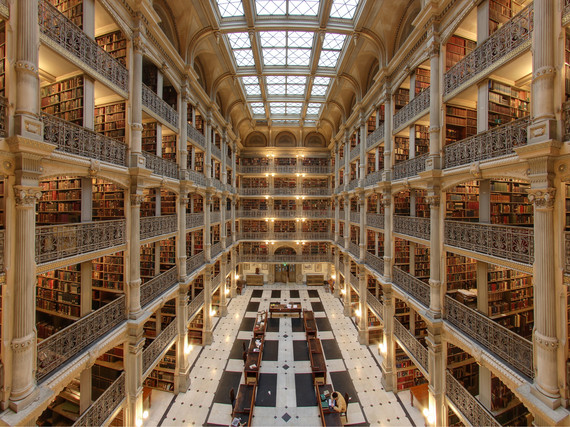 Credit: Wikimedia/Matthew Petroff

Maryland
The George Peabody Library
Baltimore, MD
Anchoring Mount Vernon Place, The George Peabody Library is best known for its voluminous atrium/reading room with many tiers of balconies overlooking the hall. They don't call it the "cathedral of books" for nothing.
Massachusetts
Trinity Church
Boston, MA
Sorry, Boston City Hall (ahem), Trinity Church has got you beat. H.H. Richardson's design cemented his fame and launched a style called... wait for it... Richardsonian Romanesque. The hefty building seamlessly melds large rustic stones with smaller/finer details to create a one-of-a-kind showpiece on Copley Square.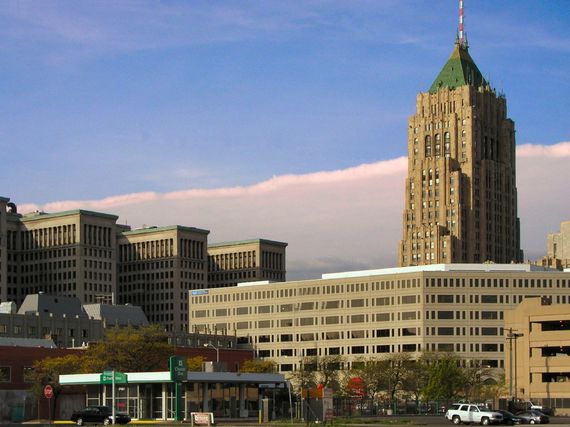 Credit: Flickr/Per Verdonk
Michigan
Fisher Building
Detroit, MI
Another Art Deco skyscraper, the Fisher Building is the heart of Downtown Detroit, and therefore Michigan. Minnesota granite and Maryland marble grace its façade, while looming vaulted ceilings (complete with frescoes) trick out the indoor public spaces. And then there's the meticulously maintained 1920s brass call stanchions on the office floors. Yeah... brass call stanchions.
Minnesota
Cathedral of St. Paul
St. Paul, MN
St. Paul is a church so monumental that they named the hill it sits on after it. (That's Cathedral Hill, if you're taking notes.) This French Beaux-Arts stunner gets you right away with its copper-clad dome, followed immediately by the Rockville granite masonry and the 24 stained-glass windows. And to boot, the United States Council of Bishops declared it as the National Shrine of Apostle Paul.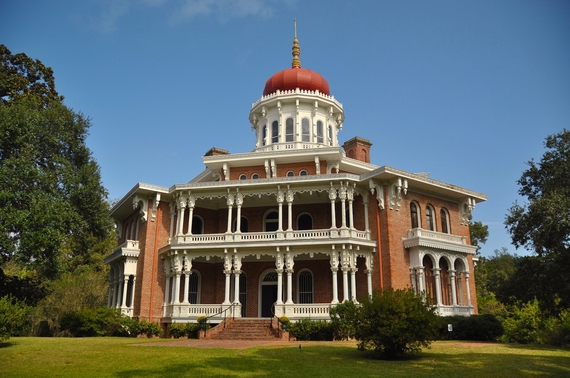 Credit: Flickr/Faungg's Photos
Mississippi
Longwood
Natchez, MS
Before "The Octagon" meant something else, Longwood (ca. 1860s) sported an octagonal plan, and it's still the largest octagonal house in America. The historic antebellum mansion has killer brickwork, an ornately finished first floor, and a Byzantine onion dome for good measure. (True Blood fans will recognize it as Russell Edgington's house.)
Missouri
Gateway Arch
St. Louis, MO
OK, some folks might argue that this isn't a building. It is. It's one with a really long elevator ride to one single room at the top. But you must admit that Eero Saarinen's stainless steel opus is just plain cool.
To find out what the other states' most beautiful buildings are, get the full story at Thrillist.com!
More from Thrillist:
The 10 Most Beautiful Neighborhoods in America, Ranked
12 Incredible Ruins You Can Easily Visit
Like Thrillist on Facebook: www.facebook.com/Thrillist
Also On HuffPost:
PHOTO GALLERY
World's Most Beautiful Buildings