There is nothing better than enjoying a beer on a Sunday while watching a football game, unless you're stuck watching the Browns play. Then we just hope your beer is strong. But it's especially important that you drink beer that fits your team. Why? Because the craft beer you drink, like the team you love, is inextricably linked to the place it's from.
We've selected a single beer that fits every team in football. What makes a good fit? It's not necessarily the best beer in that city, but it is the one that reflects the character of said city, its team, and current or former players. Drink up.
(Editor's note: The National Football League and the teams mentioned here are in no way affiliated with any of the beer brands mentioned, and were not involved in the creation of this article. We did not receive express written consent for any of this.)
Arizona Cardinals
Their beer: SunUp Brewing Co.'s Stinger Pale Ale
The Cards are based in Glendale, which doesn't offer much in the way of craft beer, so your best bet is to drink the Phoenix-brewed Stinger Pale Ale, because a stinger is a fun, popular football injury you should hope to never suffer in your lifetime. It really doesn't have much else to do with the Cardinals, a team that confusingly missed the playoffs last year even though they went 10-6, and even more confusingly will be without one of their best players on D for smoking weed. They will miss the playoffs again.
Atlanta Falcons
Their beer: Max Lager's Resurgens Rye Double IPA
Just a mile from the Georgia Dome this badass brewpub (located in a brick-heavy 1913 building) is where the discerning Falcons fan noshes on rich eats like mac & cheese in a cast-iron skillet, Southern fried chicken, etc.; or (Hard) Knocks back a few of their half-dozen brews, like this rye double IPA with sweet citrus notes that sound almost like what the Dirty Birds are in need of this year: a... andwe'resorry'boutthis!... resurgence.
More: Every State in the USA, Ranked By Its Beer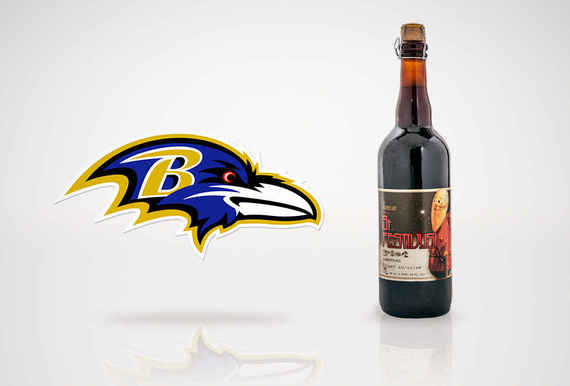 Credit: Brewer's Art
Baltimore Ravens
Their beer: Brewer's Art St. Festivus Holiday Ale
Sure, Natty Bo's the beer of Baltimore, but this is all about finding a beer for the Ravens. And nothing says the Ravens like that Electric Slide-type dance Ray Lewis used to do pre-game. Since dancing will only keep you so warm during a Baltimore tailgate in December, bottles of St. Festivus will do the rest. A winter seasonal released around Thanksgiving, this 8% ABV brown winter ale from the acclaimed brewpub is the perfect antidote to the cold. And it'll help Ravens fans forget that everyone on the team is in their mid-50s, and their best receiver is a 35-year-old Steve Smith.

Buffalo Bills
Their beer: Labatt Blue
Umm, cause that's, like... what you drink at Bills games.

Carolina Panthers
Their beer: NoDa Brewing Company's Hop, Drop 'n Roll
Cam Newton is the face of the Panthers (and of that Play 60 commercial where a little kid owns him), and a man who has a serious motor. Speaking of motors, there's a big ole one in the car pictured on NoDa's Hop, Drop 'n Roll can, which hauled in a gold medal at the World Beer Cup for American-style IPA. And anytime you have a hoppy beer, you'd expect a little bitterness -- something plenty of Panthers fans will feel when they flame out in the first round of the playoffs again.

Chicago Bears
Their beer: Revolution Brewing Co.'s Straight Jacket
Expectations are high for the team this year, what with a pair of All-Pro receivers and Jay Cutler's second year in Marc Trestman's offense. But they forgot to fix their safeties or linebackers, which means losing a bunch of 41-38 games again will likely leave fans having a breakdown/reaching for this boozy barrel-aged barleywine.

Cincinnati Bengals
Their beer: HuDey Beer; Rhinegeist's Truth
Nothing is going to be more Bengals than a beer with their mascot on it. A fan recently tried to chug a can, and failed miserably. Probably because it was over 20 years old, and beer doesn't age well in cans. For a beer that reps this year's Bengals, it's Truth, an American IPA brewed by Rhinegeist. They won the division last season and blew it again in the first round. To tell you the Truth, we're not sure Dalton can take them to the next level.

Cleveland Browns
Their beer: Great Lakes Brewing Company's Lake Erie Monster
Johnny Football is on the team!! Hooray! With him and Lebron, the city is sav... wait, did he just flick off the other team? And throw for like 89 yards all preseason? And maybe feel like he needed to discuss his rights as a 21-year-old to enjoy clubs to the media? You guys didn't necessarily create this monster, but here he is, likely living in a new development high-rise condo right next to Lake Erie. Good thing this stuff is 9.1%.

Dallas Cowboys
Their beer: Deep Ellum's Dreamcrusher Double Rye IPA
Romo has won one playoff game in his long and (so far) un-storied career. And the offense is the only potential bright spot for the seemingly perennial 8-8 team, which has already lost Sean Lee for the year. That does not bode well for America's Team, whose fans are used to having their dreams crushed in the past 10 years. How fitting, then, that Deep Ellum has canned the Dreamcrusher, a super-hoppy double rye IPA.

Denver Broncos
Their beer: Wit's End Brewing Company's Bitter Late Than Never
Everyone remembers how the Broncos ended their season last year. But Broncos fans are a forgiving bunch -- they waited 10+ years for Elway to win his first Super Bowl with the team, and while Manning doesn't have the luxury of 15 more years in a uniform (though he might spend the next 15 years making Buick commercials), they'll stick with him until the end. Bitter Late Than Never is, according to the brewery, based on the "Premium Bitter" style -- a fleeting mindset of Broncos fans they'll likely jettison by kickoff. It would surprise no one to find them back in the Super Bowl again this year.

Detroit Lions
Their beer: Detroit Beer Co.'s The Detroit Dwarf
Yeah, Matthew Stafford, Megatron, blah blah blah. The best Lion of all time was Barry Sanders -- he was listed at 5'8", but he looked like a little kid running through a forest of Redwoods. And so Lions fans are best off raising a glass of this Great American Beer Fest-winning altbier while they watch Eric Ebron try to haul in whatever garbage Stafford is throwing at him.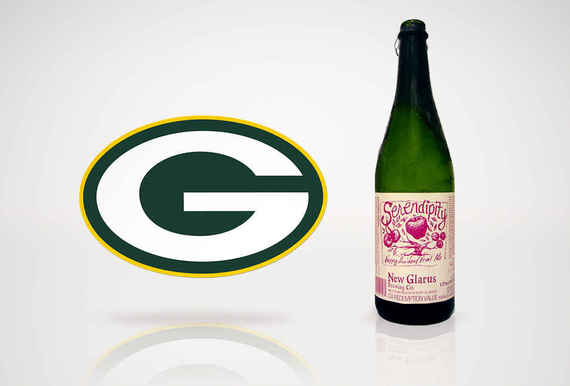 Credit: BeerFM
Green Bay Packers
Their beer: New Glarus Brewing's Serendipity
In this case, Serendipity would consist of Aaron Rodgers' clavicles remaining intact and not seeing the 49ers in the playoffs.

Houston Texans
Their beer: Saint Arnold's Weedwacker
These are not last year's Texans. For Texan fans, this is a very good thing, as that team went 2-14. They lost 14 straight. Like the Saint Arnold's beer name, the front office took a WeedWacker to the roster -- gone are Schaub and head coach Kubiak. It'd be difficult for this year's team to be worse. Even if they do end up being horrible, the piling losses would be easier to take with this German-style wheat beer in your hand.

Indianapolis Colts
Their beer: Three Floyds Brewing Co.'s Alpha King
In the early aughts, that Alpha King in Indy was Peyton Manning. But now he's drinking SO MUCH GOOD BEER in Colorado, that the Team of Quarterbacks wisely went with the bold, yet balanced next Alpha King and occasional wearer of a sexy neck beard, Andrew Luck. Also, if they really wanted to be awesome and make this pick seem very spot-on, they could trade for Michael Floyd, Malcom Floyd, and unsigned free agent guard Floyd "Pork Chop" Womack. DO IT FOR US!
See all the rest of the NFL teams and their beer (also, we're sorry if you happen to be a Jags fan) -- all on Thrillist!
More from Thrillist:
Taste Test: The Secret Menus at 8 Fast-Food Chains
Follow Thrillist on Twitter: www.twitter.com/Thrillist