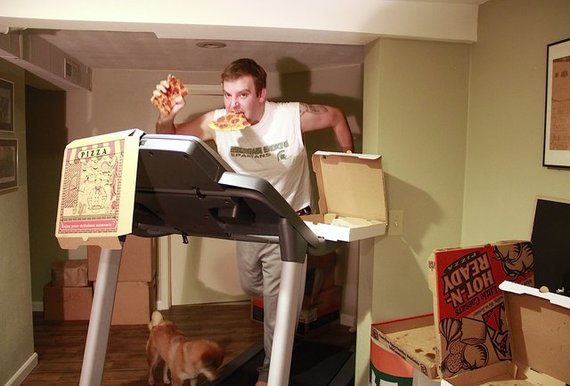 Every day, some new uber-cleanse hits the market, but who wants to turn into a zombie during a week-long juice diet? Why does doing something healthy have to taste like crap?
We thought it was a bluff. And so we embarked on the first-ever Pizza Cleanse.
The rules were simple: for five themed days, our intrepid anti-vegetable reporter ate three square meals of pizza per day. He paired it with an organic greens beverage each morning, moderate exercise, and whatever the hell else he wanted to drink. And then things got dark, and not just because another DiGiorno was on fire in the oven.
Keep reading to see if the Pizza Cleanse is right for you/if you enjoy watching men descend into outright madness.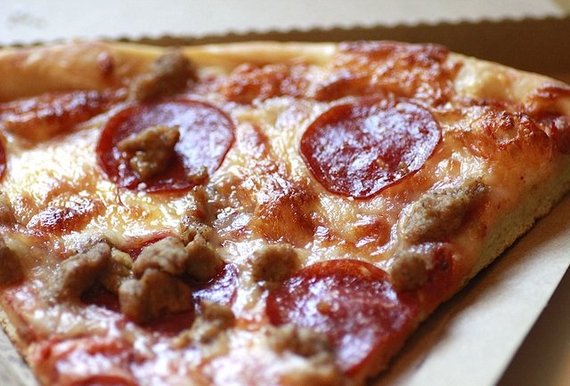 DAY 1: PIZZA CHAINS
Starting weight: 205.2
Feeling at the beginning of day 1: Slightly hungover, but extremely excited.
11a: Sbarro Sausage & Pepperoni (1 slice): Maybe it's the fact that I spent the previous night subsisting on a diet of candy, IPAs, and whiskey, but this tastes exceptionally good despite being mall pizza of ill repute. The spongy crust. The rabbit-turd sausage that kinda tastes like spicy Bob Evans (it's breakfast!)... This is going to be the best week ever.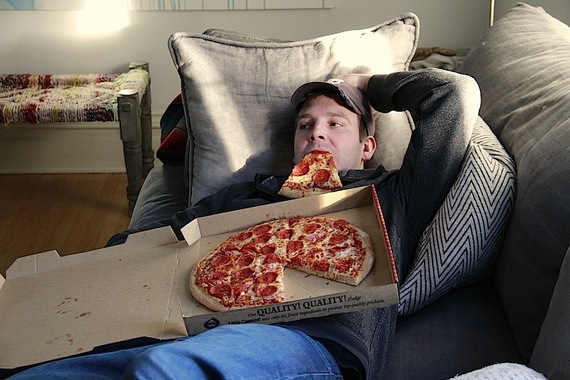 3p: Little Caesar's Hot & Ready Pepperoni (1/2 pie): The food that sustains 95 percent of college students, the Hot & Ready, recently experienced a dollar price hike and a decline in quality... but who gives a crap? It's the perfect football pie. It tastes like pizza candy and doesn't have much realness going on, but it's fantastic. It's even better when you eat it while half-asleep on the couch.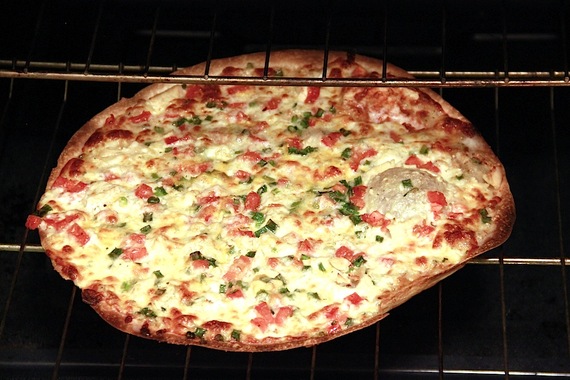 7p: Papa Murphy's Gourmet Chicken deLITE (3 slices): To switch it up, pretend to be healthier, and trick my taste buds, I went with a chicken pie with creamy garlic sauce, and while it was pretty good, the salt totally shocked my mouth. To counter this, I briefly thought about putting a slice on top of a bready Little Caesar's slice, then my stomach made a weird noise and I decided against it.
Feeling at the end of day 1: Crampy. I've got shooting pains in my stomach. My lady gives me no sympathy.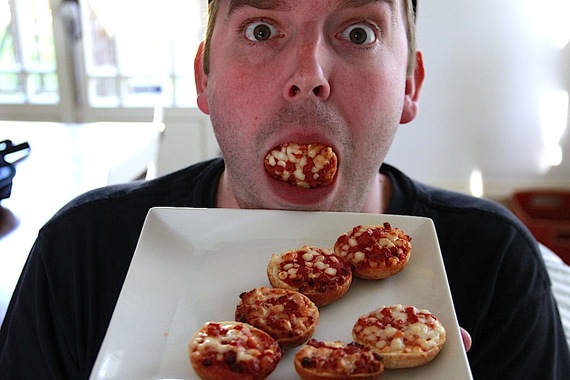 DAY 2: FROZEN PIZZA STUFF
Feeling at the beginning of day 2: Fan-effin'-tastic.
9a: Bagel Bites (9): Man, I forgot how delicious these little suckers were, and it's probably the most breakfasty thing I was gonna get all week. I should have savored it. Instead, I ate all nine in about four minutes, and then wanted more. But they definitely stopped my withdrawal shakes.
1:30p: First case of rot gut/heart burn. Uh oh.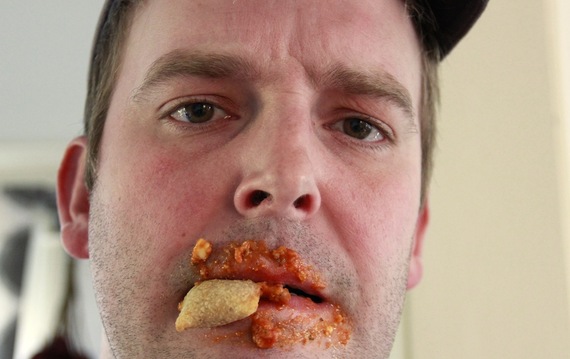 3:30p: Totino's Pizza Rolls (15): These things are disgusting, and when they're undercooked it's like squirting pizza-flavored toothpaste in your mouth. This is why I rushed home from school when I was a kid?!
4:46p: Uncontrollable burping.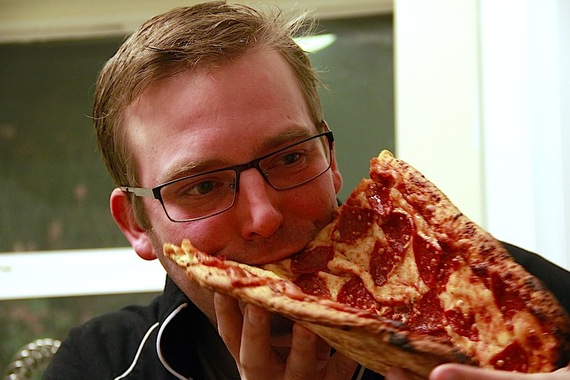 7:30p: Freschetta Brick Oven Pepperoni (1/3 pie): First, why is it called "Brick Oven" if it's sold raw and cooked in a conventional oven that has very, very few bricks in it? Second, I don't give a crap because all I've eaten all day is novelty pizza items for children, and this actually tastes real. It's also extra-delicious if it's folded like a taco and consumed whole. I'm flabbergasted that I'm this excited about eating frozen pizza... but I've also had five beers, so anything with cheese would do the trick.
9:45p: The first casualty: I ate the Freschetta right out of the oven and burned the hell out of the roof of my mouth. When I brushed my teeth, the spit was full of blood from tearing the burn open.
Feeling at the end of day 2: Woozy.