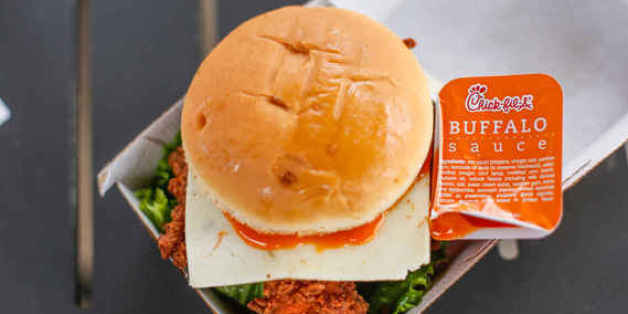 By: Dan Gentile
Fast-food joints aren't usually known for spicy food, but nearly every big chain has one heartburn-inducing diamond in the rough.
In our quest to explore the very best of the fast-food canon, we visited 15 different establishments and asked cashiers for their recommendation of the hottest item on the menu. Most all of them had an immediate answer, as well as suggestions of add-ons to increase the heat. Limited-time offerings were fair game, as well as regional specials, which were mainly jalapeño-topped "Texas burgers" (the tastings took place in Austin, TX over three days). The foods were rated on both spice and flavor, then averaged for a final score.
Read on to learn which is the spiciest, best-tasting item, and how many TUMS were eaten during the making of this story.
More: Breaking Down The Single Best Item At Every Major Fast-Food Chain
15. Subway Spicy Italian
Spice: 1
Spicy Italian is a misnomer. This didn't have any kick.
Flavor: 2
The Italian duo of salami and pepperoni are a great couple, but this sandwich really needs another meat. Three's company, just like that one show your parents watched. The Italian B.M.T. is a definitively better move, and is probably just as spicy, because it has the same ingredients.
OVERALL: 1.5
14. Carl's Jr. Bacon Guacamole Burger
Add-ons: jalapeños
Spice: 2
While Carl's offers a Jalapeño Thickburger, the delightful cashier recommended I just add jalapeños to their best-selling bacon-guac bomb instead. She said the level of spice varies on the individual jalapeño, and this jalapeño was a snowflake of the very mild variety.
Flavor: 2
Big ups to Carl's bun, which wins best carb in show, hands down. Unfortunately, the rest of the burger didn't live up to the pillowy bread.
OVERALL: 2
13. Whataburger Jalapeño Cheeseburger
Add-ons: grilled jalapeños and spicy ketchup
Spice: 2
When I asked the cashier what the spiciest item on the menu was, she said "nothing", then suggested I add grilled jalapeños for more heat. So I doubled down on jalapeños, hoping for the best. The result was a very dull heat. We're talking Mario Chalmers-style heat. The spicy ketchup was doing most of the work.
Flavor: 4
The patty is a little depressing (see photo) and heavily weighed down by veggies. Not my favorite.
OVERALL: 3
12. Sonic Buffalo Wings
Spice: 5
My drive-up teller did not hesitate to name the spiciest thing on the menu. It was the new Buffalo wings. She wasn't lying, these things have some kick. I instantly reached for my soda. It hits you on the tip of your tongue, a sharp Buffalo heat. Since these are so saucy, it really gets everywhere. Like sand at the beach.
Flavor: 2
The word "wing" is not exactly accurate. These are chicken nuggets with a little less batter. Not to play semantics between wing and nugget, but I think these fall squarely in the nugget camp. The Buffalo sauce is really satisfying at first, and these were steaming hot on a very cold day, which earned them at least one extra point. The aftertaste, however, wasn't my thing. Perhaps I should've washed it down with a shake.
OVERALL: 3.5
10. (tie) In-N-Out Cheeseburger
Add-ons: chopped chiles
Spice: 3
My West Coast coworkers assured me that chopped chiles were the move here. I'm surprised this doesn't have a clever name. It's a half-step away from "heartburn-style". The chopped chiles have a nice pickled pop, but like the chain's moniker, the heat is quickly in-n-out.
Flavor: 5
The special sauce and chopped chiles pulled a power-play here. The rest of the burger suffers from the sweetness, and as much as I love In-N-Out, I must concede to the wisdom of Snoop Dogg -- it ain't no fun if the homies can't get none. And in this case the homies are the meat and the cheese.
OVERALL: 4
10. (tie) Wendy's Spicy Chicken Sandwich
Spice: 3
The spice level is very inconsistent bite-to-bite. Three is being generous, but I wouldn't want to short-change this thing. Because my tongue did tingle for a substantial amount of time.
Flavor: 5
Despite the lack of heat, it's not a bad sandwich. The patty is thick, it's a very hearty white meat, and it has just a little bit of peppery flavor. The mayo, lettuce, and tomato are just afterthoughts, but comforting ones.
OVERALL: 4
9. Dairy Queen Texas Grillburger
Spice: 2
The counter guy at DQ asked me if I was working hard today. I told him I was about to work hard on this burger. He chuckled, and when I asked him if he was working hard, he said "a little". That also describes how spicy this thing is. The jalapeños barely register and the Tabasco mayo gives a slow-onset heat, like an oil-filled space heater.
Flavor: 7
This wasn't a bad burger. The bacon was super crisp, the pepper Jack was a nice, mellow complement, and the smoky flavor gave it a level of complexity that I did not expect from DQ.
OVERALL: 4.5
Do you like your food to have a spicy kick? Head over to Thrillist.com for our top 8 spiciest fast food items!
More from Thrillist:
Power-Ranking The 10 Best Hot Sauces On Earth
Who Makes The Best Fast-Food Chicken Nuggets?
Follow Thrillist on Twitter: www.twitter.com/Thrillist