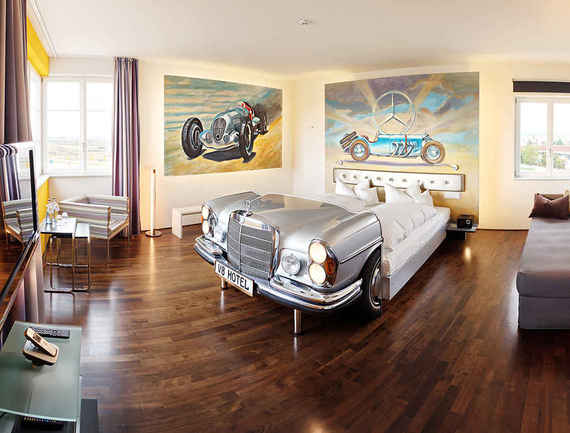 Credit: V8 Hotel/Frank Hoppe
Giving new meaning to the phrase "asleep at the wheel," the V8's a 34-room German hotel dedicated to all things car that boasts a vintage auto museum, elaborately themed rooms tricked out with original parts/ memorabilia, and its own brew pub.

Credit: V8 Hotel/Frank Hoppe
Located 20 minutes outside of Stuttgart, this petrol-head's paradise is housed in the former terminal/control tower at Böblingen Airport, which was built in 1915, used by the military after WWII, and fell into disrepair in the '90s. One half is the hotel while...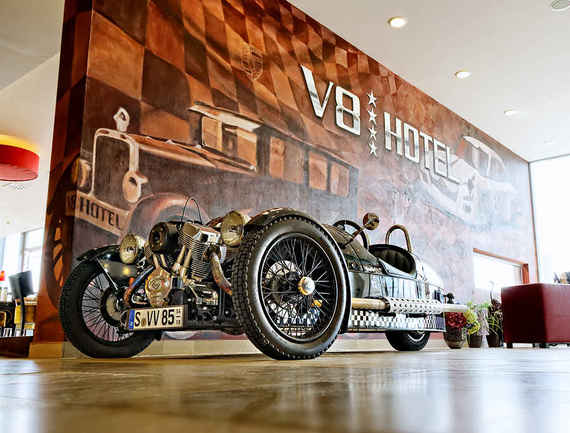 Credit: V8 Hotel/Frank Hoppe
...the other comprises MOTORWORLD, an auto museum featuring a rare collection of classic, vintage and collector cars.
More: The World's 10 Coolest Treehouse Hotels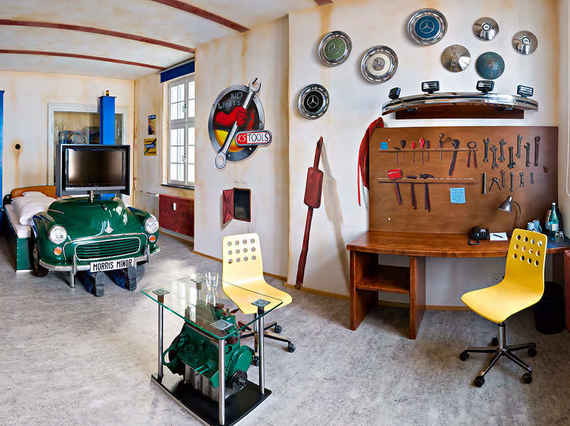 Credit: V8 Hotel/Frank Hoppe
Ten of the 34 rooms are decked out in automotive themes like Route 66, a retro drive-in, and this mechanic's garage, complete with engine coffee table and Morris Minor (a British cult classic that debuted in the late '40s) bed frame. The room sleeps three -- four if you count the dude working under the car.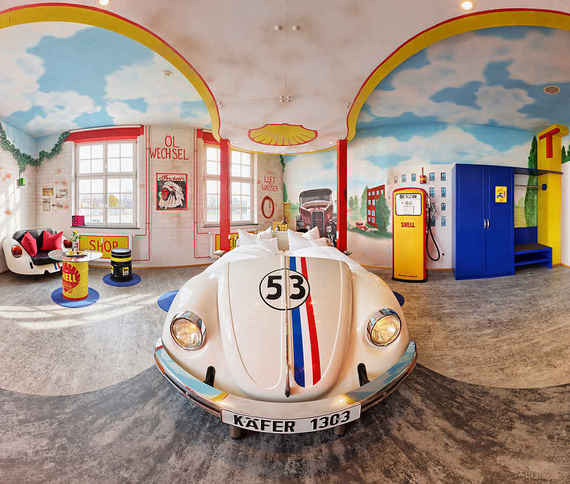 Credit: V8 Hotel/Frank Hoppe
Rocking a replica 1963 Volkswagen Beetle from the movie Herbie: Fully Loaded, this gas station bedchamber boasts a melange of vintage 1920s Shell memorabilia, the crown jewel being an authentic gas pump.
Check out the other crazy rooms and amenities that this hotel has to offer on Thrillist.com!
More from Thrillist:
The Absolute Best Time To Buy The Cheapest Plane Ticket
Exactly What To Tip (Or Better, Not Tip) Around the World
Follow Thrillist on Twitter: www.twitter.com/Thrillist