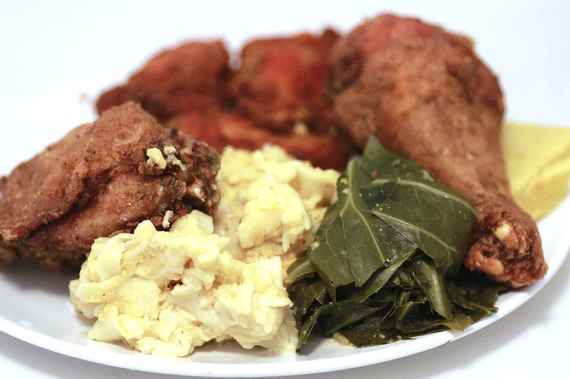 Soul food isn't just an American tradition; it's a way of life, with deep roots in the South that have spread all over the nation like an uncontrollable fryer spill in the Mississippi. Collard greens, Hoppin' John, fried chicken, neckbones, waffles, biscuits, grits, catfish... they're as American as apple pie, though you'd be better off ordering the apple cobbler at most soul kitchens. Or the banana pudding. Or both.
With an insatiable hunger for fried comfort, we cast our net out and named 21 of the best soul kitchens in the U.S. -- and we know damn well that, with all the hole-in-the-walls, roadside shacks, and small-town favorites out there, we've missed just as many more. Let us know about them in the comments section. We'll check them out when we wake up from our fried chicken nap.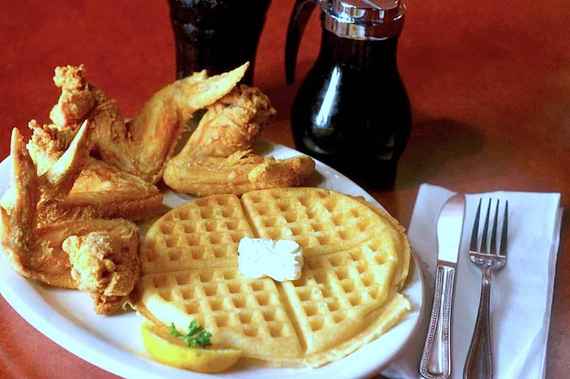 Gladys Knight's Chicken & Waffles
(Atlanta, GA)
What you're getting: The Midnight Train (four enormous chicken wings paired with one waffle)
Atlanta is a soul food kingdom, but only one joint is lorded over by the actual Empress of Soul, who has been known to pop into her own kitchen to oversee the frying of some of the biggest, most succulent wings around. Gladys also serves up classics like braised oxtail and fried tomatoes alongside newfangled takes on classics such as collard green spring rolls, which pair up nicely with one of Gladys's signature cocktails, and taste even better when taken in with live soul music that has the Empress's stamp of approval.
Sylvia's Restaurant (New York, NY)
What you're getting: Sylvia's World Famous Bar-b-que Ribs & Chicken, the perfect combo of two of the South's greatest contributions to society
Having opened in Harlem in 1962, the late, great Sylvia Woods' institution has seen American history at its best and worst, and, through it all, it's stood as a paragon of great food's ability to act as a common ground. For a truly enlightening experience, wander in for Sunday Gospel Brunch, where chicken & waffles and steak & eggs come with Bloody Marys and Hail Marys, courtesy of live gospel musicians that hammer home the idea of food as a religious experience, and allow you to atone for the sins of eating too many grits in one sitting.
More: These are the 33 best BBQ joints in America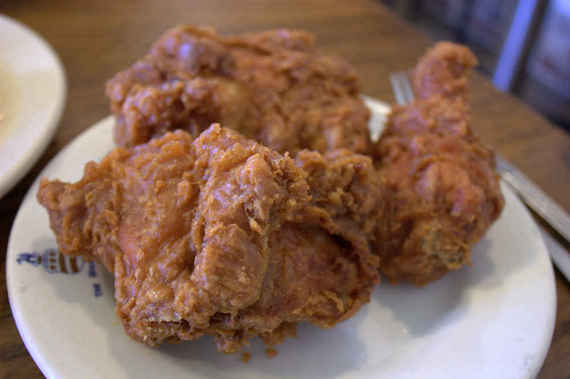 CREDIT: Flickr/Krista
Willie Mae's Scotch House (New Orleans, LA)
What you're getting: Fried chicken with red beans & rice
Located in NOLA's less-touristy Fifth Ward, Willie Mae's draws crowds without the benefit of beads or boobs, though with fried chicken this good, even the hardest of bodies risks going up a cup size. The multi-generational place is so beloved that patrons volunteered to help rebuild it after Katrina, just to ensure they could continue to take pleasure in one of the country's best made-to-order chicken spots, a place where the catfish is crispy, the cornbread's flaky, and the bird's the kind of perfection that brings communities together in times of chicken-less crisis.
Lo-Lo's Chicken & Waffles (Phoenix & Scottsdale, AZ)
What you're getting: KK's (three pieces of chicken, two waffles, grits, eggs, cheese, and an inflated cholesterol count)
The most authentic Southern fare in a state whose culinary scene is currently notorious for a certain cat-crazy pizza joint, Lo-Lo's devoted followers claim it can stand up alongside its Harlem and LA brethren any day... and they're right. The namesake Belgian bird combo is enormous and exquisite, and goes the extra mile by piling on grits, greens, and other fixins on top of the already indulgent pile of euphoria. Throw in catfish & waffles and Tex-Mex items like chorizo, and you've got a strong case for Southern cooking that expands far West of the Delta.
There's still 17 more of the best soul food restaurants from around the country, and they're all on Thrillist.com!
More from Thrillist:
The 33 Best College Sandwich Shops in America
These are the 21 best food trucks in America
Follow Thrillist on Twitter: www.twitter.com/Thrillist