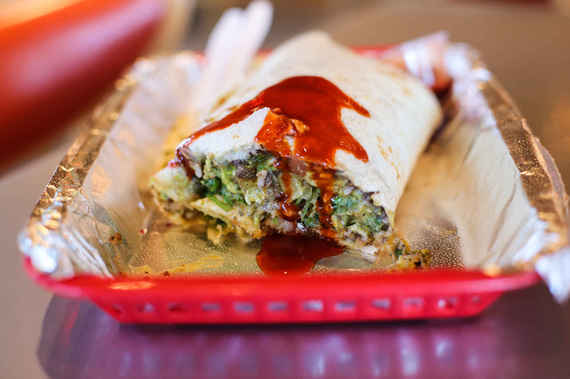 Beloved for being the most American of all Mexican-American dishes (which all happen to be comprised of the exact same ingredients), the burrito is an apt metaphor for today's United States: We're less a melting pot of cultures than a delicious mound of assimilated ingredients wrapped tightly together and covered in hot sauce.
To celebrate this great dish, we've compiled a list of the 16 best burritos from sea to shining tin foil wrapper. Get hungry: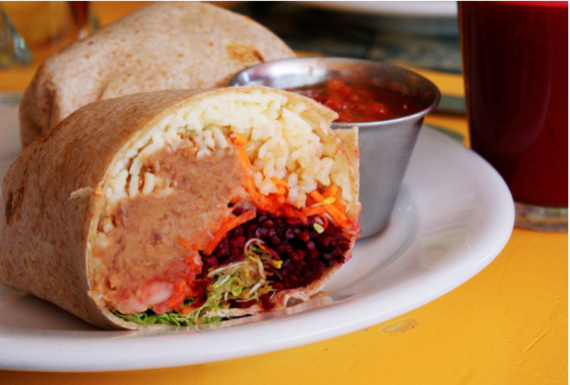 El Farolito (San Francisco, CA)
The scene: One of the OGs of SF's legendary burrito haven that is the Mission, EF is known for A) having some of the most delicious and consistent burritos in the Bay, with each bite doling out the proper portion of beans, meat, cheese, etc. and B) being a legendary late night stop for drunken revelers, Latin gangstas, and everyone in-between.
What you're eating: Carne asada burrito (be sure and add peppers at their salsa bar)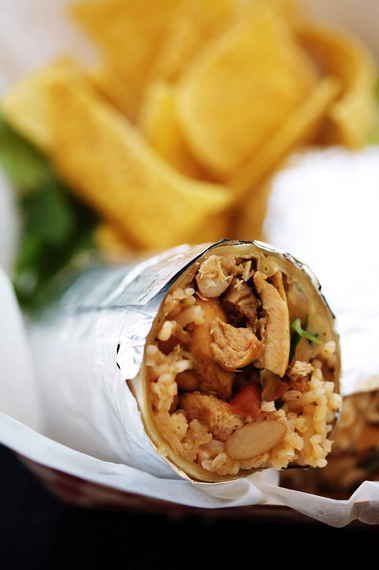 CREDIT: Anna's Taqueria
Anna's Taqueria (Boston, MA)
The scene: If you grew up, or went to college, or did any time in the land of Sox caps, you know that an "Anna's" is synonymous with burrito in this town. As in "Did you just get an Anna's?" or "I need an Anna's because I went to Clerys last night, and, well, I shouldn't have to explain myself further." So do yourself a favor next time you're in town and get "an Anna's".
What you're eating: Super carnitas with extra guac, extra salsa
More: These are the 21 best nachos in America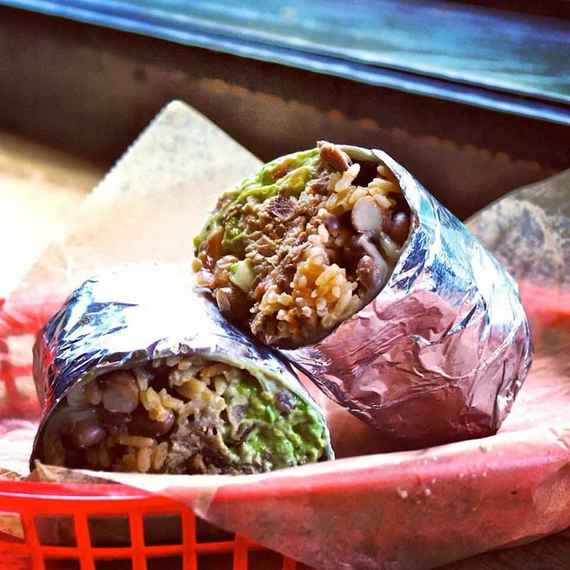 CREDIT: Dos Toros
Dos Toros (New York, NY)
The scene: Bringing a bite of the Bay to the five boroughs, the SF transplants at Dos Toros serve a short-and-savory menu spotlighting meticulously crafted burritos. Their secret weapon? Cheese steamed directly into the tortilla, which allows it to stretch to an unparalleled girth.
What you're eating: Carnitas burrito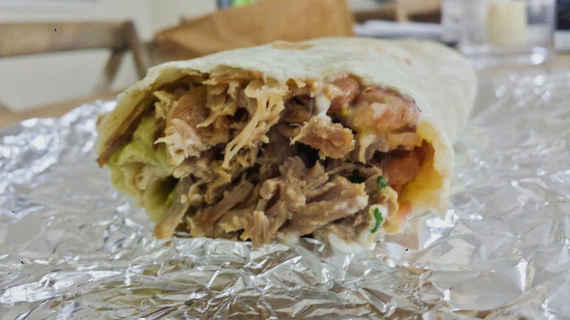 La Taqueria (San Francisco, CA)
The scene: Their neon sign proclaims the best tacos and burritos in the whole world, and while most of the whole world might reply with, "What the hell's a burrito?," it's hard to knock their swag, especially once you taste that legendary carnitas.
What you're eating: Super carnitas burrito (make sure to add the extra green/red salsas they have on the table)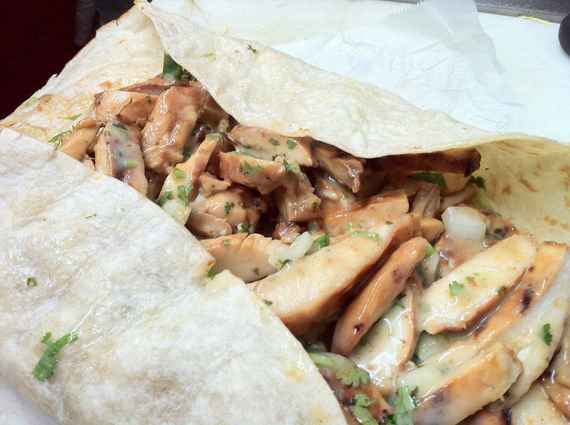 CREDIT: Carbon
Carbon (Chicago, IL)
The scene: This Chi-town burrito shop's two locations use natural black beans and olive oil instead of lard, and feature super-tender steak cooked over open flames, proving that the Windy City knows how to roll. The Mother Clucker stars tequila-lime marinated chicken breast that's really clucking good.
What you're eating: The Mother Clucker
There's still plenty more burritos to come. See all of the 16 best burritos in the country -- on Thrillist.com!
More from Thrillist:
The 33 best BBQ joints in America
The 33 Best College Sandwich Shops in America
Follow Thrillist on Twitter: www.twitter.com/Thrillist