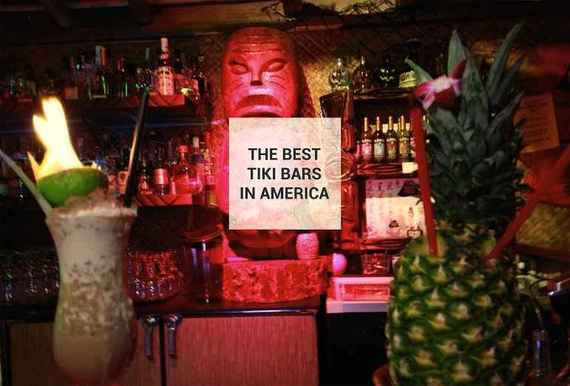 Since the day old Trader Vic and his boy Don the Beachcomber decided that bars were way cooler when they ceased to be grimy dens of sin and transformed into faux-tropical wonderlands, the Tiki bar has been embedded in American drink culture. They're places where men can be men... while drinking fruity drinks out of pineapples and wearing tacky floral shirts. Fewer bar scenes have as rabid a following as Tikis, and with the scene seeing an upswing in popularity, we've decided to track down 17 of the best Tiki temples in the U.S. Then we drank a lot of rum.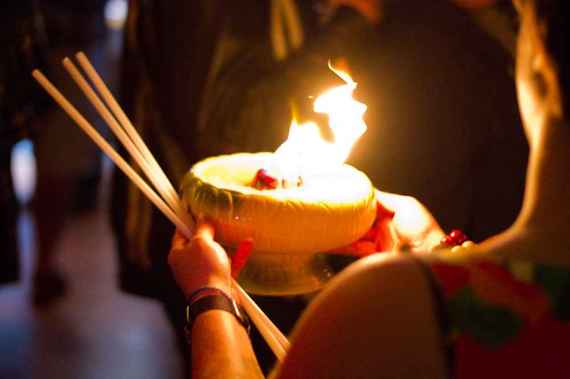 CREDIT: Forbidden Island
FORBIDDEN ISLAND (Alameda, CA)
The scene: For folks who like their drinks ablaze, their chairs wicker, and their ceilings covered in dollar bills and paper umbrellas, Forbidden Island is an essential destination. Dually committed to the old-school beach-bum feel and the new-school insistence on all-organic ingredients (this is the Bay Area, after all), the place has garnered universal praise for its huge variety of drinks and the fact that there's a waterfall on site in case you catch your beard on fire while drinking them.
What you're drinking: The Monkeypod, a Forbidden Island original loaded with coconut, lime, tamarind, and rum.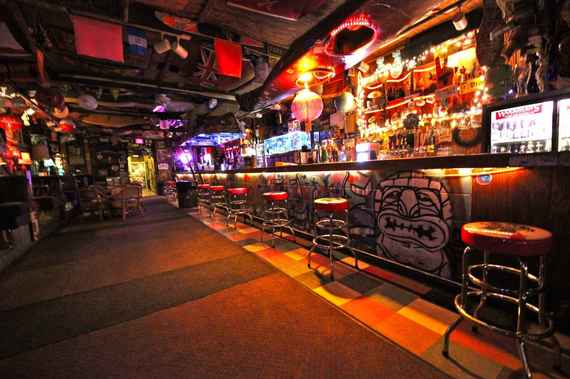 BURT'S TIKI (Albuquerque, NM)
The scene: A dark, moody (good moody, not Jets to Brazil moody) contrast to the expanse of New Mexican desert outside, Burt's is the dive bar reimagined as a Tiki haven, a place where live rock bands plug in amid a sea of hanging surfboards, oars, and tropical junk that seems to have washed up outside. Our editor described it as "like stepping into a TGI Friday's that married a dive bar in Oahu, then wandered off into the desert to raise their weird kids". And that's a compliment (he's a pretty weird dude).
What you're drinking: Skipper's Little Helper, loaded with enough lime and cherry rum to make you confuse Thurston Howell for Ginger.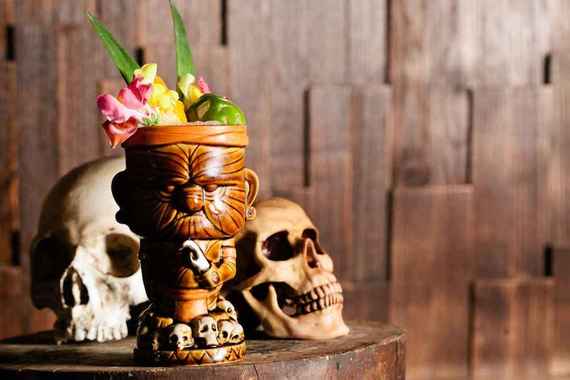 THREE DOTS AND A DASH (Chicago, IL)
The scene: With its thatch-roofed bar and 165-deep rum selection, this Chicago place is part Don Ho's living room, part speakeasy, and all sorts of awesome. That rum goes into a sea of cocktails served up in everything from normal glasses to clam shells, skulls, and treasure chests. Oh, and the treasure chest comes with a whole bottle of rum and a whole bottle of champagne, in case you wanted to buy Jimmy Buffett a quick pick-me-up.
What you're drinking: The place's namesake cocktail, which originated at Don the Beachcomber and comes loaded with rum, honey, falernum, pineapple, and cherry.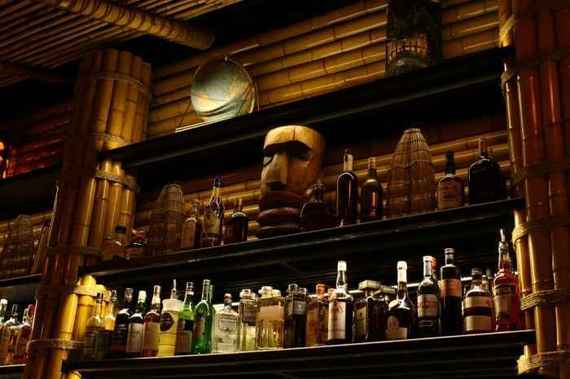 ADRIFT TIKI BAR (Denver, CO)
The scene: The Mile High's lone true Tiki bar is a bamboo-strewn reprieve from the Winter, where "Prohibition-era tropical libations" and island-worthy small plates float around a sea of carved heads, red leather booths, and portraits of tropical girls with ukeleles and even hanging off a vacationing Marlon Brando, though he's often associated with a much creepier kind of island populated by Val Kilmer, who probably LOVES yakisoba.
What you're drinking: The Macadamia Nut Chi Chi with nuts, vodka, and coconut.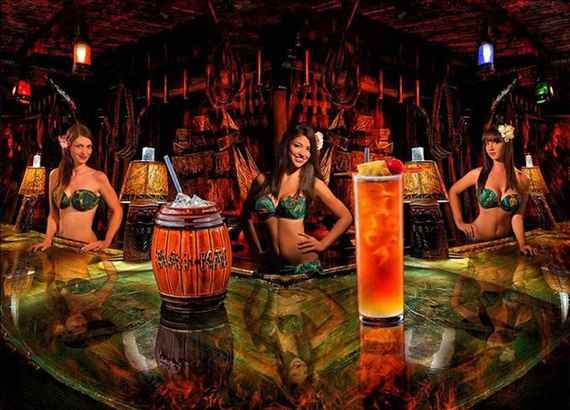 CREDIT: Mai-Kai
MAI-KAI (Ft. Lauderdale, FL)
The scene: Like Medieval Times with more rum and fewer nerds, legendary Mai-Kai serves its authentic Polynesian food and cocktails with a side of spectacle, in the form of a luau-style floor show that includes fire dancers and hula. There's also a bikini-based dress code for bartenders, a ton of bamboo and thatch, and a plank bridge into the entrance. Also, rum and bikinis.
What you're drinking: The Black Magic, which takes its darkness from rum and coffee, then sweetens it up with fruit.
Check out the other 12 ridiculously great tiki bars in the full story on Thrillist.com, including one with an actual volcanic crater in the backyard!