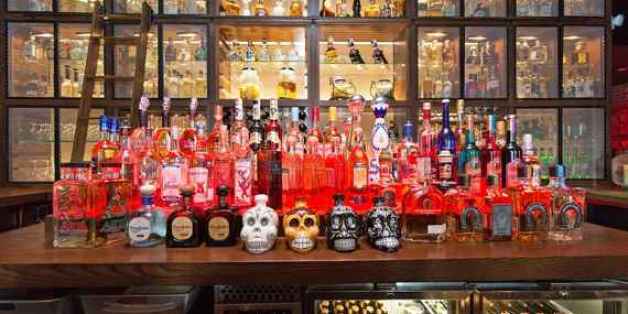 CREDIT: Adam Larkey
Tequila is most often enjoyed in three ways in this country: inside a margarita, as a shot, and on those hilarious T-shirts you buy at the beach that seem to imply tequila is quite potent.
But tequila is obviously more than just T-shirt fodder; it's an exalted Mexican spirit that deserves our respect. And there are no better places in the country to enjoy it than at these bars, which house extensive tequila selections (or smaller, handpicked ones), and boast creatively delicious cocktails accompanied by just-as-delicious food.
Here are the 21 best tequila bars in America: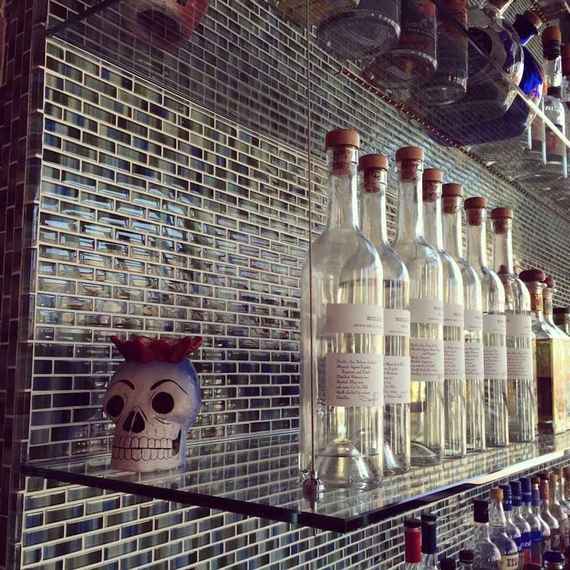 CREDIT: Masa Azul
Masa Azul (Chicago, IL)
What's the deal: This tiny Logan Square Mexican joint has an impressive 50-plus tequila list, but what really makes Masa so masterful is their mezcal selection, which boasts almost as many bottles as their tequila, along with a sampling of sotol and bacanora. And they've mixed 'em all into carefully crafted cocktails like the Oaxacan Old-Fashioned (mezcal joven, tequila reposado, agave, mole bitters) and the Heart of the Dead (tequila blanco, blood orange, passion fruit, pomegranate, limonada, Sorel). Eats include tacos, tequila-infused ceviche, chipotle scallops, and fresh guac.
What you're drinking: Oaxacan Old-Fashioned
Mayahuel (New York, NY)
What's the deal: From the Death & Co. dudes, this tequila-focused speakeasy aims to put common misconceptions to bed, the way tequila put you to bed those 12 times in college. The East Village spot boasts a creative cocktail list that proves tequila isn't just meant for margs, with drinks like The Red Baron (mezcal, red peppers, basil, lemon, absinthe). Over 40 mezcals round out a focused bottle list.
What you're drinking: Ilegal Reposado
More: These are the five most expensive tequila shots in America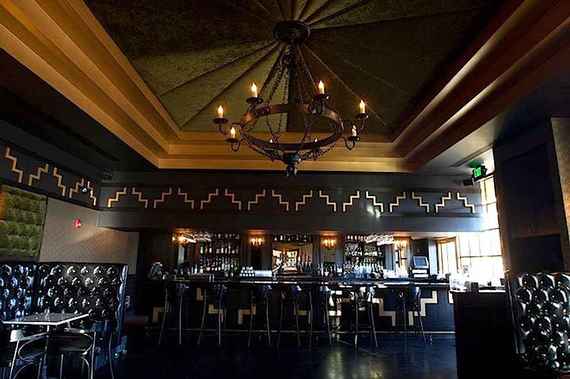 CREDIT: 400 Rabbits
400 Rabbits (Austin, TX)
What's the deal: Named after an Aztec myth about the goddess of agave birthing a legion of rabbits who traversed the country spreading the gospel of intoxication, 400 Rabbits was conceived by a grandaddy of the Austin cocktail scene, and is connected to an Alamo Drafthouse theater, so the next-level tequila complements everything from first-run films to Big Lebowski quote-alongs. Agave flights explore the different regions and classes of spirit, while infusions and creative ingredients, like mole bitters, level up the signature cocktails. Mexican street-snacks, like grilled corn, ensure you won't go hungry.
What you're drinking: Tequila Terroir flight
Cantina Mayahuel (San Diego, CA)
What's the deal: A drinkery actually named for the Aztec goddess of agave, CM features more than 200 tequilas to choose from. The kitchen's open, so indulge your voyeuristic side and watch as your sirloin or carnitas tacos are prepared. The margaritas are top-notch, and the "herbal shots" are worth a gander as well, like the Fortitude with Fortaleza tequila blanco, maca root, and cocoa bean.
What you're drinking: Blood orange margarita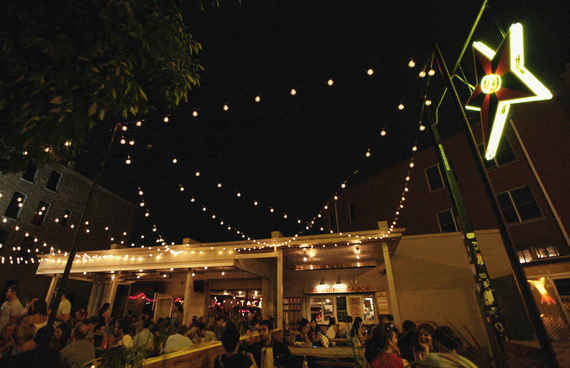 CREDIT: Big Star
Big Star (Chicago, IL)
What's the deal: Their tequila list may not be the longest, but 20-something options and a number of mezcals still makes Big Star a force to be reckoned with. Brought to Chi-town by James Beard Award-winning chef Paul Kahan, the honky-tonk dive has a killer outdoor seating area, margs with orange Curacao, an even-more-impressive whiskey list, and insanely delicious (re: James Beard-winning chef) tacos like the Al Pastor with spit-roasted pork shoulder & grilled pineapple, or the De Panza with crispy, braised pork belly.
What you're drinking: Big Star margarita
El Carmen (Los Angeles, CA)
What's the deal: Decked out with vintage Mexican wrestling paintings and movie posters, this dark and divey joint makes for a deliciously unique experience. The tequila list is vast (100+), and the menu features dishes like tequila shrimp and brisket nachos. Margaritas are the move here, though, with options like cucumber mint and the spicy marg that's kicked up with fresh jalapeños.
What you're drinking: Spicy margarita
See 15 more of the greatest tequila bars in the country, including drinkeries in Philly, San Diego, Minneapolis, SF, Orlando, DC, and many more, all on Thrillist.com!
More from Thrillist:
The 22 Best Whiskey Bars in America
6 things you should absolutely not eat while hungover
Follow Thrillist on Twitter: www.twitter.com/Thrillist