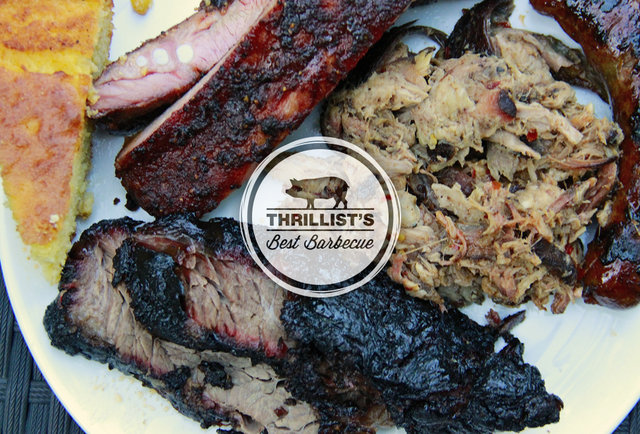 Pizza was invented in Italy and perfected in America. Hamburgers were invented in America but given a really German-sounding name. Indeed, it's quite possible that no culinary tradition (except for the Hot Pocket) is more thoroughly American than barbecue, with its different variants creating intense arguments and even more intense blood pressure issues across this great land.
These are the 33 finest examples of the smoked meat arts from across the country. While we don't necessarily expect you to agree with all of them (that'd be borderline un-American) we do expect you to get quite hungry. So hungry, in fact, that you'll make it your mission to try all of them and keep track on this handy checklist. On with the picks!
Fat Matt's Rib Shack, Atlanta, GA
What you're getting: Ribs & Chicken Combo
There's a good chance you'll be waiting for a table at this Atlanta meat-stitution, but there's also a good chance there'll be live blues music playing to help you pass the time until you can sit down and dig into some fall-off-the-bone ribs and moist BBQ chicken, all of which marries nicely with their well-balanced sauce. If you're craving carbs, try the ribs in sandwich form. They still have the bones in 'em (unlike a McRib), but they're easily extracted to leave you in sandwich heaven.
Franklin BBQ, Austin, TX
What you're getting: Brisket
There's a reason why people wait for three hours for a slice of Aaron Franklin's meat. Lauded as the best BBQ in the nation by everyone from Texas Monthly to Bon Appetit, the Franklin Moist is like the platonic ideal of brisket: the caramelized candy fat, crispy salt and pepper-rubbed bark, and meltingly tender meat smoke-kissed by hours of post-oak form a perfect union of brain-stopping deliciousness.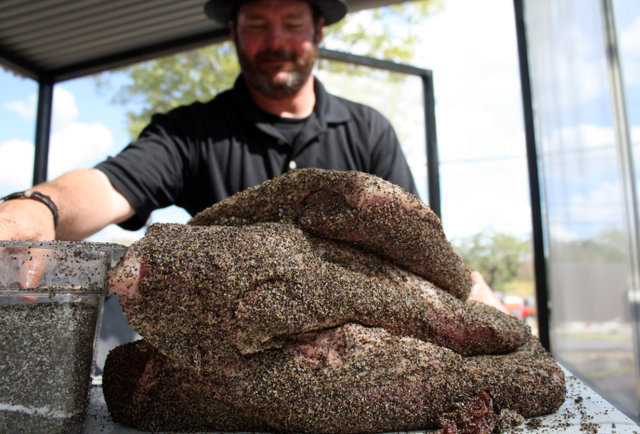 John Mueller, Austin, TX
What you're getting: Brisket and a beef rib
The grandson of BBQ legend Louie Mueller (more on him later), JM delivers the goods with his brisket, his sausage, and his turkey, but it's the beef ribs that you'd better not miss, with their fatty juiciness enhanced by a black pepper-loaded crust. If you find yourself in a long line, don't worry, he's known to occasionally dole out free beers to help patrons pass the time.
Skylight Inn, Ayden, NC
What you're getting: BBQ Sandwich with slaw
You don't have a lot of options at Skylight Inn, presided over by the Jones family, which has been steeped in the whole hog, vinegar-kissed Eastern North Carolina BBQ tradition since the early 19th century. The good news is you don't need choices. Get a chopped pork sandwich topped with their fresh, crunchy coleslaw, or if you're watching carbs (really?), nab the tray with a pile of succulent meat, slaw, and a thin piece of cracklin' cornbread. Whoops. Sorry, carb guy.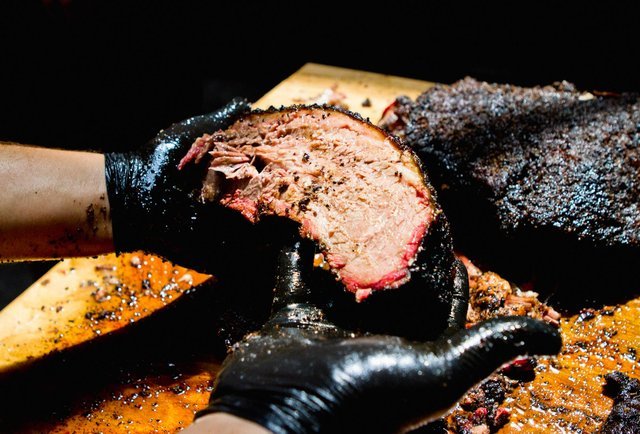 BrisketTown/ Delaney Barbecue, Brooklyn, NY
What you're getting: Brisket, duh
First there was BrisketLab, a traveling series that popped up around NY to serve Daniel Delaney's ultra-simple, salt & pepper-seasoned, Post Oak-smoked brisket, and it was delicious. Then there was the formal home of BrisketTown, and it was also delicious, and you didn't have to do weird things to find it. Aside from some (brisket-based, of course) tacos here and there, Delaney is all brisket, all the time. Such singular focus will either drive a man mad, or lead him to create delicious smoked meat that lands him on 33 Best lists. Winston Churchill said that.
There's so much more delicious BBQ to eat with your eyes, and they're all in the full story on Thrillist.com!