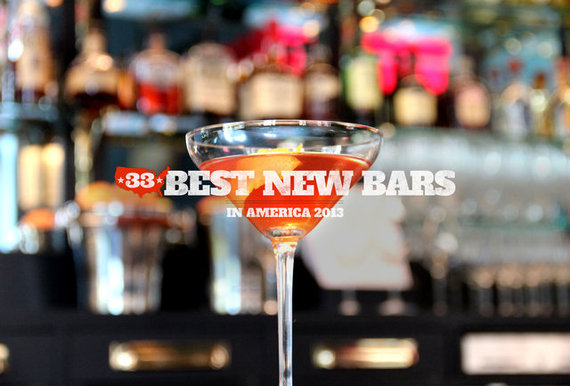 Because there's no better place to celebrate a promotion, wedding, or acquittal for accidentally inciting a riot at a Third Eye Blind concert than a bar, we spent the year drinking our way across the country to find the newest watering holes par excellence. And now that the quest is over -- and our tolerance for Creole bitters and fancified tiki drinks is at its peak -- here are the greatest, booziest bars that opened in the U.S. in 2013. (And in case you somehow missed it because you were drinking in bars, here's our list of the country's 33 Best New Restaurants.)
Click here for all 33 of the best new bars in America!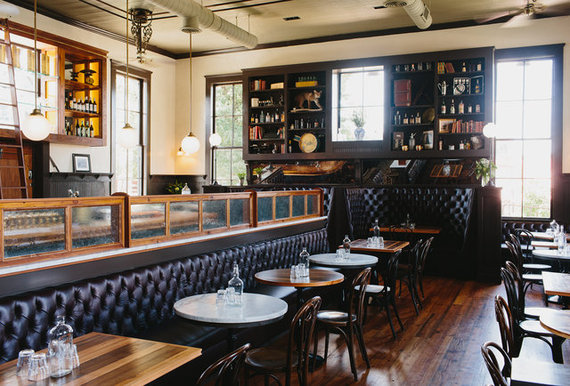 CREDIT: Andrew Thomas Lee
KIMBALL HOUSE, Atlanta, GA
What you're getting: Blood Water
Mixologist Miles Macquarrie, formerly of Holeman & Finch and Leon's Full Service, is not just an awesome thing to say because it's an alliteration. He's also the person behind the drinks at Kimball House, a Decatur cocktail/oyster bar in the throwback elegant style of the days when everyone loved discussing the Fordney-McCumber Tariff and winking at women with bobbed hair. And that person -- with his meticulously fresh cocktails impeccably made using his own tinctures, and bitters, and other magic potions -- is the reason you need to hit this increasingly popular spot, and order up a Blood Water featuring Death's Door gin, toasted almond orgeat, lime, ginger, and Bitter Truth Creole Bitters.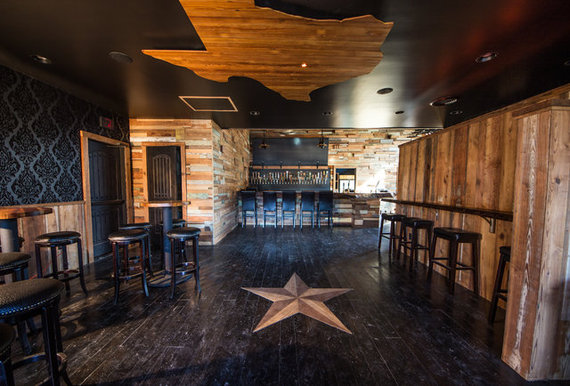 CRAFT PRIDE, Austin, TX
What you're getting: A Jester King seasonal
Craft Pride is Austin's latest and greatest beacon for lovers of Texas beer. Built largely with longleaf and curly pine reclaimed from the bar's past life as a residence, CP's bread and butter spew from over 50 taps lined to kegs of all-local beer from up-and-coming breweries like Jester King and Adelbert's. And for dessert, Detroit pie-slingers Via 313 are serving some of the best pizza in the nation from a trailer out back.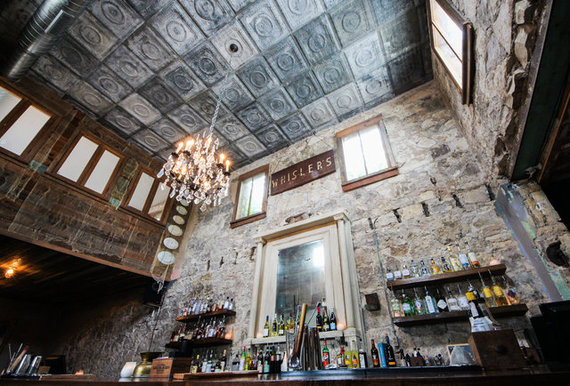 WHISLER'S, Austin, TX
What you're getting: The Dealer's Choice
On Austin's East 6th Street, old Tejano haunts have been flipping into trendy bars faster than you can say "Fernet". But while many white-wash the buildings' histories, Rabbit's has been revamped into Whisler's with the blessing of the former owner (who recently celebrated his 80th birthday there). It maintains a massive Cesar Chavez mural, stripping the interior down to its original 1917 stonework and adding bizarre details like chairs draped with old postal bags. The cocktail list leans heavily on bold flavors like mezcal and house-made seasonal syrups, but the best move is to just let the experienced bartenders size you up and pour to your personality.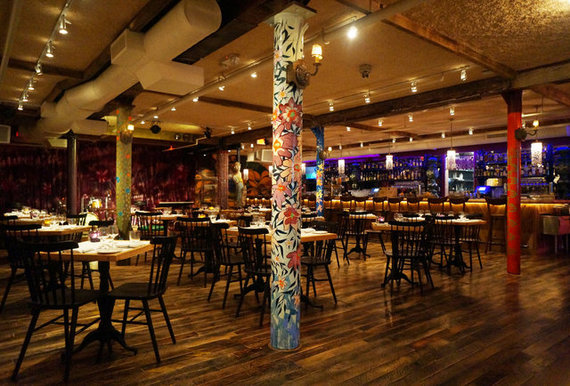 CREDIT: Jaqueline Dole
BEAT HÔTEL, Cambridge, MA
What you're getting: A VFW Old Fashioned
The Tannery in Cambridge used to be the place I went in high school to find prohibitively expensive North Face jackets that at least 85 percent of the other kids at my school were also wearing, but now it's the Beat Hotel -- a funky sister bar to the much-beloved Beehive in Boston's South End. The vibe is eclectic (they have funkily painted support poles and psychedelic murals throughout, plus a giant goat just kind of hanging there), but -- like their sibling -- they manage just the right mix of legit eats (um, pulled lamb nachos?), eclectic clever cocktails (we recommend anything from the "Dad's Liquor Cabinet" section), and well-curated live music nightly.
THE RAREBIT, Charleston, SC
What you're getting: Moscow Mule with homemade Sweatman's ginger beer
Do you remember the volatile years of the 1960s, when everyone was doing free love and getting involved in debates about Canada's National Flag? We don't either. But we do dig the '60s diner/cocktail vibe from the folks at Rarebit, with their track burgers and grilled cheese, and Brent Sweatman's classic cocktails, especially anything using his delicious, delicious house-made ginger beer.
This is just scratching the surface of awesome new bars in this great land of ours, so head over to Thrillist.com for the full list!