I returned to Sydney, Australia for a brief visit, a mere 25 hour flight across the Pacific Ocean having relocated to New York one year ago. The city I left is barely how I remember it to be.
Sydney is undergoing massive transformation within the arts and culture, with healthy funding for the arts and more initiatives for early career artists -- Sydney's art scene draws from an international perspective of young artists and creatives who have travelled extensively where their travels feed back into Sydney's emerging cultural landscape.
Some years ago I met Sydney-based interdisciplinary artist Baden Pailthorpe; his work at the time portrayed his background in photography capturing images from Pailthorpe's journey through Europe and the Middle East.
Today, I discovered a completely different artist, an artist whose creative practice and patina encompasses video games, hacktivism and military training software.
In Pailthorpe's forthcoming exhibition Formations at Sydney's Martin Browne Contemporary, Pailthorpe exhibits his on-going series of video works that incorporate military simulators, film, and video games. Formations is pitched against a highly coded Afghanistan, the high definition images recreated for military training purposes are appropriated for Pailthorpe's work -- creating a new site to contextualize the relationship between art and technology.
The military training simulation provides fertile ground whereupon Pailthorpe's work moves the audience through a familiar image of soldiers and a war torn setting, the experience makes one think about the highly saturated culture of war and the relationship between war and popular culture. In Formations, the two channel video installation plays with two realities, a reality of war that has been constructed through images from the media, and an image of war from video games. The work sets out to construct a critical inquiry into a new artistic and cultural landscape that creates disjuncture and texture for the artist to discuss the politics of war and politics of art.
Baden Pailthorpe | Formation VII, 2012 | Preview from Martin Browne Contemporary on Vimeo.

Photo courtesy of Baden Pailthorpe and Martin Browne Contemporary, Sydney, Australia
Explain your creative process.
I'm interested in manipulating things that already exist, like video games, films or even novels and other kinds of 'old media.' At the moment, I'm using military simulators as a kind of performance software, creating art works inside on of the most heavily coded and politicized of spaces. I'm always drawn to the history and politics of objects and different media, they act as key conceptual drivers in my work. By using these ideas, I try to undermine systems that are built for control, teasing out small pockets of poetic resistance along the way.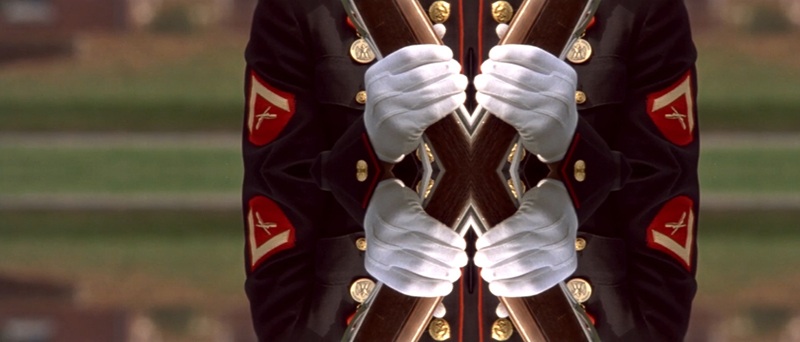 Photo courtesy of Baden Pailthorpe and Martin Browne Contemporary, Sydney, Australia
Do you find it difficult to define your practice when you work across such a broad spectrum of artforms?
Yeah definitely. Definitions tend to be rigid structures that resist change, whereas art is, by definition, a dynamic force that constantly changes. Labels have always been challenging to use, but people tend to label things and organize their world through categories. I've always used technology in some form, and I've always been interested in working with images. Photography was my first serious art practice, which then led to experiments with video and simulator works. Photography is present in almost all new media in some form. Photorealism is still the key reference point for simulators and certain video games. This was what originally propelled me to look at first-person shooters as a kind of dynamic or kinetic photography, and to see how photo theory held up in these kind of environments. Both photography and shooters are framed around a fidelity to 'reality', and both are overwhelmingly preoccupied with death. Even their shared vocabulary of shooting -- both portraits and digital enemies -- is telling. There's a similar fetish around state-of-the-art weaponry and high-end camera.

Photo courtesy of Baden Pailthorpe and Martin Browne Contemporary, Sydney, Australia
In your work HALO (2012) and Formation VII (2012), what is the relationship between the medium (military simulations and training software) that you use and the political and cultural climate that you situate your work within?
The tools that I use are always politically or culturally loaded. And 'loaded' really is the perfect word to describe military technologies and their civilian spin-offs. Formation is an ongoing series of marching performances that are choreographed in a military simulation of Afghanistan. These works resist the politics of the simulator through simple gestures like walking. By giving groups of U.S. soldiers or Taliban fighters the simplest of orders, I discovered that beautiful rhythms and textures were produced across their bodies by the simulator's own code. I'm fascinated with glitches like these, pockets of magic within systems built for violence and destruction. There's a lot of interesting theory around this kind of thing, where Capitalist systems become so complex that they begin to spin out of control.

Photo courtesy of Baden Pailthorpe and Martin Browne Contemporary, Sydney, Australia

HALO (a military acronym for High Altitude Low Opening) is a new performance work that is set in the sky above Afghanistan. One U.S. soldier and one Taliban fighter slowly glide from the heavens in a kind of atmospheric ballet. The sky in this work is soft and peaceful, yet there is a quiet violence within the work. Like human drones, these 'unmanned' avatars are remotely piloted and totally controlled during their beautifully doomed flight. With this work I was interested in engaging with the role that the sky plays these days as an indifferent host to the true contemporary battlefield, with drones and robots doing most of the fighting.

Photo courtesy of Baden Pailthorpe and Martin Browne Contemporary, Sydney, Australia