Conversation with Nick Ravich, co-creator and producer of Art 21's New York Close Up

It will be a great place if they ever finish it, said O. Henry.
Writing about the transitory state of New York City seems like an impossible feat, yet the city as subject and object continues to be a point of reference for artists even today. A city under constant renovation and renewal, O. Henry's reference to New York City holds true today, even more resonant within the art world.
Situated within the ever changing cultural landscape of the New York art community, Art21's web series New York Close Up will add an additional eight artists to its current roll call of emerging artists working and operating in New York City.
This year's short online videos will feature artists practicing a wide gamut of art forms from painting, performance and public art works.
Launching June 1 with artist Mika Rottenberg, the additional eight featured artists depict a different viewpoint of being an artist living and working in New York city today. Offering an intimate and revealing portraiture of the young artists, Art21's Webby nominated series focuses on exposing the artists outside of the gallery context. The new series will feature Diana Al-Hadid, Alejandro Almanza Pereda, David Brooks, Josephine Halvorson, Liz Magic Laser, Eddie Martinez, Mika Rottenberg and Erin Shirreff.
How do you document a contemporary landscape that is at a state of constant flux?
One of the most important things to say is that this is an on-going project, and one way we see it as a group exhibition and we keep adding artists to it over time. When an artist becomes part of the project I see it all as part of a growing group.
The process really begins with just a big group of names, but the basis on how we select the artists is that we are interested in their works, the thing about being interested in their work is that we are also interested in the ideas or practices motivating it. Like the broadcast series it's really based on a certain kind of faith, and an inherent interest in their work. In the beginning it was necessarily intentional that we had brought on a lot of artists who worked with video or who were filmmakers. In the next round we wanted to bring in folks who were more quote unquote traditional in their practice, so painters, sculptors and those who make big sculptural objects.
And the other part of the process is that we want to tell the stories that we think aren't necessarily being told and so I think there is a feeling of artists who are willing or artists who are open to talk about other parts of their lives besides what you would think would be shown in a documentary about artists. From the start you can't really tell that from just a list of names, but it emerges from spending time with the artist and seeing what their life and work is like, and their relationship to New York in that sense. I think you can tell an interesting story with many of the artists in New York, but I think the challenge is how do you get beyond the standard portraiture.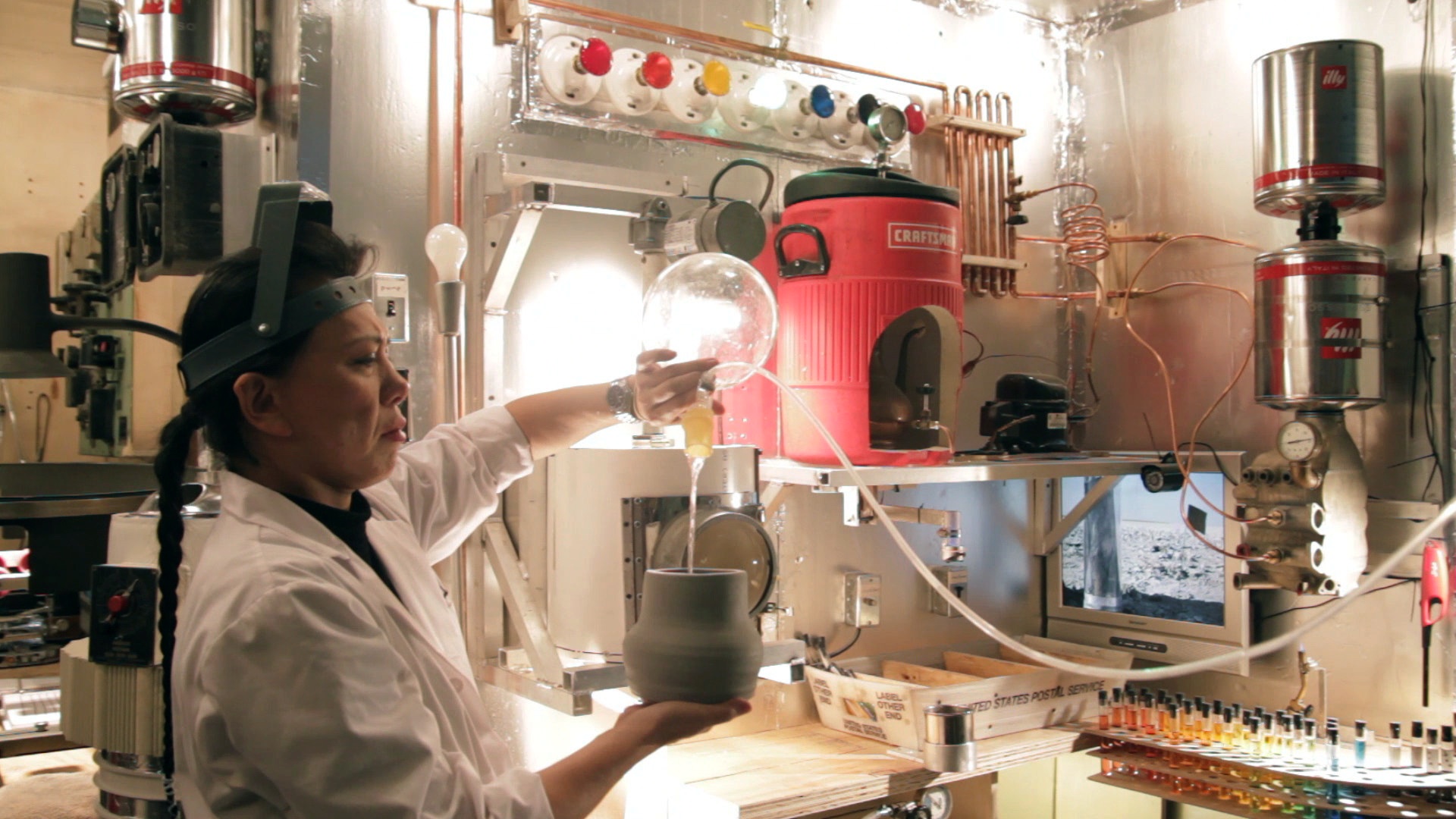 Performer Empress Asia during artist Mika Rottenberg and John Kessler's Performa-commissioned work "SEVEN" at Nicole Klagsbrun Gallery (Chelsea, 11.19.11)
Cinematography by Rafael Moreno Salazar and Ava Wiland
Production still from the series "New York Close Up" © Art21, Inc. 2012
How and why did you choose the following artists? Is there difficulty in presenting these artists as emerging?
I'm not hung up on finding their pecking order in the New York art world, or what the consensus about that moment of how hot they are, and again its really based off on the fact that you are interested in their work, and have faith that their work will continue to evolve and continue to be engaging for you. The selected artists are at a growing professionalization in the work that they do, and that is fascinating for me, because we are kind of complicit within that moment as well.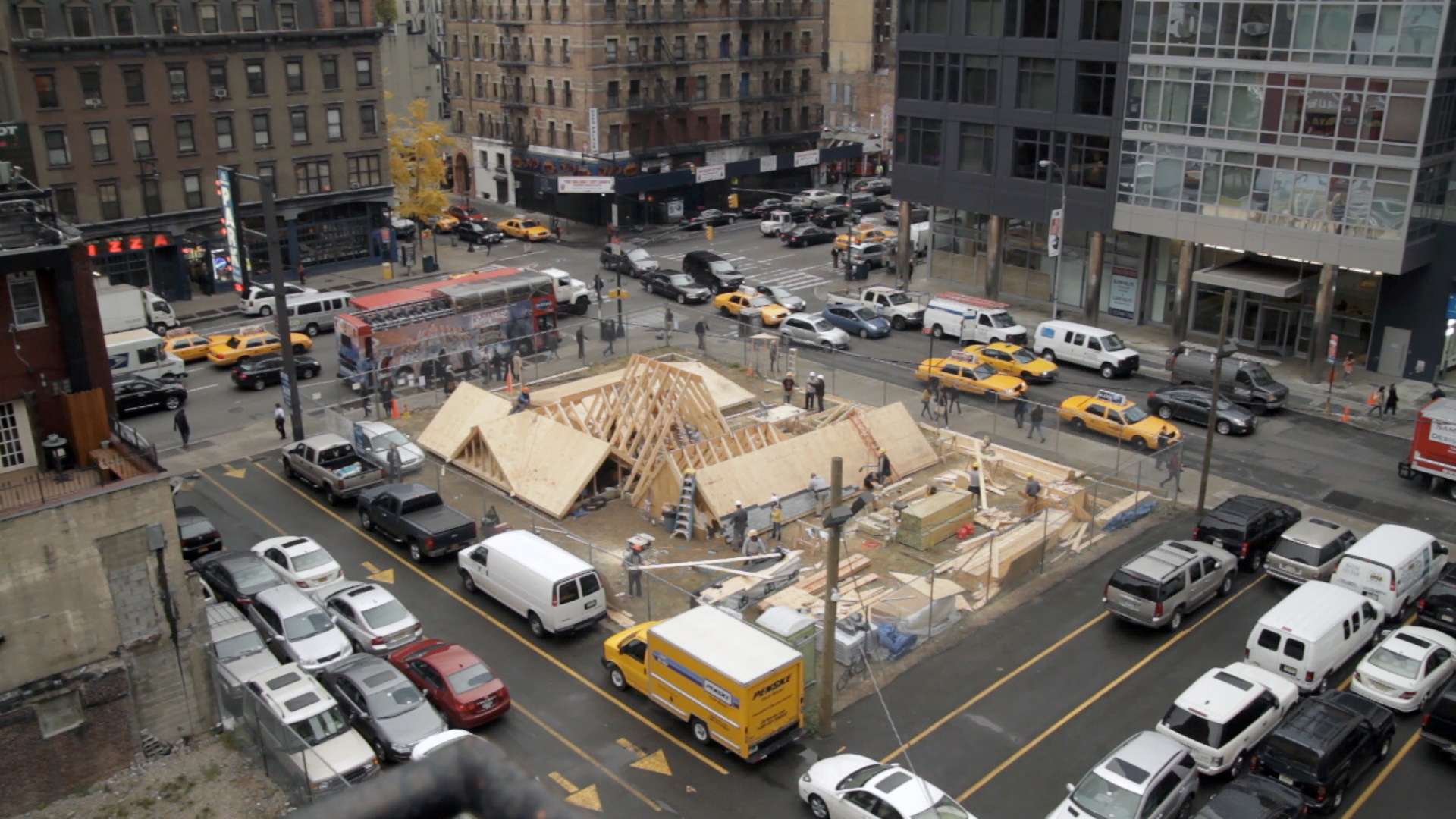 Overhead view of construction site for artist David Brooks's "Desert Rooftops" at the Art Production Fund's Last Lot (Times Square, 11.16.11) Cinematography by Rafael Moreno Salazar and Ava Wiland
Production still from the series "New York Close Up" © Art21, Inc. 2012
There is a significant amount of time spent with the artists as well as consideration paid to the process of documenting the mundane to the highs of the featured artists, could you explain the process of storytelling?
The storytelling process is fluid and its very contingent on the idea of where the artists are at any given moment. It's about a very open approach and the other thing is that we don't have a set sense of the story we are trying to tell. I think you can tell a portrait story about anyone but our process is really beyond that, and we start by thinking what is the story you want tell about yourself, what's the story that you want to counter about yourself that's already out there, or what's the story that folks don't know about you.
And that's really based on the artist being open and spontaneous enough to let us in and document situations that wouldn't normally be shown, and to that showing another side of New York that is not normally shown. Like let's shoot every apartment an artist has lived in over the semester, like what we did with Alejandro Almanza Pereda, where he lived in about eight apartments throughout Hunter College.
And on the opposite end, we try and keep the editing process as open as well, in that the artists become participants within the editing process. The other thing is that we don't want to portray these stories at one point in time, we want to be able to come back and add to that moment and allow the artists to develop their ideas.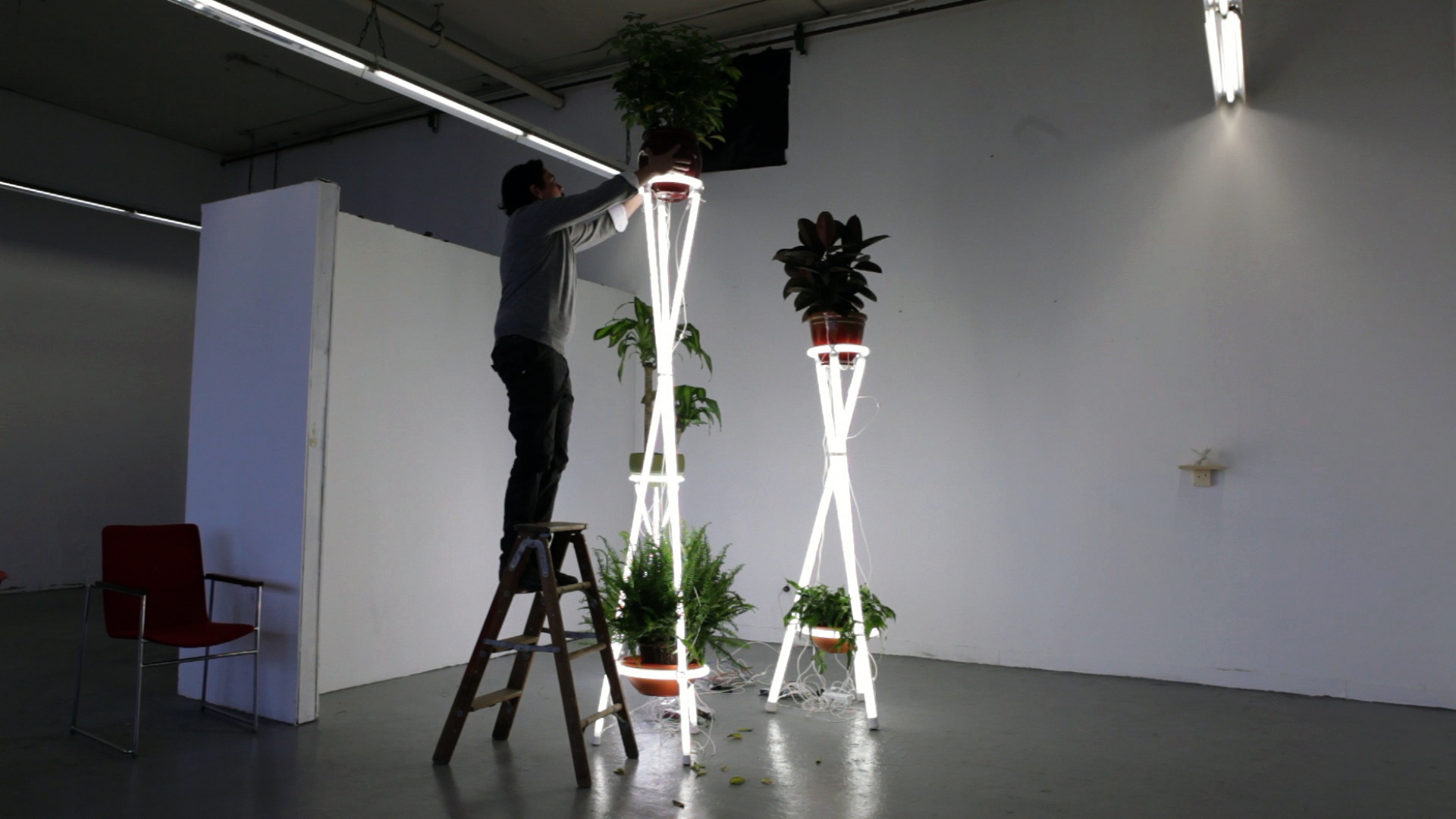 Artist Alejandro Almanza Pereda in the Hunter College MFA studios (Hell's Kitchen, 03.03.12)
Cinematography by Don Edler
Production still from the series "New York Close Up" © Art21, Inc. 2012
Are you afforded this flexibility with the on-line format?
Exactly, the only real limit is we have a commitment to the artist and the way in which they are represented.
You know we don't have to fill up a 56-minute slot or have commercial breaks, which is a very liberating thing that allows for you to develop smaller pieces instead of putting all your eggs into one basket and saying this is what this artist is about. The Internet allows for that, it allows for us to set our own schedule and our own sense of establishing a relationship with the audience. It also allows for a completely different viewing experience to the compact format of the television.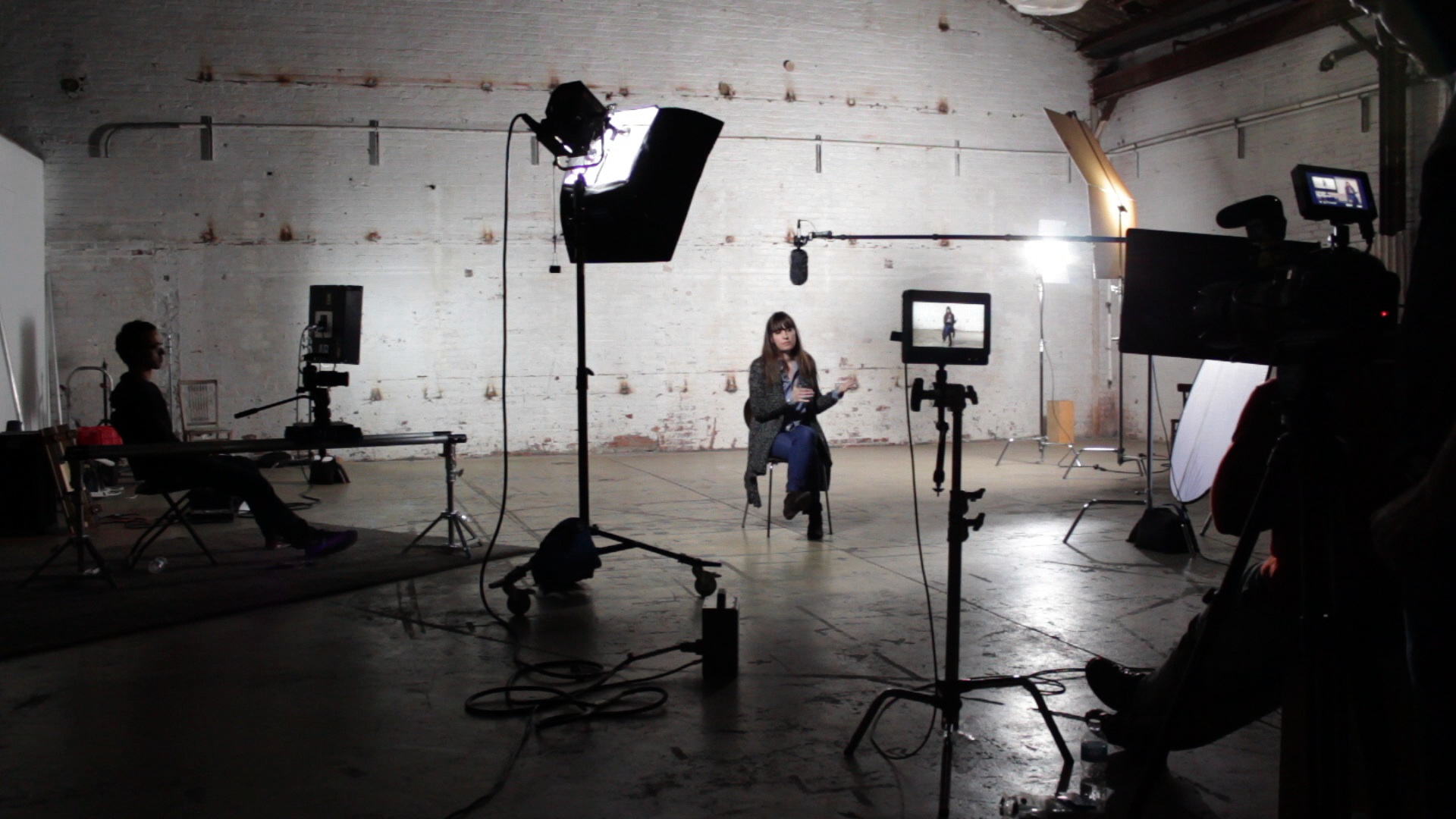 Artist Erin Shirreff giving an interview at The 1896 Studios & Stages (Bushwick, Brooklyn, 04.28.12)
Cinematography by Amanda Long
Production still from the series "New York Close Up" © Art21, Inc. 2012

Do you see the series as a rebuttal to the contemporary art scene of New York? How do you see the series evolving with the development of the artists' careers?
I hope to see the series as an addition to, as opposed to a rebuttal as such. What I want to do is reveal a certain aspect of the artist's lives, in that sense an aspect that isn't really specific to an artist's life, it could be about anybody struggling in New York professionally or maybe even beyond New York. There is an extent to which the series isn't really a static story line, I see it more as a kind of uncovering.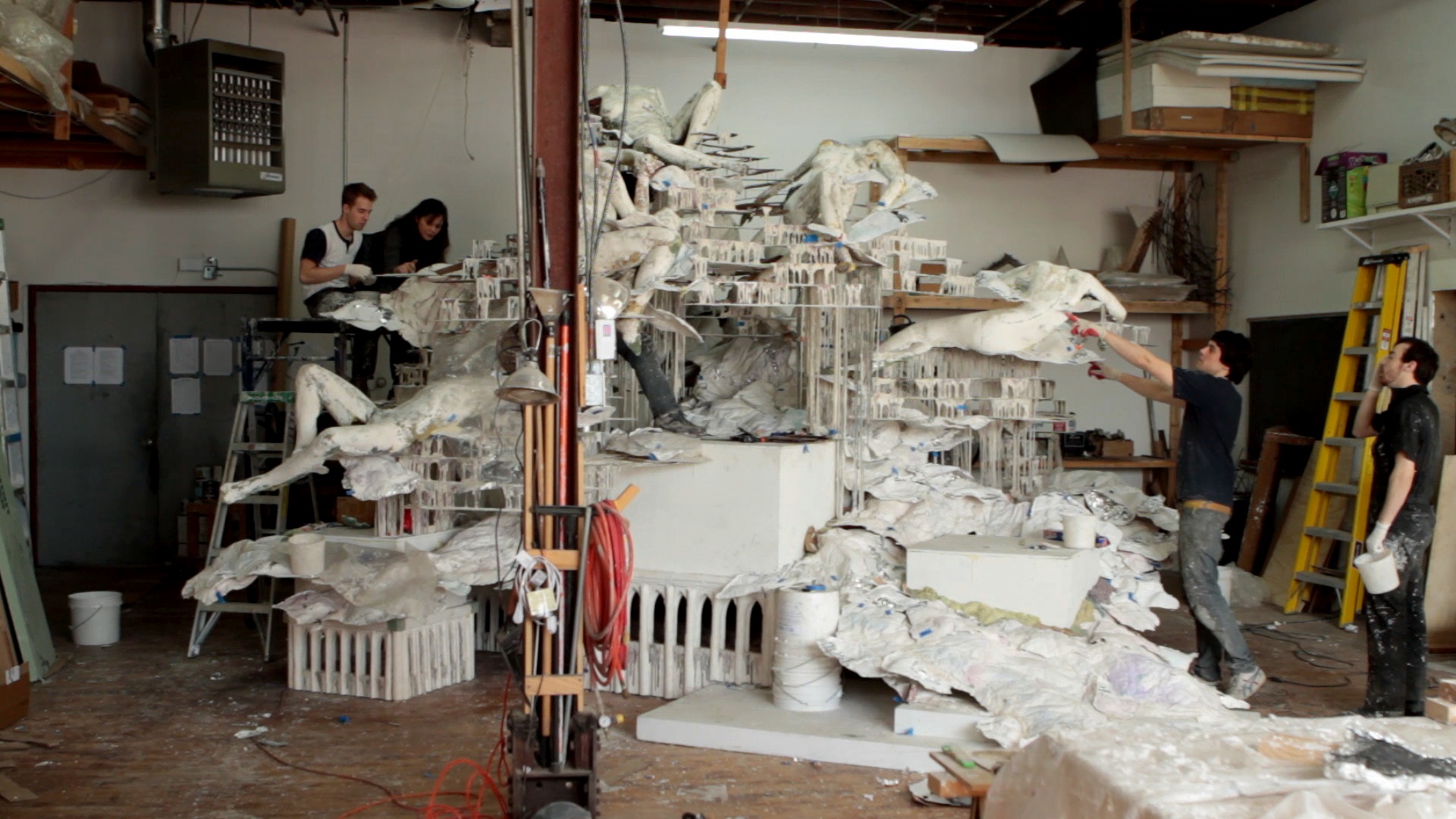 Artist Diana Al-Hadid working on the sculpture "Nolli's Orders" in her studio (Williamsburg, 02.10.12)
Cinematography by John Marton
Production still from the series "New York Close Up" © Art21, Inc. 2012
And then there is certain amount of difficultly in doing art and committing one's life to producing art. When you see an artist's work in a gallery, those other aspects of the artist's life art are implicitly hushed up. You don't see the struggle, the struggle to see how the artist has become who they are. If anything I hope the show can reveal is that it is incredibly difficult to commit to the professionalization of one's life, and that there are a lot of detours and stops along the way, and hopefully there is a lot of joy in that.
In that sense there is a basic kind of struggle of identity that an artist has, because you can put yourself into a rarified space that people can have a hard time reacting to and there are a lot of preconceptions about what it means to be an artist.
June 1 will launch the online videos; first off featuring artist Mika Rottenberg. All films can be viewed at art21.org/newyorkcloseup
June 18: Outdoor screening in New York City, from 6:00-8:30 p.m., Art21, in partnership with The Armory Show, will present a free Outdoor Summer Film Fest at Big Screen Plaza on 6th Avenue between 29th and 30th Street in New York City.