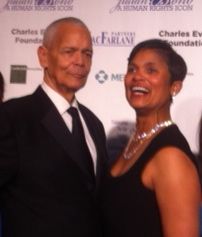 The Julian Bond Gala: It was an event to honor a man that has played a key role in the civil rights, women's rights, and the LGBT rights movements. Former NAACP Chairman and adviser to Martin Luther King Jr., Bond has spent most of his life being a pillar for equality and social justice.

There was a host of people including hosts Chris Tucker and Wanda Sykes, Andrew Young, Harry Belafonte, Whoopi Goldberg, Jesse Jackson, Kate Clinton, Rita Dove, Charlayne Hunter-Gault, and a great deal of others. Kate Clinton was hilarious! There was comedy, performances by Chrisette Michele, Dave Matthews, and Bebe Winans and some slight roasting of Mr. Bond. There was a lot of history including personal stories and pictures from Mr. Bond's college years.

The gala was completely filled, no empty seats, and no blank stares. Everyone was completely engaged and happy to be there. At my table we commented on how well it flowed, timing, breaks, time to chat, time to eat. The formal program ended half past ten and people took their time leaving. It was like a family reunion celebrating the achievements and bringing together the communities a graceful, clever, brilliant and ever-handsome man has impacted.
A good friend of Ms. MacFarlane's son said, "That's because who's behind it." "You mean Thaderine and Kathy?" I asked. "Yep, they don't play," he responded in a playful yet reverential manner. "With them, if its going to be done, its going to be done right."

The two women behind the gala are both powerfully beautiful and regal: one, very graceful Venus love-goddess-style and the other, very strategic, fast thinking Athena warrior-goddess style. Both amazingly humble, stern yet gentle. These two women are philanthropist, mother, and wife Thaderine MacFarlane and President of Retail for MoMA, wife, and mother Kathy Thornton Bias.
I spoke with Kathy, who in a sigh of relief was so happy at how much everyone was enjoying themselves and the company of each other. She shared, "I've been so worried, I haven't been able to eat. At six o'clock when no one was here, I thought, what if no one comes to my party." This was for the gala, which began at 7:30 with a VIP reception at 6:30.

Ha! We've all felt that way before, at least us women.

Something that is powerful and inspirational about women is our undying commitment to family and community. Ask a woman what it is like to raise a child, to love a man, and to care for a household. It is a juggling act borne out of love and loyalty. Naturally, as the community is the extended family, we are invested in its future. It takes on different forms as it can be defined by geography, race, religion, business sectors, etc.

There are countless ways we create our own communities. These women came together with a shared sense of commitment to community. They spent one-year focusing on a goal to ensure that generations of university students had the opportunity to be educated on civil and human rights. A Gala in honor of Julian Bond rose $1.5 million and counting, to help endow a chair and professorship at the University of Virginia that will continue the legacy that Professor Julian Bond began twenty years ago.

I had the pleasure of asking Kathy and Thaderine a few questions about their experience:

Tiffany Crawford (TC): How do you feel women play a role in creating and anchoring community?
Kathy Thornton Bias (KTB): The adage that "behind every good man stands a good woman" was slightly in reverse with the Gala. My co-chair, Thaderine MacFarlane, and I, both had amazingly supportive men behind us. FYI, Julian's wife, Pam Horowitz, is a force to be reckoned with. She is phenomenal!

The fact is that there are more women in universities and colleges than men... and that trend continues to grow. So, the power is shifting ever so slowly. Julian is often quick to mention the women behind the Civil Rights Movement. They are rarely recognized, and often shadowed by great men like himself and MLK, but they were there, day in and day out, fighting the fight


TC: What were the most fun and inspiring part of co-chairing such an event?
KTB: One of the best things about working on this event was meeting and engaging with people from the various parts of Julian's life. From his closest and oldest friends, to his newest allies, their love for Julian and what he stood for was palatable.

Thaderine MacFarlane (TM): What was fun and inspiring about co-chairing this event for me was to have the complete involvement of my family throughout the process. Our first donation came from, my husband's company, MacFarlane Partners. My oldest daughter, Carla MacFarlane Civil, did the Bond logo. The Bond website was the work of my son, Paul and his fraternity brother. And the Young Patrons Chair was my youngest daughter, Ann-Marie. To work on an event I loved, for a man well loved, with those I love... That's inspiring!

TC: I believe that society is going through a critical shift domestically and globally. How do you feel the work of men such as Julian Bond and Henry Louis Gates (I know his niece was involved) have laid a foundation for this?

KTB: My parents were both children of the '60s who integrated, marched and fought for the tremendous rights that I and my three children, and prayerfully their children will enjoy. So, to say that we are indebted to Julian Bond's Life, Legacy and Leadership is an understatement of the highest order. We owe so much of our personal liberty to this phenomenal human being.

My family mantra is... "For of those to whom much is given, much is required." (Luke 12:48)

Meaning that we all owe a great deal of gratitude to people like Julian Bond, and it is our responsibility to pay it forward. Without his tireless efforts, as a woman, and more importantly a black woman, I would not have been afforded the opportunity to attend my beloved University of Virginia. Further, I would not be the president of any organization, let alone the Retail Division of the Museum of Modern Art.

As a recipient of Julian's efforts, I am required to keep the history of our struggle alive. Beyond putting his name on a building, the Julian Bond Celebration Gala was an attempt to promote a "movement" of sorts that would allow generation upon generation to be taught a complete version of our American History.

What I respect most about Professor Bond is his belief in human rights in the broadest sense -- not just the rights of African Americans, but the rights of all Americans, black or white, straight or gay, young or old.

Julian once said, "The humanity of all Americans is diminished when any group is denied rights granted to others". The Gala was organized in that spirit.